Homerland
Wikisimpsons - The Simpsons Wiki
For the amusement park, see Homerland (amusement park).
"Something happened to Dad on that trip..."
―Lisa
"Homerland" Title-card for the episode.
Episode Information

"Homerland" is the first episode of season 25 of The Simpsons and the five-hundred and thirty-first episode overall. It originally aired on September 29, 2013. The episode was written by Stephanie Gillis and directed by Bob Anderson. It guest stars Kristen Wiig as Annie Crawford and Kevin Michael Richardson as an FBI agent.
Synopsis
[
edit
]
"Lisa becomes suspicious when Homer appears to have been "turned" after a Springfield Nuclear Power Plant convention, and enlists the services of intense, jumpy FBI agent Annie Crawford to help her unravel the truth."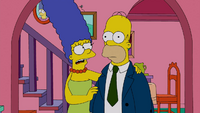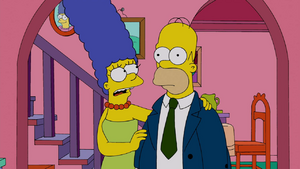 Homer, Lenny and Carl have been out of town for three days to attend a Nuclear Power Plant convention and Marge, Bart, Lisa and Maggie are waiting at the airport terminal to greet them when their plane touches down. Lenny and Carl emerge from the plane's exit gate and, to the Simpsons' dismay, inform them Homer is missing.

At home, Marge enlists the help of Patty, Selma and Chief Wiggum to help find Homer - with no luck. Just then, an eerily calm and subdued Homer walks through the door and says "Hello, everyone. I overslept, lost my cellphone and missed my flight" in a monotone voice. As Marge hugs him tight, she tells him she is "glad everything is back to normal", before a series of flashbacks and flashforwards occur, including a drunken Homer being kidnapped by a mysterious black van after leaving the convention, being brainwashed, blowing up the Springfield Nuclear Power Plant and destroying the town. "Yes, back to normal," Homer replies in a trance-like state.
Later that day, at dinner, the family begins to notice things aren't right with Homer; he refuses to strangle Bart, adding "that kind of small-scale violence solves nothing",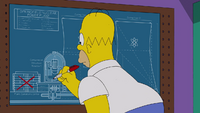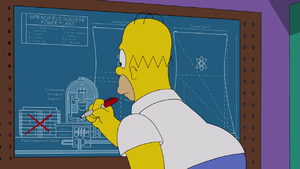 turns-down his favorite meal of pork-chops coated in Cheeto dust in favor of a salad, and
even
uses a napkin to eat it with. After dinner, at
Moe's Tavern
, Homer asks for a glass of water instead of his usual order of
Duff
, to the shock of his beer-drinking-friends.
The next morning, Lisa over-hears Chief Wiggum and Apu discussing a terrorist-threat to Springfield at the Kwik-E-Mart. Lisa asks Wiggum about the threat and he informs her that someone in town has been "turned" and are now working for terrorists. After returning home, Lisa spots Homer from the garage doorway kneeling down on a prayer mat and praying towards Mecca in the Middle East. She sneaks into the garage and hides behind some cardboard boxes, where she sees Homer mark an 'X' on a blue-print of Springfield Nuclear Power Plant. She runs into the house to tell Marge, who, to Lisa's annoyance, takes no notice.

That night, Lisa creeps downstairs and calls the FBI. She gets through to bipolar, pill-popping Agent Annie Crawford who lets Lisa know that she's on her way to Springfield. Lisa hangs up and is startled when she turns around to find Homer standing behind her. Lisa gets freaked out when Homer starts speaking in-tongue about missing her when "this is all over" and "seeing her on the other side."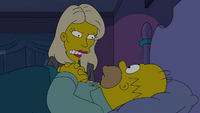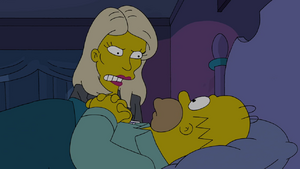 Annie Crawford arrives at the Simpson home shortly after. She sneaks into the bedroom and tries to convince Homer into giving her some information regarding his plan.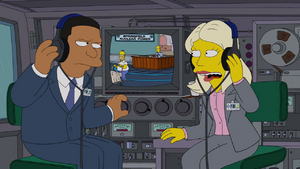 All he says is: "Let's just say I've got to get to work on time and if you knew me, you'd know just how odd that sounds."
The next morning, Homer wheels a mysterious device into the Nuclear Power Plant, makes his way past the security guard, and heads towards the plant's operation center. He gains access and begins setting up the device. Just then, Lisa, who has been hiding in a safety technician suit, appears and pleads with Homer not to blow up the entire town. "I'm not blowing up the plant," Homer chuckles, "Just harmlessly stopping it from doing anymore damage to Mother Earth." Homer then begins to reveal to Lisa what really happened when he got in the mysterious black van after the convention. It transpires that the van belonged to a group of eco-friendly activists, who, as well as offering him a journey to the airport, insisted on giving Homer an alcohol detox. The prayer mat Lisa saw was in reality an affirmation rug they gave Homer with inspiring words on it to keep him from resorting to alcohol again. And finally, the mysterious device sitting besides them is simply a canister filled with spoiled milk and utility-grade chicken that, when Homer releases it into the air conditioning system, will stink up the plant forever, making it completely unusable and thus preventing it from doing any further damage to the environment.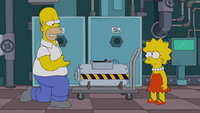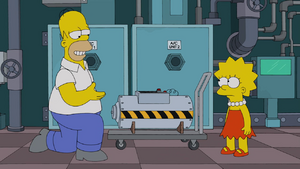 Suddenly, Annie Crawford and several police and FBI officers barge in and attempt to arrest Homer. With the guards preoccupied with Homer, Lisa uses the chance to attach the canister to the AC system and turn it on.
However, Mr. Burns later reveals that the plant has never had a functioning air conditioning system and so Homer's plan failed. In spite of this, the plant is ultimately closed for safety violations because, as an FBI officer points out, not having a working AC system is against the law. Burns is arrested.

Watching on, Lisa tells Homer that just because his plan is complete, doesn't mean he has to return to his beer-drinking and pork-eating ways of before. Just then, a beer can attached to a parachute, which is being remote-controlled by Moe in an effort to win back Homer's business, floats down from the sky which grabs Homer's attention. He grabs it, drinks it, and all is seemingly back to normal. Homer and Lisa head off home.
Production
[
edit
]
The episode was written by Stephanie Gillis and directed by Bob Anderson. Kristen Wiig guest stars as FBI agent Annie Crawford.[1]
During production, the episode was under the code of RABF20.[2]
Music editing for the episode was completed on August 25, 2013.[3]
Reception
[
edit
]
The episode gathered 6.37 million viewers;[4] however, the ratings may be lower than they should have been, because several FOX networks were down or had technical difficulties during the show.[5]
The episode received generally mixed-to-positive reviews from critics. The A.V Club gave it a B- rating, concluding "There are some funny lines, the gimmick doesn't completely overwhelm the narrative, and things are back in place for the next episode. It's not the worst omen for a new season of The Simpsons. I'm looking forward to it with guarded optimism and an open mind."[6] Den of Geek were positive, saying, "Not a classic Simpsons, but still better than the best episodes of most network comedies." They ultimately gave it a 3/5 star rating.[7] TV Fanatic wrote, "The Simpsons has always done an excellent job with parody, and tonight was no exception. [...] The half hour was a lot of fun and featured a lot of great sight gags and jokes. My favorite involved Homer's alcohol detox set to The Grateful Dead."[8] Conversely, Film Watch gave a negative review. They gave it a 2/5 rating and added, ""Homerland" is a pretty poor way to begin the 25th season of what is by now a cultural institution. [...] It's just terribly dull and, ultimately, a disappointment."[9]
Fan reaction was mixed. The episode has a fan poll majority of a 3/5 rating on No Homers. Many fans were critical of the execution and pacing of the episode, but the credits, which featured characters from Family Guy, American Dad!, The Cleveland Show, and Bob's Burgers, were praised.[10] The episode currently holds a 6.8 rating on IMDb[11] and an identical score on TV.com.[12]
International airdates
[
edit
]
| Country | Date | Channel | Note |
| --- | --- | --- | --- |
| Asia | July 21, 2014; 8:00PM (Singapore Time)[13] | Fox Asia | |
| Latin America | April 27, 2014; 8:30PM (Argentina Time) | Fox Latin America | |
Gallery
[
edit
]
References
[
edit
]
External links
[
edit
]
| | |
| --- | --- |
| | Wikisimpsons has a collection of images related to "Homerland". |