Lindsey Naegle
Wikisimpsons - The Simpsons Wiki
Lindsey Naegle (often spelt Lindsay Naegle) is a resident of Springfield and is often known as Springfield's residential business link.
Personality
[
edit
]
Lindsey is known to be a common youth-hater. Lindsey, outraged at paying high damages for a particular riot that the youth have caused, formed an anti-youth group named SSCCATAGAPP (Singles, Seniors, Childless Couples And Teens And Gays Against Parasitic Parents), and lobbied to deprive Springfield of all child-friendly things. Her campaign nearly succeeded, but was thwarted at the last moment when Bart, Lisa, and the other kids in Springfield hugged all the adults, infecting them with "kid germs". The adults collapsed with sickness and weren't able to vote, causing the campaign to fail.[1]
An alcoholic (she says so matter-of-factly to Homer when she appears in Moe's Tavern), it is later revealed that she is the head of the Alcoholics Anonymous branch in Springfield. At meetings she says "So we all know why we're here - to be sober .. and to network!"[2]
She is often seen as a member of the Springfield Republican Party. However, she was once seen attending a Democratic Party meeting.[3]
Lindsey tends to flatly admit things that others would be embarrassed to admit. She acknowledged being a registered sexual predator[4] and that she cannot cry due to a botched face lift.[5]
She is the host of the R.O.C.C., the Remote Onsite Correctional Center, a new detention center for Springfield Elementary School.[6]
Lindsey has popped up in several capacities, seemingly working at a different job every time she appears. The variety of her jobs is to such an extent that she has made business cards reading simply "Does Everything".[7] Job titles have included the aforementioned network executive, as well as marketing researcher, financial planner (making a point that she wasn't a financial consultant), public relations consultant, venture capitalist, advertising executive, cell phone company exec. and executive with the Child Development Group. After she introduces herself (again) to Homer and Marge, Marge says, "We've met you many times, Ms. Naegle; why do you keep changing jobs?" To which she flatly replies, "I'm a sexual predator".[8] She later becomes a replacement for Smithers when he quits the Power Plant.[9] She was a Mr. Burns' advisor in his business reconstruction of the First Church of Springfield.[10]
Love life
[
edit
]
Naegle once dated Ned Flanders, but the date was interrupted by Naegle receiving a fax (from a fax machine strapped to her leg) which indicated she had been indicted. She is an enthusiastic practitioner of the childfree lifestyle, and at one point spearheads a movement to make Springfield less child-friendly. Once romantically linked with Judge Roy Snyder, she is a graduate from the Wharton Business School. She is a stereotypical upper management executive, and her ventures almost always promote the business buzzword "synergy". Marge told Homer that if she died, he would be allowed to remarry to Naegle, as seen on a list in the back of his closet.[11]
It is implied that she's been sleeping with Krusty the Clown, as both were giggling and blushing.[12] She has also been seen with Moe Szyslak,[13][14] Sea Captain,[15][16] Disco Stu,[17] Blue-haired lawyer,[18] Rainier Wolfcastle,[19] Lenny,[20] and Kent Brockman.[21][22]
Non-canon
[
edit
]
| | |
| --- | --- |
| | The contents of this article or section are considered to be non-canon and therefore may not have actually happened or existed. |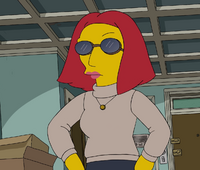 Before becoming a rich socialite, Lindsey Naegle used to be a jewel thief and brought big jobs to her partners, Sarah Wiggum, Bette, and Erin. At this time, Lindsey went by the name "Red", and had red hair. On a robbery of jewels from a penthouse, Lindsey sounded the alarm and turned on Bette and Erin, whilst Sarah was busy with Clancy Wiggum. This led to Bette and Erin getting arrested whilst Lindsey made off with the jewels. Lindsey sold most of the jewels but kept the hourglass diamond, which she had placed in a tiara.[23]
The Simpsons: Tapped Out
[
edit
]
Lindsey Naegle
[
edit
]
This section is transcluded from The Simpsons: Tapped Out characters/More Business Owners. To edit it, please edit the transcluded page.

Permanent Tasks
Task
Time
Reward
Requires
Quest with the task
Animated?
Go Skating
10m
17, 5
Simpsons' Skating Rink
Speed Date
60m
70, 17
The Java Server
Buy Pretentious Ingredients
60m
105, 26
Fancy Farms
Attend Mensa Meeting
3h
135, 35
Gazebo
Network at an AA Meeting
4h
175, 45
Convention Center or
First Church of Springfield or
Marketing Agency
Overpay for Sex on the Beach
4h
260, 70
Smooches on the Beach
Stay at the Swelldorado
4h
260, 70
Swelldorado
Try to Win at Blackjack
4h
175, 45
$ Casino
Drink and Babysit
4h
175, 45
The Boiled Potato
Attend Coffee Meetup
4h
175, 45
Jittery Joe's Coffee
Party at the Yacht Club
6h
225, 55
Elite Yacht Club
Give an Impassioned Speech
8h
275, 70
Springfield Heights Pt. 14
Dance the Señor Burns
8h
420, 105
Chez Guevara
Shop for Gifts of Christmas Future
10h
350, 90
Tomorrow's Costington's
Drink With Clients
12h
420, 100
Marketing Agency
Fend off Children
24h
600, 150
Prepper Lindsey Naegle
[
edit
]
This section is transcluded from The Simpsons: Tapped Out characters/Scrappy Fighters. To edit it, please edit the transcluded page.

Permanent Tasks
| Task | Time | Reward | Requires | Quest with the task | Animated? |
| --- | --- | --- | --- | --- | --- |
| Inventory Supplies | 60m | 105, 26 | Marketing Agency | | |
| Shoot Around Town | 4h | 260, 70 | | Proper Prepping Pt. 2 | |
| Bug Out | 8h | 420, 105 | | Proper Prepping Pt. 4 | |
| Review Escape Plans | 12h | 600, 150 | Marketing Agency | | |
| Escape Doomsday | 24h | 1,000, 225 | Marketing Agency | | |
Behind the Laughter
[
edit
]
Lindsey makes her first appearance in "The Itchy & Scratchy & Poochie Show". In this episode, her character was simply referred to as "Female Network Executive", and had brunette hair instead of her usual blonde hair. She later returned in "Girly Edition". In "They Saved Lisa's Brain", the character was introduced as Lindsey Naegle, a member of the Springfield Mensa Society and head of Advanced Capital Ventures, specializing in synergy and books on how to cheat at bridge.
In The Simpsons: Tapped Out, she was referred to Lindsay Naegle in the files and dialogues, but that was corrected in the Bart Royale content update.
Appearances
[
edit
]
Episodes:
Specials:
Adverts:
Simpsons Comics:
Treehouse of Horror:
Bart Simpson:
Futurama Crossover:
Super Spectacular:
Winter Wingding:
Summer Shindig:
Comic Book Guy: The Comic Book:
Homer for the Holidays:
One-Shot Wonders:
Video Games:
Books:
References
[
edit
]
Factfiles from Simpsons World the Ultimate Episode Guide: Seasons 1-20
Season 14
Rock Stars • Audrey McConnell, Third Grade Teacher • Dr. Velimirovic, Plastic Surgeon • Mitch Hartwell, the Reality Channel Producer • Junior (AKA Frank Grimes, Jr.) • Teacher of the Year Award Nominating Committee • Dexter Colt, Private Eye • The Mugger • Larry H. Lawyer, Jr. • Baby Stink-Breath • Booberella • Sara Sloane, Hollywood Movie Star • Cookie Kwan, Red Coat Realtor • Stark Richdale • Declan Desmond • Julio and Grady • Luke Stetson, Junior Wrangler • Suds McDuff, Spokesdog/Mascot for Duff Beer • Marriage Counselor • Jim Proudfoot • Don Castellaneta