Hardly Kirk-ing
Wikisimpsons - The Simpsons Wiki
"Hardly Kirk-ing"
Episode Information

"Hardly Kirk-ing" is the thirteenth episode of season 24 of The Simpsons and the five-hundred and twenty-first episode overall. It originally aired on February 17, 2013. The episode was written by Tom Gammill and Max Pross and directed by Matthew Nastuk. It guest stars Kevin Michael Richardson as the Springfield Mall security guard.
Synopsis
[
edit
]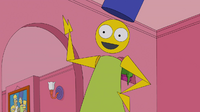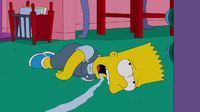 Homer is watching Baby Poindexter, the most educational video available at the checkout aisle of the grocery store, in the family room. The kids sit down to watch it, before Marge enters and shouts at them not to watch the DVD because studies show it doesn't do kids any good. She tells Bart and Lisa that they watched it when they were little, but Lisa is confused - how did she become much more academically superior than Bart? A flashback reveals that Lisa got bored while watching the DVD and made a paper castle from the DVD box. Marge tells the kids they cannot watch DVDs, and turns on some 'educational' programming - Ice-Road Hand-Fishing. After watching just a brief excerpt of the show, Marge exclaims that the kids cannot watch television for the next 24 hours, and takes them to a children's bookstore instead (with an incident involving Maggie hugging the DVD player beforehand). Marge and Maggie go to an area of the bookstore where a lady is reading a book to some children (and bored parents), when a security guard takes her away because she doesn't even work there. Homer has found a book called Spot the Hidden Objects, and becomes a pro at finding the hidden objects after a while. After Marge becomes worried because she doesn't know where Lisa and Maggie are, Homer uses his new skills to find them.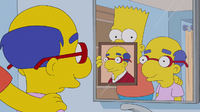 At the Van Houten residence, Bart has told Milhouse that he can't watch TV for 24 hours. And because he's bored, he decides to have an epoxy fight. Some ends up in Milhouse's hair, and after several attempts to get it off, Milhouse becomes bald. Bart exclaims that he looks just like Kirk, his father. Bart dresses Milhouse in Kirk's clothing, and finally puts the tie on. Milhouse's voice changes to Kirk's when the tie is pushed up, but when pushed up too far he sounds like Duffman. Bart decides to teach Milhouse how to be a man: blowing soap bubbles, being part of a band called MEN and taking Kirk's urine-flow enhancer tablet. Bart uses Milhouse to his advantage; Milhouse makes a Skype call to Lisa and asks for Homer, as Kirk, then asks if Bart can sleepover that night. Then he tells Homer that he disapproves of his fathering to Bart, before forcing him to eat a gallon of ice-cream in just under two minutes.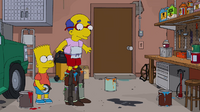 Bart tapes Milhouse's feet to two stacked paint cans each so he is the same height as his father. Bart pulls up Milhouse's tie when Luann comes in, asking why he's wearing the shirt she thought he didn't like. Milhouse tells his 'wife' that he loves her buying him clothes, because she knows what's itchy and what's not. Luann gives Milhouse a kiss on the cheek before leaving. Bart and Milhouse go to a truck rental place and Milhouse rents a truck - before crashing it. He then rents another truck and crashes it outside the Kwik-E-Mart. Jimbo, Dolph and Kearney threaten to beat 'Kirk' up if he doesn't buy beer, cigarettes, porn magazines and polarized sunglasses for them. After the incident, Milhouse tells Bart that after making his 'wife' happy and getting out of a beating, he exclaims that being an adult is super easy.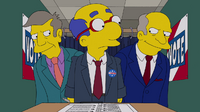 Milhouse goes into a voting booth and ponders whether to vote "Yes" or "No". He reads that if he punches "Yes" there will more money for schools, which could translate into more homework. Principal Skinner and Superintendent Chalmers then enter the voting booth and tell him he's not leaving until he punches "Yes". Milhouse and Bart go to Moe's and ask for two milks, then ask Moe to tell them where babies come from. Moe tells the story of where he came from, before showing the two his tail, which he keeps in a jar.
At the Simpson residence, Lisa tells Marge that Maggie may be missing TV, as she is watching the washing machine go round and round. Marge turns Maggie around, and finds her eyes spinning around. One turn of the pacifier and she turns back to normal. Lisa asks Marge if she can take her and Maggie to see a tribute band at The Jazz Hole, but Marge refuses - the US Embassy has warned people not to go to Downtown Springfield. Lisa tells Marge that she also knows of a puppet show, but it turns out to be more violent than expected. Marge and Lisa try to leave, but are stopped by a guard, who explains that nobody leaves until every puppet is dead.
Once the show is over, Lisa goes into Bart's bedroom, because he wanted to show her something. Bart tells her that he knows a cool adult who will take Lisa to The Jazz Hole, and presents 'Kirk'. Lisa is suspicious of 'Kirk''s true identity immediately, and then tells him that they can't go because they can't pay for the gas and cover fee. Bart explains that there is a solution - asking the makers of Baby Poindexter for their money back.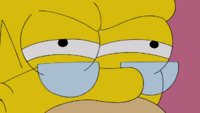 Homer is in bed, circling items in another volume of Spot the Hidden Objects, when Marge comes in from the bathroom telling him she lost an earring. Homer uses his new skill to find the earring, hidden in a bowl of N&N's. Homer also finds a lost thimble from a Monopoly game, a $25 casino chip, and the smallest nesting doll. Homer also finds his honey pie behind the pillow, and tells Marge that they should split it between them.
Early the following morning, Milhouse is with Bart and Lisa at the bus station buying tickets to go to downtown Springfield. Milhouse and the employee shake hands, before handing Lisa and Bart their tickets. After Milhouse tells Bart to apologize to Lisa, acting like their father, Bart pushes Milhouse backwards, prompting Milhouse to strangle Bart. Bart then trips Milhouse, making the paint cans loosen and come out of position. Milhouse and Bart start fighting after Bart steals his adulthood by removing his tie. A man tells Lisa that that is conduct unbecoming of a bus station - but he feeds a mouse to a snake in his locker! At the Lazy Parent Educational Videos, Inc. building, Lisa tells the company CEO that their DVDs turned her brother's brain to jelly - with Bart acting like they did. The CEO tells the three that they are eligible for the full refund of the DVDs. Lisa counts the money and finds that it's just enough to get home, but they are all starving. They spot a banner hanging from an hotel building, offering a free breakfast with a condo sales presentation.
Back at the Simpson residence, Homer has moved onto Where's Waldo books, finding Waldo within less than a second of flipping the page. Marge enters, telling Homer that the kids were supposed to be at the Van Houten's but Luann told her they were supposed to be at the Simpsons'. Homer finds Waldo a couple more times and then goes with Marge to find the kids.
At the presentation, Milhouse, Lisa and Bart are the only ones remaining as the others have left because they got bored. Bart tells the salesperson that they want to go, but that just prompts her to lock the doors. Lisa explains to the salesperson that their 'dad' has a surprise for her. The salesperson starts flirting with 'Kirk', after he tells her he's single. She takes 'Kirk' out of the room, leaving Bart and Lisa looking at each other.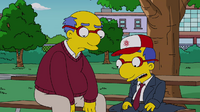 On their way to find Bart, Lisa and Milhouse, Marge asks Homer if he sees anything. Homer spots Mayor Quimby climbing out of a bedroom window with only his underwear on and Professor Frink and his robot wife coming out of counseling, before spotting the banner that says "Free Breakfast". Homer stops at the hotel to have the breakfast, unaware that the kids are there. Homer and Marge burst into the room where Milhouse and the salesperson are flirting with each other; Milhouse is confused how Marge knew it was him when she called. Marge tells him that his hair has a 5 o'clock shadow. The salesperson asks if anyone's going to buy a condo, with Homer saying that he will if she doesn't push him.
In the park, Milhouse apologizes to Kirk, but then says that it was fun having his life, and that he wouldn't mind growing up to be just like him. After they leave, Homer tells Bart to promise that he will never look like him, and Bart says "I sure hope not". Homer strangles Bart, leading to the end titles & closing credits.
Production
[
edit
]
The episode was originally scheduled to air on February 10, 2013, before it was rescheduled for February 17, 2013.[1]
Reception
[
edit
]
Fan reaction was positive. The episode has a fan poll majority of a 4/5 rating on No Homers. Fans thought the plot of the episode was "original, humorous, and sweet", and many named it the best of the season.[2]
"Hardly Kirk-ing" was nominated for a 2014 Writers Guild of America award in Animation, but it lost to "A Test Before Trying".[3]
International airdates
[
edit
]
Gallery
[
edit
]
References
[
edit
]