Marvin Monroe
Wikisimpsons - The Simpsons Wiki
Dr. Marvin Monroe is a local psychiatrist who was for a long time considered to have died.
History
[
edit
]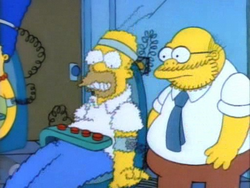 Monroe first appeared in a TV ad for Dr. Monroe's Family Therapy Centre, which Homer saw while watching a boxing match at Moe's Tavern. The ad claimed "family bliss or double your money back" and Homer sold the family TV to pay for therapy. Monroe's treatment consisted of a series of tests, including drawing your worst fear. Bart, Lisa, Marge and Maggie all drew pictures of Homer, while Homer drew a doodle of an airplane.
When the other tests failed, Monroe turned to the shock therapy method: the Simpsons were strapped in chairs with electrodes attached to them and given controls which they could use to shock other family members. However, it quickly got out of hand, Maggie started, but Bart's zapping Homer accelerated the mayhem before the doctor had a chance to explain the procedure. The family engages in a free-for-all, which consumed so much power that the clinic went dark (causing other patients to flee the building) and the whole town experienced a brownout. Monroe threw the Simpsons out, first grudgingly honoring the "double your money back" guarantee when Homer reminded him of it. He then told the Simpsons to never tell anyone they were there. With their money doubled, the family purchased a new television.[1]
Monroe was one of the doctors who studied Homer to figure out whether he was the missing link after Homer was captured by Bigfoot hunters.[2] Monroe hosts his own morning radio show on KBBL where he takes calls from listeners and tries to help them with their problems.[3] He was a panel guest on Smartline, in a discussion of TV violence.[4]
Dr. Monroe is the author of the following books: I'm Okay. Why Aren't You?, If Money is the Root of All Evil, Let Me Set You Free, Me, Myself, and I: Memoirs of a Modern Genius (an autobiography)[5] and Did I Die Or Not?[6] He became wealthy by curing his patients with The "Monroebilizer". A patented method that combines Nordic Track and cattle prod. This "cure" has secondary effects, that causes his patients to loose hand and eye ordination, making him the target of criminal investigations.[5] He also has the hotline "Dr. Monroe's Anxiety Line".[7]
Monroe also took part in the world's tallest human pyramid record attempt.[8] He is seen right at the start of Trappuccino when Russ Cargill introduces himself and the EPA.[9] In Bart's coma dream, Marvin Monroe was one of the ghosts who came to Bart to get help to move on to the afterlife. This is likely due to Bart being unaware Monroe is alive as Marge was the only family member around when he returned.[10]
Supposed death
[
edit
]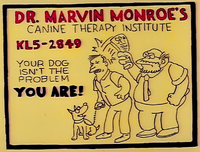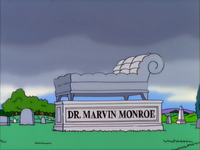 Although it was never specifically shown Dr. Monroe was considered to have died. He stopped appearing on TV and his business closed down. Many people in Springfield also believed him to be dead because several things had been named after him, such as the Marvin Monroe Memorial Hospital[11] and the Marvin Monroe Memorial Gymnasium.[12] His grave is also shown,[13] and Troy McClure reported his death "over the past year".[14]
However, several years later, he suddenly appeared at Marge's book signing, buying a copy of her book The Harpooned Heart. Marge, shocked to see him, said that she thought he was dead. Dr. Monroe explained that he had "been very sick".[15] Very much later, the book "Did I Die Or Not?" can be seen in a bookshelf behind Annette, a student therapist.[6]
Non-canon
[
edit
]
| | |
| --- | --- |
| | The contents of this article or section are considered to be non-canon and therefore may not have actually happened or existed. |
When the Simpsons were haunted by their old selves, they had a hard time getting along with each other (especially after they all became ghosts). Dr. Monroe arrived to soothe the situation, Marge asked him if he was alive or dead to which Monroe replied he's in a Limbo where he can phase through things like a ghost but gets stuck halfway.[16]
The Simpsons: Tapped Out
[
edit
]
This section is transcluded from The Simpsons: Tapped Out characters/More Business Owners. To edit it, please edit the transcluded page.

Permanent Tasks
| Task | Time | Reward | Requires | Quest with the task | Animated? |
| --- | --- | --- | --- | --- | --- |
| Go Skating | 10m | 17, 5 | Simpsons' Skating Rink | | |
| Practice Family Therapy | 60m | 70, 17 | Monroe Family Therapy Center | | |
| Rearrange Office Magazines | 4h | 175, 45 | Monroe Family Therapy Center | | |
| Overpay for Sex on the Beach | 4h | 260, 70 | Smooches on the Beach | | |
| Stay at the Swelldorado | 4h | 260, 70 | Swelldorado | | |
| Try to Win at Blackjack | 4h | 175, 45 | $ Casino | | |
| Drink and Babysit | 4h | 175, 45 | The Boiled Potato | | |
| Attend Parenting Seminars | 4h | 260, 70 | Universal Panacea | | |
| Wield a Foam Bat | 8h | 275, 70 | | | |
| Dance the Señor Burns | 8h | 420, 105 | Chez Guevara | | |
| Give a TV Interview | 12h | 420, 100 | Channel 6 | | |
| Self-Analyze | 20h | 550, 135 | Walk-In Therapy Stand | Physician, Heal Thyself | |
| Prove He is Alive | 24h | 600, 150 | Town Hall | | |
Behind the Laughter
[
edit
]
Foreign dubs
[
edit
]
Appearances
[
edit
]
References
[
edit
]
| | |
| --- | --- |
| | Wikisimpsons has a collection of images related to Marvin Monroe. |
Factfiles from Simpsons World the Ultimate Episode Guide: Seasons 1-20
Season 14
Rock Stars • Audrey McConnell, Third Grade Teacher • Dr. Velimirovic, Plastic Surgeon • Mitch Hartwell, the Reality Channel Producer • Junior (AKA Frank Grimes, Jr.) • Teacher of the Year Award Nominating Committee • Dexter Colt, Private Eye • The Mugger • Larry H. Lawyer, Jr. • Baby Stink-Breath • Booberella • Sara Sloane, Hollywood Movie Star • Cookie Kwan, Red Coat Realtor • Stark Richdale • Declan Desmond • Julio and Grady • Luke Stetson, Junior Wrangler • Suds McDuff, Spokesdog/Mascot for Duff Beer • Marriage Counselor • Jim Proudfoot • Don Castellaneta