Into the Woods
Wikisimpsons - The Simpsons Wiki
Into the Woods
Comic Story information
Into the Woods is a Bart Simpson story first printed in Bart Simpson #74.
Synopsis
[
edit
]
Bart and Milhouse get lost in the woods near Kamp Krusty.
Bart, Lisa and Milhouse arrive at Kamp Krusty. The trio are quickly greeted by Martin, who tells Lisa that he's working on a musical pageant about the hardships of the pioneers who settled the West and that he could use her help. Lisa eagerly agrees to take part. She and Martin begin talking about the history and hardships of the pioneers, such as the Donner Party (who ended up resorting to cannibalism in order to survive). Bart and Milhouse, however, mock the whole idea of the project. Lisa gets angry and tells them to get lost, and Bart decides that he and Milhouse are going exploring in the woods. Milhouse agrees, as long as they're back in time for lunch.
Bart and Milhouse go into the woods, and Bart says that experiencing nature is what Kamp Krusty is all about, not having a musical pageant. He waxes euphoric about all of the trees, but then quickly becomes bored. Milhouse says he wants to go back to the camp, as he's getting hungry. Bart says he thought they were heading back, but Milhouse notices that nothing they see looks familiar and thinks they're lost. They keep walking, and Bart casually notices a bear that they didn't see before. When it dawns on them that it's a bear, they run further into the woods, screaming "Bear attack!" A wider view, however, reveals that the bear is actually a statue holding a sign that admonishes visitors to not smoke in the woods.
Bart and Milhouse are grateful to have gotten away from the bear, but realize that they're definitely lost now. Milhouse says they've been gone for hours and it's starting to get dark, and they both notice that they're getting hungry. Milhouse presses Bart for answers about where they will sleep and what they will eat, and Bart says he's too hungry to think straight. Bart then recalls Lisa's mention of the Donner Party, and other examples from history where people had to eat each other to survive, and concludes that cannibalism isn't just for savages. With this rationalization, Bart starts hallucinating, then drools and looks at Milhouse, who in his vision has turned into a giant lamb chop. Milhouse asks what Bart is mumbling about, and "Why are you looking at me like that?" Bart, however, is unmoved from his hallucination. He licks his chops and bites Milhouse on the leg, which elicits a loud scream from Milhouse.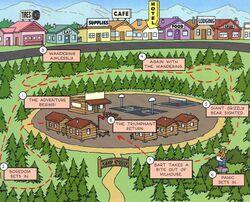 In the camp, Lisa is working on the pageant. She hears the scream and says it sounds like either a moose or Milhouse has been wounded. She calls out asking if that's Milhouse, and Bart and Milhouse stumble out from behind a bush and back into the camp. They talk about the hardships they endured while they were lost in the woods, such as nearly starving to death. Lisa, however, says that they were only gone for half an hour, and the only meal they missed was a snack. Bart and Milhouse are incredulous that it was only half an hour, pointing out that they were chased by a bear and that Bart tried to eat Milhouse. Lisa quickly pooh-poohs their tale: "Oh, boo-hoo! So much drama!"
The mention of the word "drama" draws out Martin, who is evidently now even more enthusiastic about his musical pageant, as he's now wearing a pioneer-style leather outfit. Bart takes one look at Martin, becomes disgusted and leaves the camp again, saying that he'll take his chances in the woods.
Special Bonus!
[
edit
]
The story includes a bird's-eye view of Bart's and Milhouse's wanderings around Kamp Krusty, which (ironically) reveals that they never got very far from the camp, and were in fact quite close to a town the whole time.
The caption encourages the reader to follow Bart's and Milhouse's trail and try to decode the secret message. At the bottom of the picture, however, a footnote says "Oops! Turns out there is no secret message. Sorry about that."
Reprints
[
edit
]
---