Hank Scorpio
Wikisimpsons - The Simpsons Wiki
"Don't call me Mr. Scorpion. It's Mr. Scorpio. But don't call me that either. Call me Hank!"
―Scorpio and Homer's first interaction.
Hank Scorpio is the evil genius owner of the Globex Corporation.
History
[
edit
]
Scorpio, despite being an evil genius, proved to be an ideal boss, welcoming the Simpson family with a condo and a friendly greeting. However, being an evil genius is still his priority, and over the episode he delivers a video threat to the United Nations, in which he destroys a bridge with a giant satellite laser device, but is annoyed that some of them seemed to think the bridge collapsed on its own. Unlike many supervillains, Scorpio does care for his own people in Cypress Creek, even going so far offering his employees health and free dental care. Later, he tries to kill Mr. Bont, a secret agent, who cleverly escapes but is tackled by Homer before being rapidly executed in turn by Scorpio's guards. When Homer comes to Scorpio and tells him that he wants to take his family back to Springfield, a battle between Globex and the U.S government is taking place, and Homer sympathizes with him having problems with the government. Though Scorpio says he would like to have Homer stay, he told Homer to do what he felt he should do, and tells Homer he would do him a favor if he were to kill some people, likely referring to the soldiers sent by the government, before grabbing a flamethrower and killing several soldiers while laughing sadistically.
Scorpio later succeeds in taking over the East Coast of the United States. He sends Homer is a letter saying that Project Arcturus couldn't have succeeded without him, and gives him the Denver Broncos as a gift, though he knew Homer wanted the Dallas Cowboys, he said it was a start. He later invites Homer if he finds himself in the East Coast.[2]
Scorpio was recognized by the Springfield Wall of Fame as being a philanthropist.[3]
Non-canon
[
edit
]
| | |
| --- | --- |
| | The contents of this article or section are considered to be non-canon and therefore may not have actually happened or existed. |
He was hinted in The Simpsons: Hit & Run video game on Level 6, when Bart buys a super-villain car from Kearney. Kearny mentions that this villain had also "conquered the East Coast".
He was imprisoned in Turkey for trading ray guns in the country, where he again met Homer, who was trying to smuggle a sandwich out the country, which the guards eat, and catch food poisoning from, leading to their escape.[4]
He has a son, Freddie, often referred to as "Gold Star". His son displays many similar characteristics, such as a desire to take over the world. He dresses identically to his father.[5]
The Simpsons: Tapped Out
[
edit
]
Default
[
edit
]
This section is transcluded from The Simpsons: Tapped Out characters/Villains. To edit it, please edit the transcluded page.

Permanent Tasks
Task
Time
Reward
Requires
Quest with the task
Animated?
Go Skating
10m
26, 7
Simpsons' Skating Rink
Deliver Ultimatum to G8 Nations
60m
105, 26
Town Hall
Don't Mess With An Evil Genius
Host a Lunch & Learn
60m
105, 26
Globex Compound
Interrogate Mr. Bont
4h
260, 70
Volcano Lair
Death Table not owned
I've Been Expecting You
Interrogate Mr. Bont
4h
435, 115
Agent Bont
Death Table
Organize a New Plan
4h
260, 70
Volcano Lair
Overpay for Sex on the Beach
4h
260, 70
Smooches on the Beach
Stay at the Swelldorado
4h
260, 70
Swelldorado
Try to Win at Blackjack
4h
260, 70
$ Casino
Drink and Babysit
4h
260, 70
The Boiled Potato
Hang at the Ha-Ha Spa
4h
260, 70
Klub Krusty Adult Retreat
Attend Parenting Seminars
4h
260, 70
Universal Panacea
Go Fancy Shopping
4h
260, 70
Carnaby Street
Take a Fun Run
6h
350, 90
Getting Involved With Community
Test Flame Thrower
8h
420, 105
How Do You Like Your Marsh Mallows?
Scout a New Mountain Lair
8h
420, 105
Kwik-E-Mart Central Office
Dance the Señor Burns
8h
420, 105
Chez Guevara
Proceed with Project Arcturus
12h
600, 150
Volcano Lair
Excuse Me, I'm Your New Dictator
Be a Great Boss
24h
1,000, 225
Volcano Lair
Free Health and Dental Care
Mastermind Hank Scorpio
[
edit
]
This section is transcluded from The Simpsons: Tapped Out characters/Secret Villains. To edit it, please edit the transcluded page.

Permanent Jobs
| Task | Time | Reward | Requires | Quest with the task | Animated? |
| --- | --- | --- | --- | --- | --- |
| Deliver Ultimatums to World Leaders | 60m | 105, 26 | | | |
| Reinvent the Death Ray | 4h | 260, 70 | Volcano Lair | | |
| Test the Upgraded Flamethrower | 8h | 420, 105 | | | |
| Give Minions Awesome Work Benefits | 12h | 600, 150 | Volcano Lair | | |
| Execute Charming Special Agents With Thick Accents | 24h | 1,000, 225 | Volcano Lair | | |
Behind the Laughter
[
edit
]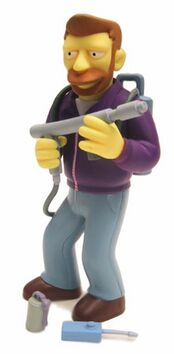 Hank Scorpio is a parody of British Billionaire Richard Branson, as well as villains from James Bond movies, especially Ernst Stavro Blofeld. Unlike the Bond villains, however, Scorpio genuinely seems to care about the well-being of his people—even going so far as to have a heart-to-heart talk with Homer about his family's decision to move while in the middle of a battle in Scorpio's lair, and giving Homer the Denver Broncos as thanks for his help, semi-fulfilling Homer's lifelong dream of owning the Dallas Cowboys, as he had previously told Scorpio.
The episode "You Only Move Twice" has a Bond-esque closing song about Scorpio (a direct parody of the theme to Goldfinger), which plays during the end credits.
He was supposed to be the villain of The Simpsons Movie, but for unknown reasons, this idea was dropped, and he was replaced by new character Russ Cargill who is also voiced by Albert Brooks.
Scorpio received an action figure in World of Springfield: Celebrity Series 3.
Appearances
[
edit
]
References
[
edit
]