Duffman
Wikisimpsons - The Simpsons Wiki
"Oh, yeah!"
―Duffman's catchphrase
For the job title, see Duffman (title).
Duffman is the mascot and spokesman for the Duff Beer company. There are actually multiple people who play Duffman.
Character traits
[
edit
]
Physical traits
[
edit
]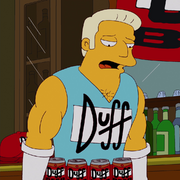 He is an athletic and smooth-talking corporate personality who wears blue and red tights, a red cape, white gloves, and the Duff logo emblazoned across his chest. The ensemble features a red hat, dark sunglasses, and a "utility belt" of beer cans around his waist.
Other traits
[
edit
]
Duffman is generally known for his overly enthusiastic speech in which he refers to himself in the third person, complete with dramatic pauses and ending with a suggestive "Oh, yeah!" and pelvic thrusts. Fittingly, his theme song which plays at every corporate-sponsored appearance is "Oh Yeah" by Swiss band Yello. Also, Lenny calls him "the guy who creates an awareness of Duff".
He is also a professional male stripper for private events including Edna Krabappel's bachelorette party.[1]
When Lenny mentioned that he had heard Duffman died of liver failure, Duffman scoffed "Duffman can never die! (Pause) Only the actors who play him!" This is a reference to real-life corporate mascots such as Ronald McDonald and the Marlboro Man who have been portrayed by multiple actors. The connection to Marlboro Man is expanded by the fact that two of the actors who played Marlboro Man died of lung cancer, a disease related to the product they promoted. Duffman was also shot by Frank Grimes Jr., and although the wound was not necessarily fatal, Duffman pledged his love to Doris before blacking out. Another Duffman died when Moe putt a sticker on his face. Another Duffman was possibly killed in a blimp crash during a baseball game; it was then revealed that there were three Duffmen working the game that night.[2] The Duff corporation does not publicly acknowledge that Duffman is only a fictional character, so as not to disillusion Duffman's "fans".
Life outside business
[
edit
]
Independence
[
edit
]
Though he is a corporate puppet of Duff Beer, some actors have displayed independent thought and conscience at times. Homer discovers that Howard K. Duff VIII, who owns not only the beer company but also the Springfield Isotopes, was planning to move the team to Albuquerque. Commanded to help discredit Homer, this Duffman was torn between corporate loyalty and the truth. In the end, Duffman said to himself "New feelings brewing in Duffman! What would Jesus do?" and tossed Howard Duff into the stands of Isotope Stadium.
Friends
[
edit
]
One of the Duffmen is friends with Rainier Wolfcastle, Cookie Kwan and Miss Springfield.[3]
Religion
[
edit
]
Homer and Marge attended an Oktoberfest celebration, where Duffman energetically proclaims "This Reich will last a thousand beers! Oh, Ja!" -a reference to the Nazi concept of a Thousand Year Reich. Under his breath, he mutters "I do this, and I'm Jewish".
Duffman claims to have two children, Dufflad and Duffgirl, but Mr. Duff VII retorts that these were "one-shot characters in a Super Bowl commercial". He was played by "Barry Duffman" when he was subsequently found teaching basic mathematics at the Springfield Men's Mission.[4] Also, Duffman said "Are You there, God? It's me, Duffman!". Duffman (or at least this particular Duffman) also mentioned his daughter after distributing several pieces of Duff memorabilia that he has to leave early to comfort his daughter who dropped out of College.[5]
At some point, Duffman got married and got step-children, one of which was Kyle.[6]
Duffman has at least one biological daughter, Amber. Amber's mother took Amber away when Amber was four, after Duffman became Duffman. Amber then stopped talking to Duffman at the end of high school. The two later reunited again and Amber opened up Amber's Cannabis & Cannabis Accessories, which Duffman became the mascot for, named Puffman. Duffman also mentioned that he may have other estranged daughters.[7]
Sexuality
[
edit
]
Duffman (or rather, whichever actor was playing him at the time) was revealed to be bisexual.[8]
He was also revealed to be in a relationship with Grady Little.[9]
When Duffman is shot by Frank Grimes Jr., he says "I love you Doris." This could possibly be his wife, but it may just be his sister.[10]
Duffman also slept with Titania. He promised her that in exchange for sleeping with him, she wouldn't have to touch the drunks in a bartending contest, but he reneged on the promise at the last minute.[11]
He was once seen on a date with Booberella, the date was accidentally caught on camera when Homer and Marge were recreating their anniversary dinner.[8]
Education
[
edit
]
Duffman is revealed to have dyslexia calling it "Duffmans' secret shame".[12] He said at he has studied ballet for four years at Juilliard.[13]
Non-canon
[
edit
]
| | |
| --- | --- |
| | The contents of this article or section are considered to be non-canon and therefore may not have actually happened or existed. |
Duffman appears in The Simpsons Game as the emcee of the Duff Ultimate Eating Challenge in the level "Around the World in 80 Bites".
The Simpsons: Tapped Out
[
edit
]
Duffman
[
edit
]
This section is transcluded from The Simpsons: Tapped Out characters/B-List Celebrities. To edit it, please edit the transcluded page.

Permanent Tasks
| Task | Time | Reward | Requires | Quest with the task | Animated? |
| --- | --- | --- | --- | --- | --- |
| Go Skating | 10m | 26, 7 | Simpsons' Skating Rink | | |
| Duff Brewery Tours | 30m | 60, 15 | Duff Brewery | No Swimming In The Vats | |
| Subtly Turn America's Youth on to Alcohol | 60m | 105, 26 | Springfield Elementary | Celebrity Worship | |
| Promote Duff at Stadium | 2h | 150, 40 | Duff Stadium | America's Former Pastime Pt. 3 | |
| Party Down at Church | 4h | 260, 70 | First Church of Springfield | Hey, Where's The Party? | |
| Overpay for Sex on the Beach | 4h | 260, 70 | Smooches on the Beach | | |
| Stay at the Swelldorado | 4h | 260, 70 | Swelldorado | | |
| Try to Win at Blackjack | 4h | 175, 45 | $ Casino | | |
| Drink and Babysit | 4h | 175, 45 | The Boiled Potato | | |
| Attend Parenting Seminars | 4h | 260, 70 | Universal Panacea | | |
| Shoot Another Commercial for Duff | 4h | 260, 70 | Stage 4 | | |
| Look Into Getting a Cape | 4h | 260, 70 | Just Half-Capes | | |
| Dance Outside the Steel Mill | 5h | 300, 75 | Ajax Steel Mill | Dance Off | |
| Promote Duff | 6h | 350, 90 | | Can't Get Enuff Dufff | |
| Drink Future-Proofed Liquor | 7h | 375, 90 | Future-Proofed Home | | |
| Party Down at Springfield Penitentiary | 8h | 420, 105 | Springfield Penitentiary | Hey, Where's The Party? | |
| Dance the Señor Burns | 8h | 420, 105 | Chez Guevara | | |
| Eat a Buffet Meal | 10h | 525, 135 | Up, Up and Buffet! | | |
| Party Down at Moe's Tavern | 12h | 35, 1 | Moe's Tavern | Hey, Where's The Party? | |
| Party Down at Duff Brewery | 24h | 1,000, 225 | Duff Brewery | Hey, Where's The Party? | |
Behind the Laughter
[
edit
]
Character origins
[
edit
]
Duffman is based on Budweiser's former mascot Bud Man. Duffman's catchphrase comes from the song "Oh Yeah" by Yello, which the producers say became extremely popular after Ferris Bueller's Day Off and many advertisers started using it. As a result, the writers felt that the song and phrase "Oh yeah!" would be suitable for Duffman. Duffman's thrusts were first acted out by Brad Bird. Duffman is the greatest womanizer - or so he says.[14]
Foreign dubs
[
edit
]
| Language | Voice dubber |
| --- | --- |
| Čeština | Tomáš Borůvka |
Appearances
[
edit
]
Episodes:
Specials:
Adverts:
Simpsons Comics:
Treehouse of Horror:
Bart Simpson:
Holiday Humdinger:
Super Spectacular:
Winter Wingding:
Summer Shindig:
Comic Book Guy: The Comic Book:
Homer for the Holidays:
One-Shot Wonders:
Video Games:
Books:
References
[
edit
]
| | |
| --- | --- |
| | Wikisimpsons has a collection of images related to Duffman. |
Airport and Airline Staff