Kamp Krusty
Wikisimpsons - The Simpsons Wiki
Kamp Krusty
Episode Information
"Dear Mom, I no longer fear Hell, for I have been to Kamp Krusty."
"Kamp Krusty" is the sixtieth episode of The Simpsons and the first episode of the fourth season. It aired on September 24, 1992. It was written by David M. Stern and directed by Mark Kirkland.
Synopsis
[
edit
]
"Bart and Lisa spend six weeks at Kamp Krusty. However, the camp is not what it seems, as Bart and Lisa quickly find out."
Bart dreams of the last day of school before summer vacation, whereby he, his fellow students, and the teaching faculty tear down Springfield Elementary School with chainsaws, flamethrowers, a bulldozer, and a wrecking ball. He is awoken by Homer who informs him that it really is the last day of school, much to Bart's joy.
Shortly after, at the breakfast table, Marge reminds Homer of his promise to the children; If they get a report card of at least a C average, the two of them can spend their summer at Kamp Krusty, a camp run by Krusty the Clown. While Lisa is certain her report card will be glowing, Bart is less than confident. "Now listen boy," Homer begins, "We have an understanding and you better keep your end of it. I don't think I'd be any kind of a father if you got D's and I let you go to Kamp Krusty." Later that day, Lisa receives her report card, which contains all As except for a B+ in conduct. She brings this to Miss Hoover's attention and rather forcefully tries to get her to change it.
Meanwhile, across the hall, Bart is prancing back and forth as he waits for Mrs. Krabappel to complete his report card. Bart tries to flatter her with compliments but fails to woo her enough to reconsider changing his final grades. She hands him his report card and Bart is horrified to see that he has got a D- in every subject. He explains to her that unless he gets a C average he won't be able to attend Kamp Krusty, to which Krabappel replies, "Have a D-elightful summer!" and chuckles.
It nears the end of the day, and both staff and students begin counting down the seconds until the bell signals the start of summer vacation. The bell rings and the students rush out of the school screaming and shouting excitedly. On the bus ride home, Bart attempts to alter Krabappel's grades from a D- to an A+. Lisa, who is sitting besides him, watches on and tells him to "at least forge plausible grades." At home, Bart watches an advertisement for Kamp Krusty on the TV, in which Krusty promotes such activities as archery and wallet-making, as well as the fact that attendees get to spend the entire summer with himself. Bart gathers enough courage to show the report card to Homer, who quickly spots Bart's grade forgery, but allows Bart to attend Kamp Krusty regardless, adding, "I didn't want you hangin' around all summer anyway."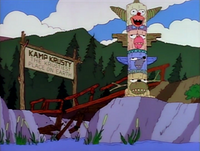 The next day, a group of parents send off their children as they board the bus for Kamp Krusty. Marge and Homer bid farewell to Bart and Lisa. As the bus begins to pull away, Bart warns his parents to avoid going in his room, while Lisa adds, "If the pets die, don't replace them. I'll know!" The parents wistfully watch the bus vanish into the distance. Once it disappears over the horizon, they jump for joy and pop open bottles of champagne.
The bus arrives at Kamp Krusty (after crossing an extremely unstable bridge) and the kids gather around to watch an introduction video. Kamp Krusty's director, Mr. Black, introduces himself and after a brief question-and-answer session, he presents the kids with their camp counselors, school-yard bullies Dolph, Jimbo and Kearney. Kearny presents the kids with their grime-covered cabin, which is partially collapsed and home to various assorted wildlife, including chickens and snakes. "Here's your cabin. If you don't like it, T.S," Kearny exclaims, as he slams the door behind him. Lisa and her other campers look concerned, but Bart isn't worried, for the cabin contains a (dirt-covered) Krusty Brand Seal of Approval.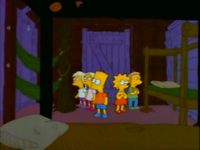 Later, the kids gather around a campfire, where the counselors make them roast pine-cones instead of marshmallows. Just then, Kearny throws another rubber tire onto the campfire and douses it with petrol, causing a huge flame to roar up into the air. The next morning, Lisa and several other kids in their swimming costumes stand at the edge of a nearby pier, looking down at a ragged canoe. Lisa asks if the canoe is safe, to which Kearny replies, "Well it ain't gettin' any safer." Just as she is about to step into the canoe, a vicious current of water breaks the canoe in two. Meanwhile, on the other side of the camp, at the secure "Chief Starving Bear Weight Loss Center", a drill sergeant gives his charges (pull-up bars) to a group of the overweight kids. Later, Dolph, Jimbo and Kearny force the campers to sing the camp song (which provides an over-generous representation of what the camp is really like). It's meal-time at the camp, and while the kids are fed gruel ("This is Krusty Brand Imitation Gruel. Nine out of ten orphans can't tell the difference"), in Mr. Black's cabin, a lavish feast is underway for just himself and his three counselors.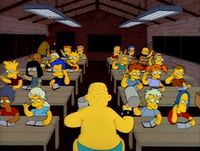 Back at the Simpson home, Homer reveals to Marge that since the kids have been away, he has lost five pounds and is beginning to grow new hair. The two embrace and dive under the bed sheets. Meanwhile, Krusty the Clown is at Wimbledon. He enjoys a bowl of strawberries and cream as he watches the tennis match from what we learn to be the Royal Box. Her Royal Highness is not amused.
At Kamp Krusty, Kearny intercepts a letter from Marge addressed to Lisa and quickly munches down the jellybean cookies inclosed. Lisa composes a letter of her own to be sent home, in which she begins with, "I no longer fear Hell because I have been to Kamp Krusty." She goes on to describe the grim death marches and how their Arts n' Crafts centre is, in reality, a Dickensian work house. Lisa concludes, "SAVE US! SAVE US NOW!" and slips her letter to a man on horseback who accepts a flask of alcoholic beverage as payment. The letter arrives home, where Homer and Marge enjoy the letter, and predict that, although she complains now, when they go to pick her up, she won't want to leave. However, back at the camp, the cabin roof is blown off by forcefully strong winds and the campers cling on desperately to their beds to prevent being blown away. Bart announces, "Lisa, I've been thinking it over and next summer I'm getting a job."
Act III
[
edit
]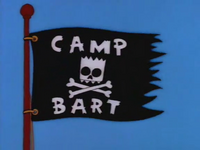 The next day, Mr. Black speaks before the campers. "Well kids, I promised you a little treat in lieu of dinner, and here it is", Mr. Black announces, as he presents them with Krusty the Clown...but it's not the real TV personality, but instead an overweight and dishelvelled Barney Gumble in clown makeup. Bart, who has been promising his fellow campers that Krusty would make an appearance all week, becomes fed up and riles up the rest of the kids with a speech. They begin chanting "We want Krusty! We want Krusty!" and throwing stones at Mr. Black and his counselors. The kids vandalize the camp and take-over, as Black, Dolph, Jimbo and Kearny retreat for the Hydrofoil. The Krusty totem pole is torn down and Bart hoists the black flag of "Camp Bart", despite Lisa's original impression that it was to be named "Camp Freedom".
News of the kids' rebellion reaches Homer and Marge quickly. Kent Brockman hosts Channel 6 News on location at the camp where he declares, "Ladies and Gentleman, I've been to Vietnam, Afghanistan, and Iraq; and I can say without hyperbole that this is a million times worse than all of them put together." Behind him, the camp falls into chaos as kids smash windows and set a Krusty scarecrow alight. Just then, Krusty arrives via helicopter after being alerted to the situation, and attempts to negotiate with Bart. At first, Bart and the rest of the unruly campers believe he is an imposter, until they strip Krusty of his shirt, revealing his pacemaker scar, cattle skull birthmark, and famous superfluous nipple. Krusty falls down onto his knees and apologizes for how bad their experience was at the camp. He promises to make it up to them by showing them the time of their lives by taking them to "the happiest place on earth: Tijuana!"
Production
[
edit
]
The "Kamp Krusty" script was originally suggested by James L. Brooks as a possible plot for a Simpsons movie. However, due to problems with making the story long enough for an 80-minute film, the idea was dropped.[1]
The episode was the last to be animated at Klasky Csupo, who have been working on the Simpsons since its beginnings as a short segment on "The Tracy Ullman Show", before the show's producers Gracie Films moved its domestic production to Film Roman.[2]
Reception
[
edit
]
"Kamp Krusty" was viewed by approximately 12.6 million households and garnered a 13.5 Nielsen rating, making it the highest-rated show on the FOX network the week it aired.
The episode received overwhelmingly positive reviews from TV critics. The A.V Club called the episode "iconic" and went on to say "Nearly two decades on, 'Kamp Krusty' still feels bracingly dark and sharp and uncompromising." They summed up, "It's timeless in the best possible sense, 22 minutes of hilarious anarchy that more than stands the test of time. God bless you, The Simpsons. You were truly doing God's work."[3] Total Film ranked the episode's reference to Ben-Hur as the 31st greatest film reference in the history of the show.[4]
Fan reaction was mixed-to-positive. Reviews submitted to NoHomers.net label the episode as "solid" with an "interesting plot" and that it was "a great way to start out Season 4." However, many fans agreed that the episode was overshadowed by the rest of the fourth season, including episodes such as "A Streetcar Named Marge" and "Last Exit to Springfield", and subsequently deemed it as "forgettable."[5]
The episode currently holds a 9.0 TV.com rating[6] and an 8.6 rating on IMDb.[7]
Gallery
[
edit
]
| | |
| --- | --- |
| | Wikisimpsons has a collection of images related to "Kamp Krusty". |
External links
[
edit
]
References
[
edit
]
---