The Simpsons Skateboarding
Wikisimpsons - The Simpsons Wiki
The Simpsons Skateboarding
Game Information
Released:
November 13, 2002
Developer(s):
The Code Monkeys
Publisher(s):
Fox Interactive
Electronic Arts
Genre:
Extreme sports
Platforms:
PlayStation 2
Ratings:
ACB: G
ELSPA: 3+
ESRB: T
The Simpsons Skateboarding is a video game released for the PlayStation 2 in North America on November 13, 2002. It was developed by The Code Monkeys and published by Fox Interactive and Electronic Arts.
The Annual Skate Tour is taking place in Springfield and several residents are taking part in order to win the prize of $99. (Note: this is the plot described on the game's box. No plot is given in-game.)
Gameplay
[
edit
]
Skillz School
[
edit
]
The player has to complete six challenges in a section of the selected level which increase in difficulty. When completed the player will earn money which can be used to upgrade the character's stats.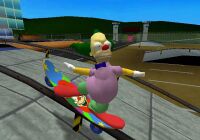 Skatefest
[
edit
]
The player can explore the level and gain points. There are a set of objectives in each level which reward the player:
Collect letters in the correct order to spell out a word within a time limit.
Complete two objectives unique to the level (e.g. knock over certain objects) within a time limit. One of these will unlock a secret area and the other will unlock a new level if completed along with the letter collection.
Collect the clocks, each of which will require the player to earn a certain amount of points within a time limit. If done successfully, the player will earn money.
Timed Trick Contest
[
edit
]
In a section of the level, the player must earn a certain amount of points within the time limit. If this is achieved in two levels, a new character will be unlocked. An alternate costume for each character can also be unlocked.
Multiplayer
[
edit
]
Multiplayer allows for two players. One of the multiplayer modes is Timed Trick Contest, where each player competes for the most points within the time limit. The other mode is HORSE where a player completes a move which the other player must copy. If not copied successfully, the second player will get a letter from HORSE. Whoever spells out HORSE first loses.
Springfield Elementary is the only level which does not need unlocking.
Playable characters
[
edit
]
The items listed are the ones picked up in the item collection task. The alternate costumes are the ones unlocked in the Timed Trick Contest.
Reception
[
edit
]
The game received negative reviews from critics due to its clunky control scheme, bad graphics and for being an overall low quality clone of the Tony Hawk's games. It has become notable in video game media outlets for its poor reception, with GameSpot describing it as "a case study in bad game design".