Lisa's First Word
Wikisimpsons - The Simpsons Wiki
"The sooner kids talk, the sooner they talk back. I hope you never say a word."
"Daddy."
―Maggie (after Homer leaves)
"Lisa's First Word"
Episode Information

"Lisa's First Word" is the tenth episode of season 4 of The Simpsons and the sixty-ninth episode overall. It originally aired on December 3, 1992. The episode was written by Jeff Martin and directed by Mark Kirkland. It guest stars Elizabeth Taylor as Maggie Simpson.
Synopsis
[
edit
]
When Homer, Marge, Bart, and Lisa unsuccessfully try to get Maggie to speak, Marge tells the family the story of when Lisa said her first word. Marge begins telling the story of how Lisa learned to talk by describing the spring of 1983 as a time when "Ms. Pac-man struck a blow for women's rights." It is March 1983, and Homer, Marge, and Bart lived in the Lower East Side. One day, Marge says that she is awaiting another baby, with Bart imagines a new brother who he can use as a scapegoat for his own misbehavior. But as Marge is pregnant, she feels that the Simpsons are going to need a bigger house. Homer and Marge try to look for houses, including a houseboat that Horatio McCallister has until now. After unsuccessful attempts, the Simpsons find a house on Evergreen Terrace and buy it with a $15,000 down payment from the sale of Grampa's house (despite Homer's promise that Abe could live with the rest of the family, he was sent to the retirement home just a few weeks later).
In 1984, the Simpsons move into their new Evergreen Terrace home, with the Flanders family as neighbors. Flanders has just bought a TV tray from the hardware store, and Homer borrows the tray from him for "a little while". (Years later, in the present, the tray is still in the Simpsons' living room.) Bart turns two years old, and for the first time, he watches Krusty the Clown, as well as Itchy & Scratchy. Krusty does a promotion for the 1984 Summer Olympic Games with his Krusty Burger chain, which is the "Official Meat-Flavored Sandwich of the 1984 Olympics." The promotion offers scratch-and-win game cards in which people can scrape off the name of the event from the game card, and if the U.S. wins a gold medal, that person wins a free Krusty Burger. However, the Soviet Union boycott the Olympics, and with this the U.S easily dominates every event, Krusty's accountant tells him he will lose $44 million due to the promotion. On air, Krusty angrily says he will personally spit in every 50th burger. Homer, however, finds those odds to be acceptable, and continues getting a steady supply of free Krusty Burgers from redeeming his winning game cards (as does the rest of the town).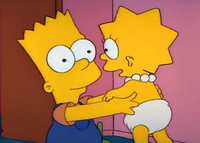 Bart is asked to give up his crib so it can become the new baby's. Homer builds Bart a new bed in the shape of a clown, but unintentionally gives it a frightening appearance, terrifying Bart into not sleeping. Marge thinks that the baby is coming, and she and Homer go to the hospital, leaving Bart with the Flanders family. He goes home and is introduced to his new baby sister, Lisa, with the first words Bart says to her being I hate you. Everyone except Bart agrees that she is a beautiful baby and he worries he is being forgotten about (which isn't helped by Patty and Selma openly preferring the cuter Lisa). Later, Bart cuts all her hair off with scissors to make her not cute anymore then tries to get rid by sticking stamps on her, and sticking her through the Flanders' doggy door — and is punished. He decides to run away, telling Lisa she is to blame for his problems and leaves, until she says her first word, "Bart." Bart is amazed that Lisa can talk, and proudly shows her off to Homer and Marge who isn't surprised "Bart" is Lisa's first word as she clearly adores her big brother. Bart teaches her to say "David Hasselhoff", "Mommy", and "Homer" but not "daddy", much to her father's annoyance causing Bart and Lisa burst out laughing. After this, Bart holds baby Lisa for the very first time, and starts truly loving his sister.
However, back in the present day, the flashback ends and Bart and Lisa are fighting. Homer takes Maggie to bed, saying that "the sooner kids talk, the sooner they talk back", and that he hopes that Maggie never says a word. When he leaves her bedroom, however, Maggie removes her pacifier and says "Daddy."
---