Wendell Borton
Wikisimpsons - The Simpsons Wiki
<!–-INFOLINKS_ON-–>
Wendell Borton Artwork of Wendell Borton
Character Information
Wendell Borton[1] is a student at Springfield Elementary School. His personal trait is that he always appears pale and sickly, and is prone to throwing up with very little provocation.
History
[
edit
]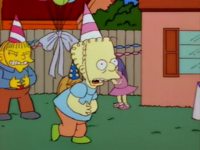 Wendell is a classmate of Bart Simpson in Mrs. Krabappel's fourth grade class. He is most seen playing with classmates such as Richard and Lewis. He is also good friends with Martin Prince, Jr. and helped him with his election as class president (one of the 2 votes for Martin) against Bart.[2]
He is considered one of the nerds of Springfield Elementary School along with Martin, Database and several others making him a constant and easy target of Nelson. Wendell was also one of the children who become stranded on the island with his fellow Model U.N. Club members.[3] He is very often sick in class or in the hallways of Springfield Elementary (Groundskeeper Willie is used to it by now), and on the school bus especially with Otto driving.
He once threw up on a bus ride after Bart patted him on the back,
[4]
and another time he hurled after his school bus crashed off a bridge.
[3]
Non-canon
[
edit
]
| | |
| --- | --- |
| | The contents of this article or section are considered to be non-canon and therefore may not have actually happened or existed. |
When the teachers at Springfield Elementary started eating students and passing their disappearances off as "permanent detention", Wendell was among the few survivors when the remaining students were all in one classroom. He was, however, given a detention and sent to the principal's office when his pencil slipped off his desk, thus sealing his fate.[5]
Behind the Laughter
[
edit
]
Throughout the series, Wendell has been voiced by Jo Ann Harris, Pamela Hayden, Nancy Cartwright, Russi Taylor and Tress MacNeille. This is due to the fact the he rarely speaks and thus has no specific voice actor. His most recent speaking appearance was in "Treehouse of Horror XXVI" (voiced by Tress MacNeille) when he said he didn't puke yet whilst on the roundabout.
Wendell did not appear white or speak until the episode "Homer's Odyssey".
The episode "Little Big Girl" reveals Wendell is of Mexican descent.
Appearances
[
edit
]
References
[
edit
]
<!–-INFOLINKS_OFF-–>
---