Dewey Largo
Wikisimpsons - The Simpsons Wiki
<!–-INFOLINKS_ON-–>
Dewey Largo
Character Information
Dewey Largo is the music teacher whom Lisa credited with proving that any piece of music could have the soul sucked out of it. He is very counter-creative and is a poor conductor.
Biography
[
edit
]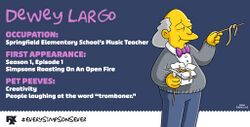 As a child, Dewey Largo was accepted to the Juilliard School of Music, but never got the letter as it was frozen atop Mt. Springfield. His assumed rejection from this school could explain his eventual lack of passion for music.[2]
Largo attended to the arts camp Expressions when he was a child, and told Lisa "it's just a place where they fill people with fake dreams."[1]
Mr. Largo is the music teacher at Springfield Elementary School. He is one of the more uptight and mean teachers at the school. Largo teaches Lisa's band class where he often stifles her creativity. He only teaches simple, boring and unoriginal songs to the band causing Lisa to often cause outbursts in class by improvising on her saxophone.[3] Once, Mr. Largo had to take over for Groundskeeper Willie for a short time while Willie was working at The Gilded Truffle. He turned out to an even worse groundskeeper than a music teacher.[4] He wanted to have a sex change operation to look like Julie Newmar, but ended up becoming shorter instead because Dr. Nick mixed up his surgery file with Moe's.[5]
Dewey Largo is gay, but was closeted for a long time. He was once in a large car crash and was rescued from the same car as Waylon Smithers, Jr. and was quick to state that they were just carpooling.[6] Later he was in a gay pride parade and quickly changed the subject when he was asked about it.[7] He was later seen trying to enter The League of Extra-Horny Gentlemen and being denied entrance by the doorman. Shortly after that, he "outed" himself when he ran away with his boyfriend, also named Dewey.[8] At some point he entered a relationship with Grady.[9] He was once hit on by a drunken Edna Krabappel who proclaimed she could get Largo on Broadway if he gave her one night.[10]
Non-canon
[
edit
]
| | |
| --- | --- |
| | The contents of this article or section are considered to be non-canon and therefore may not have actually happened or existed. |
The Simpsons: Tapped Out
[
edit
]
This section is transcluded from The Simpsons: Tapped Out characters/More School Workers. To edit it, please edit the transcluded page.

Dewey Largo
Image
Cost
Unlock method
Unlock message
150

---

50

Level 40, Lotto 'N' Liquor
Premium

---

This Thanksgiving's Gone to the Birds!
Premium (Retail Box)
Permanent Tasks
| Task | Time | Reward | Requires | Quest with the task | Animated? |
| --- | --- | --- | --- | --- | --- |
| Scratch Scratchers and Guzzle Grigio | 60m | 105, 26 | Lotto 'N' Liquor | Tipsy-Turvy Pt. 1 | |
| Conduct School Orchestra | 2h | 175, 40 | Springfield Elementary | Tipsy-Turvy Pt. 10" | |
| Conduct without an Orchestra | 4h | 260, 70 | | Tipsy-Turvy Pt. 3 | |
| Self-Loathe | 8h | 420, 105 | | Tipsy-Turvy Pt. 8 | |
| Dream of Proper Funding | 12h | 600, 150 | Springfield Elementary | | |
| Go Out on the Town | 24h | 1,000, 225 | Lotto 'N' Liquor | Tipsy-Turvy Pt. 7 | |
Behind the Laughter
[
edit
]
His last name is also an Italian word for a slow, broad musical tempo, a possible reference to the fact that he can make any piece of music uninteresting.

His last name is also Spanish for long, but this may just be a coincidence.
Appearances
[
edit
]
This article or section is incomplete.


Please improve the article, or discuss the issue on the talk page.

References
[
edit
]
| | |
| --- | --- |
| | Wikisimpsons has a collection of images related to Dewey Largo. |
<!–-INFOLINKS_OFF-–>
---