Elton John
Wikisimpsons - The Simpsons Wiki
This article is about the character. For the guest star, see Elton John.
Elton John
Character Information
Elton John is an English singer, pianist and composer.
History
[
edit
]
Elton John ended up landing at Springfield's airport as the chandelier in his private jet had malfunctioned. At the time, Apu had been upstaging every man in town with elaborate Valentine's Day gifts to Manjula, and Homer had followed him to the airport to see what he was doing next. Consequently, when Homer saw John getting off of his plane, he thought that his being in Springfield was yet another gift from Apu. Homer then shoved John into a dog cage to keep Apu from seeing him. John, for his part, thought he was being pranked or had blundered into a fraternity-style initiation, and took being shut in the cage in good fun.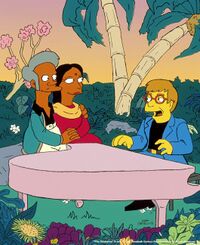 However, Homer was completely mistaken. Apu's purpose for being at the airport was to hire the skywriter
Fantastic Dan
to write "I Love You Manjula" in the sky. While Apu met with Dan, Elton John chewed his way out of the cage and Homer caught up to Apu. Homer then realized that the skywriting was the real gift, and snuck onto Dan's airplane to stop it. Elton John met up with Apu on the runway, and the two narrowly escaped being run over by Dan's airplane as Homer and Dan were fighting on board while Dan was trying to take off. The fight continued in the air, and Dan ended up writing "I Love You" followed by a blob that looked like a star, which made every woman in Springfield think that her husband had arranged for the skywriting.
Apu, meanwhile, took advantage of the chance meeting with Elton John to have him come to the Kwik-E-Mart's rooftop garden to play for him and Manjula. John happily did so, and performed a version of "Your Song" for Apu and Manjula, with the lyrics slightly changed to fit the couple.[1]
Elton John was later photographed picking up his laundry by Homer, when Homer was working as a paparazzi photographer.[2]
He was seen at the Golden Globe awards with Lady Gaga.[3]
He attended the Dr. Dres Without Borders charity event[4] and attended the opening of MoHo HOUSE.[5]
In a story told by Homer, Elton John was supposed to be a guest of a TV show. However, he had been eaten by one of the Muppets. After an explosion destroyed everything, Elton John emerged, wondering where he was.[6]
Appearances
[
edit
]
References
[
edit
]