Jaffee Ziswhisky
Wikisimpsons - The Simpsons Wiki
Jaffee Ziswhisky
Character Information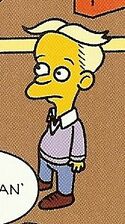 Jaffee Ziswhisky, or Dooley,[1] is a member of Bart Simpson's class at Springfield Elementary School.
History
[
edit
]
Jaffee is a member of Bart Simpson's Class, taught by Ms. Krabappel at the Springfield Elementary School. He was one of the singers in the classes performance at the Christmas Pageant[2] and he was part of Bart's "army" against Nelson and his cronies.[3]
Behind the Laughter
[
edit
]
In "Yokel Chords", his last name is revealed to be Ziswhisky when Skinner checks off the students (Jaffee is the last student he marks off).
He is normally unvoiced; however, in "My Fair Laddy", he gives out a cry of pain when Coach Krupt hits him with a dodgeball.
In The Simpsons: Tapped Out, he is featured as a Krustyland guest, as part of one of Coach Krupt's tasks and is one of the kids around the campfire in the 2015 Treehouse of Horror event.
Jaffee has also been drawn with blond hair.
Appearances
[
edit
]
References
[
edit
]