Matt Groening
Wikisimpsons - The Simpsons Wiki
This article is about the character. For the real life creator of "The Simpsons" and "Futurama", see Matt Groening.
"Your creator is TV's most beloved animation visionary."
―Matt Groening
Matt Groening is the creator of the television show Futurama and the comic strip Life in Hell.
History
[
edit
]
In the '90s, a struggling Matt Groening created the show Futurama.[2]
Matt seems to be very acclaimed, since when people saw him at a comic convention, everyone went for him for an autograph. Matt told them they can also take a bit of his 'stache, as they say it's good luck. He often wears a coat with his name on it.[3] However, when Homer saw a drawing of Bongo by Matt Groening (from his comic Life in Hell) he said Matt was a bad artist.[4]
He was once hired to draw a caricature of Freddy Quimby in a trial.[5] When Kent Brockman presented a list of people who were gay, Groening was on the list.[6] He is also in Comic Book Guy's banned list in the Android's Dungeon & Baseball Card Shop, along with Sideshow Bob, Nelson, Bart and Milhouse.[7]
When some "Everyman" comic books were being loaded in a truck, Matt Groening stole all of them and threw them into his truck.[8]
Matt is seen walking past Comic Book Guy at Comicalooza.[9]
Non-canon
[
edit
]
| | |
| --- | --- |
| | The contents of this article or section are considered to be non-canon and therefore may not have actually happened or existed. |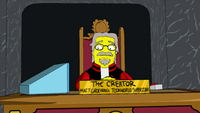 Matt Groening was once depicted as a heavy drinking, bald, one eyed WWII veteran who originally created the comics Damnation, Johnny Reb Comics and True Murder Stories. When asked how he makes an episode of The Simpsons every week, he fired gunshots at the camera.[1]
Matt Groening is among the people Comic Book Guy (as "The Collector") kidnapped and put into aluminized PET film bag.[10]
Matt Groening is "the creator" of both The Simpsons and Futurama, and his mansion is full of coin pills, dollar sign-shaped bushes and Simpsons characters items, such as statues and trees). When Homer and Bart go to his office, he attacks them with Bender and Zoidberg (some of Futurama's main characters) drawings that come to life. Homer and Bart defeat Matt, but he escapes in his helicopter after signing his window with his signature. He also appears as an enemy sent by God in Dance Dance Revolution.[11][12]
Matt Groening is in the rear left side of the courtroom during the trial of Duff Beer VS Pawtucket Patriot Ale.[13]
The Simpsons: Tapped Out
[
edit
]
This section is transcluded from The Simpsons: Tapped Out characters/Helpful Guest Stars. To edit it, please edit the transcluded page.

Matt Groening
Image
Cost
Unlock method
Unlock message
150,000
Level 23, Writers Building
When Worlds Collide Pt. 3
Permanent Tasks
Task
Time
Reward
Requires
Quest with the task
Animated?
Correct the Pronunciation of his Name
6s
1
When Worlds Collide Pt. 4
When Worlds Collide Pt. 9
Go Skating
10m
17, 5
Simpsons' Skating Rink
Create "Collectors" Items
60m
70, 17
Meet With Fans
4h
175, 45
Android's Dungeon
Overpay for Sex on the Beach
4h
260, 70
Smooches on the Beach
Stay at the Swelldorado
4h
260, 70
Swelldorado
Try to Win at Blackjack
4h
175, 45
$ Casino
Drink and Babysit
4h
175, 45
The Boiled Potato
Attend Parenting Seminars
4h
260, 70
Universal Panacea
Ponder the Nature of the Universe
8h
275, 70
Writers Building
Dance the Señor Burns
8h
420, 105
Chez Guevara
Work at his Other Office
12h
420, 100
Brown House
When Worlds Collide Pt. 10
Jury Duty
24h
600, 150
Court House
Attempt to Erase Homer
24h
1,200, 300
Homer
When Worlds Collide Pt. 11
He was seen in the audience during the award show.[15]
Behind the Laughter
[
edit
]
Matt Groening is the creator of the two television series The Simpsons and Futurama and the comic strip Life in Hell.
Matt Groening also appears in the Season 12: Complete Collection DVD menu, where he is busy signing comic books
Appearances
[
edit
]
Gallery
[
edit
]
References
[
edit
]
Factfiles from Simpsons World the Ultimate Episode Guide: Seasons 1-20
Season 14
Rock Stars • Audrey McConnell, Third Grade Teacher • Dr. Velimirovic, Plastic Surgeon • Mitch Hartwell, the Reality Channel Producer • Junior (AKA Frank Grimes, Jr.) • Teacher of the Year Award Nominating Committee • Dexter Colt, Private Eye • The Mugger • Larry H. Lawyer, Jr. • Baby Stink-Breath • Booberella • Sara Sloane, Hollywood Movie Star • Cookie Kwan, Red Coat Realtor • Stark Richdale • Declan Desmond • Julio and Grady • Luke Stetson, Junior Wrangler • Suds McDuff, Spokesdog/Mascot for Duff Beer • Marriage Counselor • Jim Proudfoot • Don Castellaneta