The Crepes of Wrath
Wikisimpsons - The Simpsons Wiki
"Our school participates in a foreign exchange program."
"The Crepes of Wrath"
Episode Information

"The Crepes of Wrath" is the eleventh episode of season 1 of The Simpsons. It originally aired on April 15, 1990. The episode was written by George Meyer, Sam Simon, John Swartzwelder and Jon Vitti and directed by Wes Archer and Milton Gray.
Synopsis
[
edit
]
"When Bart flushes a cherry bomb down the toilet, Principal Skinner suggests he should partake in a foreign exchange scheme. Bart ends up in France, working for some crooks who want to put antifreeze in wine. Meanwhile, back in Springfield, Adil Hoxha, an Albanian boy, is exchanged to the Simpsons to receive in the scheme, shows an interest in the power plant, and sends information back to the Albanian government."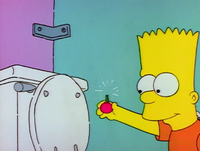 While being forced to clean his room (after accidentally causing Homer to trip down the stairs, hurting his back), Bart discovers an old cherry bomb, and decides to flush it down the boy's restroom toilet at school. This happens to coincide at the same time that Principal Skinner's mother Agnes is using the restroom, the resulting explosion blowing her off the toilet. Shortly afterward, Skinner arrives at the Simpson home with Bart in tow. Skinner explains the incident 'transcended incorrigible.' Feeling detention, suspension or expulsion won't do, he suggests deportation. The idea shocks Marge, but Skinner explains his plan. He proposes to the Simpsons Bart should participate in a foreign exchange program. Bart's sent to France, whereas the Simpsons host a student from Albania named Adil Hoxha. In France, Bart is greeted by Cesar & Ugolín, who work him worse than their donkey. After confiscating his clothes and items, Bart is forced to collect and crush grapes, sleep on the floor, and test wine adulterated with antifreeze.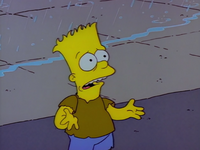 Back at the Simpsons' home, it is revealed that Adil is actually a Communist spy after nuclear secrets he intends to obtain from Homer. Homer's happy Adil's taking an interest in his work, and he promptly shows him around the plant. Back in France, Bart's sent out for a case of antifreeze. As he wanders the streets, he finds a police officer, who doesn't understand English. When he gives Bart a piece of candy, Bart leaves, feeling he'll never learn French, even though he was there two months. He suddenly starts speaking French, and tells the officer about the child abuse and how they put antifreeze in the wine. Ceaser and Ugolin are swiftly arrested for the antifreeze in the wine, and Bart becomes a national hero in France. Back in the United States, Adil is caught by the FBI and exchanged for an American boy spy caught in Albania. As Adil leaves, Bart returns.
Production
[
edit
]
In other languages
[
edit
]
| Language | Name | Translation |
| --- | --- | --- |
| Deutsch | "Tauschgeschäfte und Spione" | Exchanges and spies |
| Español | "Viva la vendimia" | Long live the vintage |
| Español | "Intercambio cultural" | Cultural Exchange |
| Français | "L'Espion qui venait de chez moi" | The Spy who came from my home |
| Français | "Bart au grand cru" | Bart the great vintage |
| Italiano | "Crêpes alle crêpes, vino al vino" | Crêpes with crepes, wine is wine |
| Magyar | "Csere-bere fogadom" | [untranslatable] |
| 日本語 | "バートのフランス日記" | Bart's France Diary |