Football
Wikisimpsons - The Simpsons Wiki
Football
Short Information
| | |
| --- | --- |
| Airdate: | October 18, 1987 |
| Short season: | 2 |
| Short number: | 11 |
| Production code: | MG08 |
| Writer: | Matt Groening |

"Football" is the eleventh Simpsons short. It aired on The Tracey Ullman Show on October 18, 1987.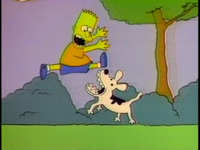 Homer tells Bart to catch the football he had just thrown. Homer offers Bart to buy everyone chocolate milkshakes if he successfully catches the football. When Bart hears this, he accidentally bumps into a tree, then a pole, and then a brick wall that made him unconscious, also where the football bounces off.
The next time, Homer convinces Bart to catch the football so that he may get everyone chocolate milkshakes. Homer and Lisa cheer Bart to catch the football and to run fast. This time Bart jumps over a fence, a ditch, and a dog, all which were notified by Lisa and Homer. Lisa and Homer then inform him about the cliff ahead which he and the football falls off.
Once more, Bart attempts to catch the ball, but this time with Lisa and Maggie cheering him on. This time, Bart catches the football that landed in his mouth, rather than his hands. Homer then rewards everyone frosty chocolate milkshakes. Even at the ice cream parlor, Bart still has the ball in his mouth. Homer says that if Bart won't drink it, he will. Lisa then gives Bart's mouth a small opening for him to drink the milkshake.