Moe Szyslak
Wikisimpsons - The Simpsons Wiki
"Moe" redirects here. For other uses of "Moe", see Moe (disambiguation).
"Ah, geez!"
―Moe's catchphrase
Moe Szyslak
Character Information
Moammar[5] "Moe" Szyslak,[6] also known as Morris Szyslak, is the proprietor and bartender of "Moe's Tavern", a Springfield bar frequented visited by Homer Simpson, Barney Gumble, Lenny Leonard, Carl Carlson, Sam, Larry and others.
Biography
[
edit
]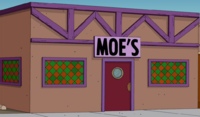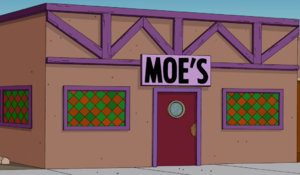 Moe was born on November 24. Moe either illegally immigrated to the United States from Holland[7] or was born in Indiana. He used to have an Italian accent [8] but no longer uses it, hinting at Armenian heritage describing himself as "half Armenian half monster".[9] When Mr. Burns bought the Springfield Nuclear Power Plant and came into Springfield riding an elephant, Moe asked to touch the elephant. The elephant then steps on Moe, giving him his bad looks.[10] As a child, he played the part of "Smelly", a tough kid, on The Little Rascals until he killed Alfalfa (or rather, an orphan portraying as him) in a fit of rage for stealing his bit and was fired. His first kiss was at 10 with Comic Book Guy. At some unspecified time during his childhood, his parents dropped him off at summer camp, and never returned to pick him up, leaving the Summer camp: Camp See-a-Tree, as being the closest that he could call a home. Moe becomes a victim of prank calls when young Marge calls the boys' camp and young Moe answers it. Marge asks to talk to Elvis Jagger Abdul-Jabbar, which is what young Homer introduced himself as to her. Moe, thinking that she is trying to trick him, becomes angry and hangs up. Then he turns and says, "And, uh, that's the origin of that". Moe has stolen many things but a more remembered item is the bag of Aztec coins in which created the criminal snake (metaphorically speaking).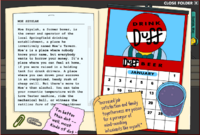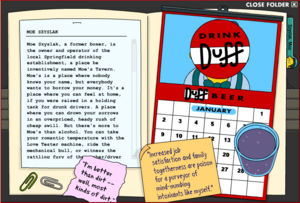 As a young man, Moe became a professional boxer, going by the names "Kid Gorgeous", "Kid Presentable", "Kid Gruesome", and "Kid Moe". Moe blames his boxing career for making him ugly. According to Moe, his boxing career ended because of politics, and because he was knocked out 40 times in a row. Moe's ugliness caused him to audition unsuccessfully for a part in the soap opera "It Never Ends". However in later years Moe has plastic surgery which earned him the role of Dr. Tad Winslow. His current appearance has been described as consisting of "cauliflower ear, lizard lips, little rat eyes, caveman brow and fish snout". After attending bartending school at Swigmore University, Moe opened up his own drinking establishment, "Moe's Tavern". Moe could have started a cult, as Bart once told Kearney "he's in that cult Moe started". He is currently banned from California.[11] He is also a natural at judging but after fighting with Simon Cowell he is no longer allowed to judge. In a previous episode he said he does many things but judging isn't one of them. During Trappuccino he claimed he was the emperor of Springfield.
Personality
[
edit
]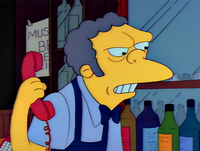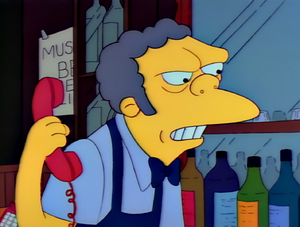 Moe is the owner and, except for a few instances where temporary help is hired, the only employee of Moe's Tavern. His most loyal customer is Barney Gumble, with other regulars including Homer Simpson, Lenny Leonard, Carl Carlson, Sam and Larry. Moe is notoriously cheap with his customers, refusing to give them free drinks, or throwing them out when they are out of money (and in one case, he asks who are the designated drivers, then tells them to beat it, claiming to have "no time for cheapskates" on St. Patrick's Day[12]). He also wants his customers to drink as much as possible, as then their tab will grow larger. Barney's tab had to be sent to Nasa to be calculated and it came out to be $14 billion. Once, when Homer asked Moe where the dart board was, Moe said, "we're phasing out the games, people drink less when they're having fun."
Moe generally serves Duff beer on tap, having little knowledge of liquors or wines; the liquor bottles visible behind the bar are said to be "painted on," and in one instance, he unknowingly sells an 1888 bottle of Château Latour for a few dollars. In one case, he wonders if gin and tonic mix. He enthusiastically abandons his bar, its regular customers, and his friends when a better opportunity comes along, such as the drink "The Flaming Moe", the opening of his postmodern bar "M", and the conversion of his bar into a family-themed restaurant called "Uncle Moe's Family Feedbag". Moe is often engaged in shady or illegal activities at his tavern, including smuggling pandas and orca's, hosting Russian roulette games, operating an unlicensed casino, serving liquor without a license (his expired in 1973 and it's only good in Rhode Island as well as being signed by Moe himself), running a speakeasy during Springfield's brief flirtation with Prohibition, and performing unlicensed surgery in his bar. Moe and his bar has gained popularity many times; however, the fad mainly ends. Very few times Moe's popularity stays and his money sky rockets.
Moe's temperament is characterized by a short, violent temper (particularly aiming a makeshift shotgun at customers), coupled with homicidal and suicidal tendencies and a proclivity towards obsessive behaviors. These traits are exhibited in his behavior, including frequently attempting suicide (including an annual attempt on Christmas and calling the suicide hotline after his bar was closed by the health department), keeping an enemies list nearly identical to that of Richard Nixon (He added in Barney's name to the list after Barney called him out on his using Richard Nixon's list as his own), assuming a leading role in many of Springfield's angry mobs (including, at times, starting mobs, even ones directed at him, solely for the sake of a mob), and kidnapping Talking Heads vocalist David Byrne. He has started at least three riots: When the "Do What You Feel" festival went haywire he punched Principal Skinner in the face which sparked a mass riot,[13] he later punched a guy named Fred in the bank which influenced everyone else in the bank to start punching each other,[14] and he put Ned Flanders in a headlock at a less than exciting soccer match, this led to a fight between Principal Skinner and Lenny which soon escalated into a stadium wide riot.[15] He was also a member of the group of hotheads who inadvertently, but gleefully, crushed Shelbyville. He has also used his b-boy skills for self-defence, shot at Carl, robbed Homer of expensive pants, kept Hans Moleman under his bar's floorboards in a subterranean torture chamber, perpetrated insurance fraud, and stalking various townspeople. This behavior is further exhibited when he becomes the self-proclaimed Emperor of Springfield when the town is trapped in a dome.[16] His leadership is challenged by Barney who throws a Molotov Cocktail at him, which Moe successfully throws back. He once implies that he probably wouldn't continue to be suicidal if Reverend Lovejoy had told him that he had much to live for. He also tries to attempt suicide by sky diving without a parachute but he ends up landing on a Hot Air Balloon which happens to be one Homer and Marge are flying in and after he lands he says to himself "I can't believe this happened to me twice". Another of Moe's suicide attempts is when he is laying down at the beach by the tide and says "Come on tide take me with you, I just don't want to feel anymore pain", and the tide comes up to him and a stingray ends up on his face smacking him with his tail.
Moe has a strained love life due to his vulgarity towards women and his ugly appearance. Despite this, Moe has had a number of romantic experiences, including sleeping with his bartender Collette, dating a woman named Renee, and enjoying the company of many women after he had plastic surgery to correct his ugly appearance. He has long been infatuated with Marge Simpson (whom he often refers to as Midge) and has on occasion professed his love for her and tried to win her away from Homer. Moe's romantic attractions have resulted in criminal behavior and run-ins with the law; he has stalked Maude Flanders and other townspeople, he must register as a sex offender, and he had a restraining order placed upon him. At one point he is seen on his way to a "V.D. clinic". Moe has also proposed marriage to a WNBA mascot, even knowing that the character inside the mascot is Gil Gunderson.
Despite his faults, Moe has been shown to express genuine love and sentimentality, which suggests that he may not be as gruff as he appears. He has a cat named Mr. Snookums, of whom he is very fond. Moe is also kind towards the rats that live in his bar. On Wednesday nights, he reads to the homeless in a local soup kitchen and he also reads to sick children at the hospital. Until it was destroyed, Moe had a fondness for a jar of pickled eggs. He saved the owner of King Toot's music store and his wife from a flaming car. He saved the life of Maggie Simpson (ironically at a time that he was about to commit suicide by jumping off of a highway bridge into the river) and took efforts to protect her. Moe engaged in charity work in South America or Africa, using a flying fan to fight forest fires and deliver medical supplies to people devastated by floods. Moe has knowledge of automobiles and dancing. He also has a tender fondness for Lisa, who helped him to channel his depression into poetry, and has a deep attachment to Homer whom he easily feels rejected by.
Moe has also been revealed to be good at writing poetry, with help from Lisa who arranged his poems for him. However, Moe's inner beauty was ruined when he refused to share credit with Lisa for his poem Howling at a Concrete Moon in fear that he would get rejected by his fellow authors.[17]
When Moe noticed that Homer, Apu and Timothy Lovejoy, Jr. had relationship problems with their wives, Moe wrote a letter to the three men and had it delivered to them when they're on a boat to Weasel Island, stating that he is leaving Springfield permanently with one of the men's wives. While they determined whose wife Moe supposedly left with (and realizing the problems with their spouses), Moe went around Springfield solving all the men's marriage problems. He later confronted the three men, explaining to them why he wrote the letter and told them not to take their wives for granted.[18] He is also rumored to have rescued the Springfield Elementary Model U.N. Club that was stranded on an island. Exactly how is unknown.
Love life
[
edit
]
Despite his attitude and less than glamorous appearance Moe has been quite successful with romance, he has dated Selma, Lindsey Naegle, Edna Krabappel, Maya and Renee. He's also apparently dated Judge Harm, Mindy Simmons, Agnes Skinner, Princess Kashmir, Ms. Pommelhorst and many others.[19]
Moe's most serious relationship was with Maya, a woman that Moe met online. When Moe realized that she was a little person, he was shocked but quickly started making jokes about it. Moe also tried to stay away from anything including little people. Due to the frequent jokes Moe made about her height, Maya got annoyed and broke up with him.[20] However, sometime later, Moe and Maya met up again during a traffic jam. They rekindled their relationship until Moe got scared that Maya would break up with him again as he wasn't good enough for her. After leaving her for a few days, Moe was convinced by Homer to return to her and propose. Maya accepted the proposal and they got engaged.[21]
Non-canon
[
edit
]
| | |
| --- | --- |
| | The contents of this article or section are considered to be non-canon and therefore may not have actually happened or existed. |
The Simpsons Spin-Off Showcase
[
edit
]
In the "The Simpsons Spin-Off Showcase", Moe has his own spin-off, "The Love-Matic Grampa", in which Abraham Simpson dies and his spirit falls into the Love-Matic tester machine of Moe, and he gives advices to Moe so he can get a date with a woman called Betty. They both go out on a date, and Moe goes to the bathroom each time to see Grampa, until Betty discovers everything, but still loves Moe because he bothered to do all this just for her.
The Simpsons Road Rage
[
edit
]
In the video game "The Simpsons Road Rage", Moe is a character that you can unlock later in the game and drive him. In the brief video when you select his car you can see that he is smuggling a panda, which can be seen in an episode.[22] You can also pick him up as a passenger while driving as another character. In The Simpsons Road Rage and The Simpsons Hit & Run video games he says "Newsflash; you suck!"
The Simpsons Game
[
edit
]
In the "The Simpsons Game", he is Homer's coach in the level Around the World in 80 Bites, and when he wins, Homer bites off Moe's hand by an accident. He is one of the people Marge can use in Mob Rules to protest the sales of the Grand Theft Scratchy videogame to minors. In the level NeverQuest, he is an enemy, and looks like an Orc. The Orc-Moes are among the enemies sent by God in "Game Over".
The Simpsons: Tapped Out
[
edit
]
This section is transcluded from The Simpsons: Tapped Out characters/Business Owners. To edit it, please edit the transcluded page.

Permanent Tasks
Task
Time
Reward
Requires
Quest with the task
Animated?
Go Skating
10m
17, 5
Simpsons' Skating Rink
Shop at the Kwik-E-Mart
60m
70, 17
Kwik-E-Mart
Quicky At The Kwik-E
Lease a Shotgun
2h
110, 27
Ordnance Express
Visit the Track
3h
135, 35
Springfield Downs
Console Foosball "Players" With Drinks
3h
135, 35
Human Foosball Table
Eat at the Singing Sirloin
3h
135, 35
Singing Sirloin
Stay at the Swelldorado
4h
260, 70
Swelldorado
Run the Nag & Weasel
4h
260, 70
The Nag & Weasel
Try to Win at Blackjack
4h
175, 45
$ Casino
Run a Better Bar
4h
175, 45
MoHo House
Drink and Babysit
4h
175, 45
The Boiled Potato
Clean Slimu Tank
4h
175, 45
Slimu Auditorium
Overcharge Pilgrims
4h
260, 70
Bethlehem Inn
Bethlehem Inn Pt. 1
Order a Flaming Joe
4h
175, 45
Joe's Tavern
Visit Ancestors
4h
260, 70
Deep Dark Woods
Auction Off Wares
4h
175, 45
Springfield Swap Meet
Attend Parenting Seminars
4h
260, 70
Universal Panacea
Stalk Marguerite
4h
175, 45
Marguerite's Wagon
Upgrade His Bat
4h
175, 45
Hyborian Apparel
Visit Jake's Unisex Hair Palace
4h
175, 45
Jake's Unisex Hair Palace
Drink at Moe's Brewing Co.
4h
175, 45
Moe's Brewing Co.
Size Up Imaginary Targets
4h
175, 45
Bell Tower
Water Potions Down
4h
175, 45
Ye Olde Magick Shoppe
Drink Colorful Booze
4h
175, 45
Ye Olde Magick Shoppe
Serve Drinks at Moe's Express
4h
260, 70
Moe's Express
The Customer is Always Trite Pt. 1
The Customer is Always Trite Pt. 6
Overpay for Sex on the Beach
4h
260, 70
Smooches on the Beach
Go Knife Shopping
4h
175, 45
Mirrored It's a Wonderful Knife
Scout for Customers
6h
225, 55
Quitters
Dance the Señor Burns
8h
420, 105
Chez Guevara
Apply to Be a Gameshow Host
8h
275, 70
KTV Building
Look For a New Job
8h
275, 70
Springfield's Little Italy
Smuggle Endangered Species
8h
275, 70
What's in the Back Room?
Kiss My Grits Pt. 3
Serve Drinks
10h
350, 90
Moe's Tavern
Spy on Midge
12h
420, 100
Shrubs
I'm Stalking On Sunshine!
Moe Town
Enjoy a Night at the Theater
12h
420, 100
Springfield Playhouse
Write Epic Poetry
16h
750, 200
Moe's House
Work at Gaming Moe's
16h
500, 125
Gaming Moe's
Water Down Beer
24h
600, 150
Moe's Tavern
Costumes
[
edit
]
Standalone
[
edit
]
Behind the Laughter
[
edit
]
Moe's character was based partly on Tube Bar owner Louis "Red" Deutsch, who was made famous in the popular Tube Bar prank calls when he was repeatedly prank called by two Jersey City residents. These calls were the inspiration for Bart's repeated prank calls to Moe, and Deutch's often profane responses made Moe's violent side. Moe's further inspiration was drawn from comedian Rich Hall, an acquaintance of The Simpsons writer George Meyer. Hall considered being the basis for Moe "an honour". Moe's surname "Szyslak" was revealed in "Who Shot Mr. Burns? (Part One)", the writers found the name in a phonebook and gave it to Moe so that he would have the initials M.S., and hence could be a suspect in the Burns shooting. He was designed by Dan Haskett.[citation needed] Moe was also partially based on a gorilla, hence the hump in his back and his large muzzle.[23]
Moe was the first voice Hank Azaria performed for the show, redubbing Christopher Collins who initially recorded the character's voice for "Some Enchanted Evening".[24] At the time of his audition, Azaria was doing a play in which he had the part of a drug dealer, basing his voice on Al Pacino in Dog Day Afternoon. He used the same voice in the audition, and was told by Matt Groening and Sam Simon to make it more gravelly, with it becoming the voice of Moe. Groening and Simon thought it was perfect and took Azaria over to the Fox recording studio. Before he had even seen a script, he recorded several lines of dialogue as Moe for the episode "Some Enchanted Evening". Also in earlier seasons, he was seen with black hair instead of his current gray hair. After the episode "When Flanders Failed" where Ned Flanders opened the Leftorium, it is revealed that Moe is Left Handed. During the episode "Bart-Mangled Banner", Moe claims to be Dutch, only to stomp out of his bar wearing clogs a few seconds later.
Real name
[
edit
]
In "Flaming Moe's", his hired waitress Collette calls him "Morris". In "The Springfield Connection", Homer calls him "Moammar" after running a background check and Moe cringes with humiliation. It is implied in "Eeny Teeny Maya, Moe" that he changed his name to Moe so he could keep the sign and the bar's name.
Foreign dubs
[
edit
]
Moe has syphilis.[26]
Moe has Facebook and appears to be friends with Mark Zuckerberg.
Moe lives in squalor when he isn't in his tavern and has an armchair which is so infested with cockroaches that it can give him a massage.
Appearances
[
edit
]
This article or section is incomplete.


Please improve the article, or discuss the issue on the talk page.

References
[
edit
]
External links
[
edit
]
| | |
| --- | --- |
| | Wikisimpsons has a collection of images related to Moe Szyslak. |
This article is covered by multiple navigation templates. Click "show" to view.
Factfiles from Simpsons World the Ultimate Episode Guide: Seasons 1-20
Season 14
Rock Stars • Audrey McConnell, Third Grade Teacher • Dr. Velimirovic, Plastic Surgeon • Mitch Hartwell, the Reality Channel Producer • Junior (AKA Frank Grimes, Jr.) • Teacher of the Year Award Nominating Committee • Dexter Colt, Private Eye • The Mugger • Larry H. Lawyer, Jr. • Baby Stink-Breath • Booberella • Sara Sloane, Hollywood Movie Star • Cookie Kwan, Red Coat Realtor • Stark Richdale • Declan Desmond • Julio and Grady • Luke Stetson, Junior Wrangler • Suds McDuff, Spokesdog/Mascot for Duff Beer • Marriage Counselor • Jim Proudfoot • Don Castellaneta