Madam Wu
Wikisimpsons - The Simpsons Wiki
"Fool me once, shame on you. Fool me twice, shame on Wu!"
―Madam Wu
Madam Wu
Character Information
Gender:

Female ♀

Status:

Alive

Hair:
Black
Occupation:
Adoption center worker
Relatives:
Father: Unnamed (deceased)
Mother: Unnamed
First appearance:
"Goo Goo Gai Pan"
Voiced by:
Lucy Liu
Madam Wu is a Chinese adoption center worker.
History
[
edit
]
When the Simpsons and Selma went to China to adopt a child, Madam Wu was the worker assigned to Selma and Homer, who was pretending to be Selma's husband in order to help her adopt a baby. After Selma handed over the money for the baby, Madam Wu told Selma she would get her baby in a few days and in the meantime she could closely observe the intimate details of Homer and Selma's married life, which they both didn't like the sound of. Madam Wu then went with the family as they explored China, being told that Bart and Lisa were Selma's children and that Marge was the nanny.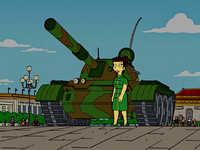 Madam Wu first took them to a Shaolin Temple where Homer angered the monks, getting attacked by them. She later went with the family to see a Chinese version of Death of a Salesman. Later, she asked Homer what his job was, and Homer replied that he was a Chinese acrobat. Several days passed and Madam Wu told Selma that she would get her baby the next day, which Selma was happy about. When Selma said that her life would begin at last, Madam Wu told Selma that was an insult to her other children, meaning Bart and Lisa. Bart then told Madam Wu that they were pretty lousy kids. When Madam Wu told Lisa that she would have a baby sister who would pass her academically, Lisa took offense to that as she considered herself smart. Marge told Lisa to mind her manners and Madam Wu then told Marge that someday someone may love her too, which angered Marge.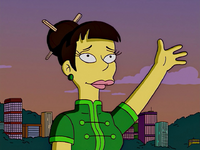 Madam Wu then went with the family to the Chinese Acrobatic Theater where a stunt was about to be cancelled due to the acrobat performing it suffering a "bullet-related death". The audience started to get annoyed when Madam Wu persuaded Homer to join the performance and perform the stunt, suggesting that if he didn't do it otherwise he's not who he claimed to be since he earlier claimed to be an acrobat. Madam Wu then announced Homer's entrance to the show. Homer got injured during the stunt and had to go to hospital.
In hospital, Selma leaves Homer and Marge to have some snuggling time together. However, Madam Wu was in the next room, spying on them. She then realized that Homer was not married to Selma and she took Ling away from her as a result. After they steal Ling back from the orphanage, Madam Wu finds them and stops them. Selma then speaks to Madam Wu bureaucrat to bureaucrat. Selma and Homer then gave Madam Wu a speech and she decided to let Selma keep Ling. Wu then told Homer to drop the panda he was trying to fit into a bag. Later that day, Madam Wu went to the dock to see the family off, giving Selma a quick hug before saying goodbye to them.
Her father was a professional ping pong player who died when he got a ping pong ball lodged in his throat. He died the day before the Heimlech Maneuver was invented. Madam Wu was then raised by her single mother.
Personality
[
edit
]
Madam Wu seems to be strict and by the books, wanting to follow the rules. This was seen when she was following around Homer and Selma to make sure they were a loving couple who could raise a baby. However, she also seems to be able to bend the rules when she wants, as she gave in and let Selma have Ling even after finding out that Selma wasn't married to Homer. This was partially due to her being raised by a single mother, so she knew that Selma could raise Ling alone.
Non-canon
[
edit
]
| | |
| --- | --- |
| | The contents of this article or section are considered to be non-canon and therefore may not have actually happened or existed. |
The Simpsons: Tapped Out
[
edit
]
Behind the Laughter
[
edit
]
Foreign dubs
[
edit
]
| Language | Voice dubber |
| --- | --- |
| Deutsch | Katharina Lopinski |
Appearances
[
edit
]