Mad About the Toy/Gags
Wikisimpsons - The Simpsons Wiki
Title screen gag
[
edit
]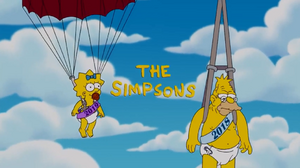 "2018" Grampa is being lifted up, while "2019" Maggie is falling down with a parachute.
Billboard gag
[
edit
]
Blackboard gag
[
edit
]

My new year's resolution was to quit school.
Couch gag
[
edit
]
"Mad About the Toy" couch gag
Couch Gag Information
The Simpson family are at a football game, where on the sidelines they sit on the couch, dressed as football players, and Homer spins Maggie on his fingers, and then gets congratulated by the public.
Appearances
[
edit
]
Characters
[
edit
]
Food and drink
[
edit
]