Cooder
Wikisimpsons - The Simpsons Wiki
Cooder

Cooder (adult)

Character Information
Cooder and his son Spud are carnies.
History
[
edit
]
When the Simpsons went to a carnival, Cooder and Spud were working in the ring toss game. Through a series of mischances, Homer and Bart ended up working in the booth and lost it when Homer bungled Chief Wiggum's attempt to accept a bribe, this ruining Cooder and Spud's livelihood. The carnies then ended up staying at the Simpson home and caused a lot of trouble, culminating in tricking the family out of the house and forcing them to live in Bart's tree house. The Simpsons got the house back by betting the deed in a ring toss game, then taking it back by cheating. The Simpsons then moved back into their house and Spud and Cooder went back to being carnies.[1]
Cooder was seen at a carnival when the Simpsons were on the run from the EPA.[2]
When the Simpsons stopped at the State Fair, Cooder and Spud were seen in the carnival, working the ring toss booth.[3]
At the Power Plant, during the "Take your kids to work day", he appears at the Useless Solar Power boot.[4]
Cooder can put a cigarette in his mouth or ear and can make it come out of his butt or nose.
He can pull out his left eye.
Behind the Laughter
[
edit
]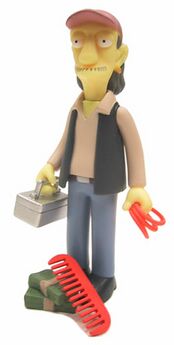 Appearances
[
edit
]
References
[
edit
]