Apu Nahasapeemapetilon
Wikisimpsons - The Simpsons Wiki
"Thank you, come again!"
―Apu's catch phrase
Apu Nahasapeemapetilon
Character Information
Apu Nahasapeemapetilon, Ph.D., formerly Slime Q Slimedog,[1] is the proprietor of the Kwik-E-Mart, the local convenience store and good friends with Homer Simpson.
History
[
edit
]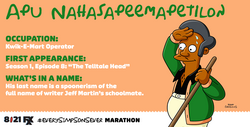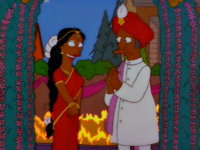 During the 1960s, while still living in India, Apu spent some time as a student of the Maharishi Mahesh Yogi, in which capacity he became a friend of Paul McCartney and Linda McCartney. Apu's friendship with the McCartneys caused him to be referred to by some (mainly himself) as "The Fifth Beatle". They visited Apu in Springfield around the time he became naturalized. He says that he graduated from Calcutta Technical University, where he was the top of his class of 7 million and got a scholarship in the United States.[2] In the United States, he got a doctorate in computer science by designing the world's first tic-tac-toe program that only the top human players could beat (which Bart Simpson promptly broke). He then took a job at the Kwik-E-Mart to pay back his student loans.
During the early 1980s, Apu was a member of the barbershop quartet called The Be Sharps, which also consisted of Homer Simpson, Barney Gumble, and Seymour Skinner.[3] Upon the advice of Nigel, the band's manager, Apu took the stage name "Apu du Beaumarche" (a pun, as "du beau marché" means "of the beautiful market" in French) and denied he was actually Hindu.
Prior to his marriage to Manjula, Apu slept with Princess Kashmir[4] and Selma Bouvier[5] and was bought at a bachelor auction by Luann Van Houten, Miss Hoover, Selma, Ruth Powers and Lois Pennycandy, he dated all five at the same time.[6] Apu and Manjula were wed through an arranged marriage. Despite trying to wriggle out of the arrangement at first, Apu was won over soon after meeting Manjula and the two actually did fall in love. Later, Manjula gave birth to the amazing number of eight children after receiving a larger-than-recommended dose of fertility drugs.[7] Apu and Manjula have a mostly happy marriage, despite understandable marital problems caused by Apu's workaholic nature (he seems to be at his post around the clock), the strain of caring for eight children, and two instances of infidelity by Apu.
He and his family are devotees of the Hindu gods Shiva, Ganesha, and Vishnu. At Apu's wedding, Homer, in a misguided attempt to play on the bride and groom's families' fear of the gods, arrived dressed as the Hindu god Ganesh. The impersonation was seen through by one of Apu's relatives and failed miserably. Before his marriage, Apu became known as the leading ladies' man in Springfield, because he holds a Ph.D. and runs his own business. He also admitted, "I'm not much of a talker, but I love to listen. I also like to design and build furniture and then to have a discussion about where it could be placed in a room", which made the single women of Springfield go crazy for him. Despite his hectic marriage and home life however, his first love is still to work in the Kwik-E-Mart, sometimes taking shifts long enough to send him into sleep deprived hallucinations in which he thinks he is "...a humming bird of some kind." Also after Apu had an affair with Annette, the squishy lady, Manjula made him legally change his name to Slime Q Slimedog. He is revealed to have slept with Selma Bouvier.
Heritage
[
edit
]
In addition to being Brahmins, Apu and Manjula appear to be Tamil because of their last names and especially dark complexions and Apu means loving child in Tamil; however, Apu has also been shown to be Bengali.[8] However, Manjula speaks Hindi (interpreted as "baby talk" by Marge), to Maggie, as opposed to Tamil or Bengali, further complicating the matter. Still, Apu's parents very strongly appear to be Tamil.[2][6] Apu has a cousin named Kavi, who lives in Bangalore, which is part of Karnataka, South India; this would suggest that they are indeed Tamil of Bangalore residence.[9]
Immigrant status
[
edit
]
Apu is a naturalized U.S. citizen and holds a Ph.D. in computer science. He graduated first in his class of seven million at the Calcutta Institute of Technology, going on to earn his doctorate at the Springfield Heights Institute of Technology. His doctoral dissertation was the world's first computer program to play perfect tic-tac-toe (Bart Simpson ruined it years later by plucking a random punch card out of the box along with several others). Apu began working at the Kwik-E-Mart during his college years to help pay off his student loans.
Sanjay, Apu's brother, helps him run the Kwik-E-Mart. Sanjay's daughter (and Apu's niece) is Pahasatira. Sanjay's son is Jamshed. They all share the Nahasapeemapetilon surname. Apu has another younger brother.[6] When Apu's and Manjula's parents were first arranging their marriage, Apu was shown as the oldest of three on a chart. Apu also has a cousin living in India named Kavi, who helped Homer while he was in India. He works for many American companies taking service calls and can speak with American, Western, and Jamaican accents.[9]
Non-canon
[
edit
]
| | |
| --- | --- |
| | The contents of this article or section are considered to be non-canon and therefore may not have actually happened or existed. |
Video games
[
edit
]
Apu is the only non-Simpson family playable character in the video game The Simpsons: Hit & Run, and his standard vehicle is a yellow version of his Pontiac Firebird called "Longhorn" (in the original TV series his car is shown red[10]). He is in the fifth level which is downtown Springfield at night. He appears walking around Springfield in The Simpsons Game but is a non-playable character. He is also a driver and passenger in The Simpsons Road Rage.
The Simpsons: Tapped Out
[
edit
]
This section is transcluded from The Simpsons: Tapped Out characters/Apu's Family. To edit it, please edit the transcluded page.

Apu
Image
Cost
Unlock method
Unlock message
220
Level 3, Kwik-E-Mart
Who Needs the Kwik-E-Mart
Permanent Tasks
Task
Time
Reward
Requires
Quest with the task
Animated?
Pray to Ganesh
45s
3, 1
Kwik-E-Mart
Thank Ganesh
Go Skating
10m
17, 5
Simpsons' Skating Rink
Attend a Convention
30m
40, 10
Convention Center
Feed the Octuplets
60m
70, 17
Apu Plus Eight
A Love Embiggened Pt. 7
Pick Up 64 Onesies
60m
70, 17
Springfield Dry Cleaner
Relax in the Brown House
2h
110, 27
Brown House
Eavesdrop on the Competition
3h
135, 35
Der Homerschnitzel
Take Night Classes
3h
135, 35
Kathmandu U
Sell Some Merch
3h
135, 35
Kwik-E-Merch
Attend Parenting Seminars
4h
260, 70
Universal Panacea
Critique Competitor's Store
4h
175, 45
Speed-E-Mart
Spy on Kids
4h
260, 70
Giant Ferris Wheel
Drink and Babysit
4h
175, 45
The Boiled Potato
Enjoy a Night Without Kids
4h
175, 45
Resort Hotel
Try to Win at Blackjack
4h
175, 45
$ Casino
Stay at the Swelldorado
4h
260, 70
Swelldorado
Overpay for Sex on the Beach
4h
260, 70
Smooches on the Beach
Bolt Down Products
4h
260, 70
Walking Kwik-E-Mart
Inconvenience Store
Offer Business Advice
4h
260, 70
Kwik-E-Mart
Kwik-E-Mart 4hr Shift
4h
175, 45
Kwik-E-Mart
Level 5
Kwik-E-Shift
Be Sharps Reunion
4h
175, 45
Swap Meet Stage
All American Auction Pt. 4
Dance the Señor Burns
8h
420, 105
Chez Guevara
Work a Kwik-E-Mart 8hr Shift
8h
275, 70
Kwik-E-Mart
Level 6
Workaholics Anonymous
Whacking Day Pt. 4
Order a Salad
12h
420, 100
Tree Steakhouse
Work at the Central Office
12h
600, 150
Kwik-E-Mart Central Office
Kwik-E-Mart 12hr Shift
12h
420, 100
Kwik-E-Mart
Level 8
Long Kwik-E-Shift
Enjoy a Night at the Theater
12h
420, 100
Springfield Playhouse
See if He Can Book a Room in Advance
16h
500, 125
Hindu Heaven
Work a Kwik-E-Mart 24hr Shift
24h
600, 150
Kwik-E-Mart
Level 10
An Apu's Work is Never Done
A Love Embiggened Pt. 2
A Love Embiggened Pt. 9
Kwik-E-Mart 168hr Shift
7d
3,000, 750
Kwik-E-Mart
Level 16
Christmas Hours
Costumes
[
edit
]
Futurama

[

edit

]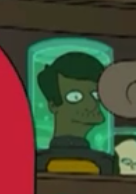 Although he did not appear fully in person in The Simpson's sister show, Futurama, his head could be seen in the head museum in "Space Pilot 3000" and "Bender's Big Score".
Behind the Laughter
[
edit
]
Creation
[
edit
]
Apu was voiced by Hank Azaria. In the script, Apu had the generic name "Clerk". Mike Reiss inserted the stage direction "the clerk is not Indian" under his line. When they got to the cast reading of the script, Hank Azaria read the line in an Indian accent and got a huge laugh. Hank Azaria later revealed that this was Sam Simon's idea to read the line in an Indian accent. The name "Apu" came from Matt Groening, who gave him that name to honor The Apu Trilogy by Satyajit Ray. His surname, "Nahasapeemapetilon", is the full name of a high school classmate of writer Jeff Martin.[11]
The Problem with Apu

[

edit

]
In 2017, comedian Hari Kondabolu released a documentary titled The Problem with Apu, which explored negative stereotypes spread by Apu and The Simpsons. For many years, Apu was one of the only Indian representatives on television. Kondabolu stated that kids would mimic Apu's accent and repeat his catchphrases to mock him. The documentary was made to highlight these issues. Many of the problems that Kondabolu has with Apu come from Apu being a stereotypical Indian immigrant, working hard in a convenience store, having eight kids and an arranged marriage. Kondabolu also took offense from Hank Azaria voicing Apu, saying it is like "a white guy doing an impression of a white guy making fun of my father". Kondabolu also claims that Apu hasn't grown as a character and he's very one dimensional.
Apu is a stereotype of Indian immigrants from the 1960s and '70s. Back then, Indian immigrants had to "take whatever roles were open because there were no options". Now, there are starting to be more options in film and television with several prominent celebrities of South Asian descent entering film and television so Apu isn't the only representative of the culture on television.[12]
Actor Utkarsh Ambudkar voiced Jay Nahasapeemapetilon, Apu's nephew, in the season 27 episode "Much Apu About Something". In the episode, Jay points out how much of a stereotype his uncle is, showing that the producers of the show realize this. In the season 29 episode "No Good Read Goes Unpunished", the show addresses the documentary, with Lisa saying "Something that started decades ago and was applauded and inoffensive is now politically incorrect. What can you do?", before the camera pans to a photo of Apu.
In Mike Reiss' book Springfield Confidential, Reiss calls The Problem with Apu "a nasty little documentary" and states that it has been a problem for them, with Hank Azaria reluctant to play Apu anymore. Reiss then states that most characters on the show are played by actors that are similar to the characters, saying "white guys play black men, straights play gays, and grown women play little boys". Reiss then goes on to state that lots of the characters are unflattering stereotypes, citing Groundskeeper Willie as an example of a cliché "whiskey-swilling, haggis-eating, bagpipe-playing Scotsman - played by an Italian actor.", however, Scottish people love him. Reiss then adds that he'd hate to lose a beloved character from the show but time may have run out for Apu, although it's not his call to make.[11]
In April 2018, producer Adi Shankar started a script contest which he hoped would be made into an episode of The Simpsons to subvert Apu's tropes and write him out in a clever way or evolve him as a character.[13] In late October 2018, Shankar told IndieWire that he had heard from multiple sources that Apu was being removed from the show.[14] After this news broke, executive producer and showrunner for The Simpsons, Al Jean, stated on Twitter that Shankar is not a producer on the show nor does he speak for the show.[15]
On November 1, 2018, Al Jean shared a link to an article by The Guardian by Indian-American writer Bhaskar Sunkara.[16] The article spoke about the positive aspects of Apu and his influence on people.[17] In the replies to the tweet, Al Jean confirmed that Apu isn't going anywhere.[18] Despite this, in 2020, Hank Azaria stated that while Apu will remain on the show, he will no longer provide the voice for the character.
Foreign dubs
[
edit
]
Appearances
[
edit
]
References
[
edit
]
Factfiles from Simpsons World the Ultimate Episode Guide: Seasons 1-20
Season 14
Rock Stars • Audrey McConnell, Third Grade Teacher • Dr. Velimirovic, Plastic Surgeon • Mitch Hartwell, the Reality Channel Producer • Junior (AKA Frank Grimes, Jr.) • Teacher of the Year Award Nominating Committee • Dexter Colt, Private Eye • The Mugger • Larry H. Lawyer, Jr. • Baby Stink-Breath • Booberella • Sara Sloane, Hollywood Movie Star • Cookie Kwan, Red Coat Realtor • Stark Richdale • Declan Desmond • Julio and Grady • Luke Stetson, Junior Wrangler • Suds McDuff, Spokesdog/Mascot for Duff Beer • Marriage Counselor • Jim Proudfoot • Don Castellaneta