Nappien
Wikisimpsons - The Simpsons Wiki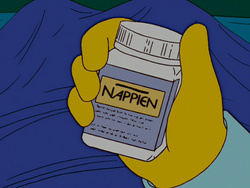 Nappien, technical name Methasorbizone tartrate, is a drug that helps you to sleep.
Description
[
edit
]
According to the advert, it is better than Sleepia for two reasons, it doesn't cause foot-fattening or elbow stink.
History
[
edit
]
Homer started taking Nappien when Maggie was keeping him awake at night. Homer started doing weird things around the house under the influence of the drug, including using video tapes as dominoes.
Homer asked the family to lock him in the bedroom at night, instead of not taking the pills as he was filled with stress.[1]
When Lisa replaced Krusty (and The Lisa Show replaced The Krusty the Clown Show), he started a chat show at around 3:00 in the morning called Last Gasp with Krusty the Clown, which was sponsored by Nappien, Nok-em-Out and Nok-em-Out Jr.[2]
Side effects
[
edit
]
The side effects of Nappien are:
Dry mouth
Mood swings
Nighttime kookiness
Variations
[
edit
]
There are two variations of the Nappien sleeping pills:
Appearances
[
edit
]
References
[
edit
]