Vivienne St. Charmaine
Wikisimpsons - The Simpsons Wiki
Vivienne St. Charmaine
Character Information
Vivienne St. Charmaine is a former actress and the girlfriend of Abraham Simpson.
History
[
edit
]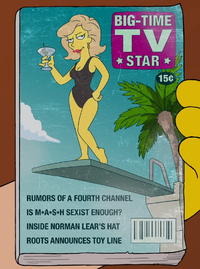 When Homer and Bart went to visit Grampa at the Retirement Castle, they found Grampa making out with Vivienne St. Charmaine. Homer recognized Vivienne as a former actress. Vivienne then told Homer that she starred in the TV show Falcon Landing. Vivienne told Homer and Bart that all her life, she dated younger men who told short stories, but Abe showed her what she had been missing. Grampa then told Homer and Bart that he and Vivienne had two Bingo games, a couple's colonoscopy and a romantic dinner cruise to go to.
That night on Channel 6 News, Kent Brockman reported that Vivienne St. Charmaine had fallen off the cruise ship and was presumed dead, with Grampa being the murder suspect. Grampa had no memory of the cruise, due to alcohol and being senile, and Kent Brockman started a podcast about the murder, Guilty Grampa. Eventually, Grampa listened to the podcast and confessed to the murder because he was sure he did it, even if he couldn't remember.
Dr. Hibbert then went to Grampa's rescue and revealed that during the colonoscopy, he had made them swallow pills that tracked each person. After Vivienne fell off the cruise ship, she swam to shore then escaped to Mexico. Grampa was set free but was upset because he thought Vivienne was going to be his final girlfriend. Vivienne then went back to Springfield and revealed to Grampa that their plan was to have Vivienne fake her own death so that Grampa could inherit the insurance money and join her in Mexico where they would live out the rest of their lives together. However, Grampa forgot all about the plan. Vivienne then moved in with Grampa in the Retirement Castle.
Appearances
[
edit
]