Sara Sloane
Wikisimpsons - The Simpsons Wiki
"Ned, I've never met a man like you. You're sensitive, you're in great shape, you have a mustache, and yet you're not gay."
―Sara Sloane
Sara Sloane
Character Information
Sara Sloane is a film star who fell in love with Ned Flanders.
History
[
edit
]
Sara Sloane first met Ned Flanders when she walked into The Leftorium looking for left-handed eyelash curlers. Ned, not realizing who Sara was, told her that they didn't have any in stock but he could get some by Tuesday. Sara then bought a left-handed crimper then asked Ned out on a date since she didn't know anyone in town. After Ned accepted, he left the store and noticed a poster for the movie My Best Friend's Gay Baby, which starred Sara Sloane, and recognized her.
Ned then went to Homer to ask for his advice about dating a movie star. Ned then decided to go out with her, with the two of them going to The Gilded Truffle. Sara went in a disguise so she wouldn't be recognized but Lenny recognized her anyway. Lenny then asked Sara for her autograph, which he would put on eBay, then asked if her could push a plaster cast onto one of her boobs, which caused Sara to say that Lenny was the worst fan she had met. Ned and Sara then ended their date at the Springfield Squidport where they made out.
The next day, the Simpson family were reading about Sara in Envy magazine, where Marge read that Sara had dated Ben Affleck and Adrian Zmed. Homer then got a phone call from the tabloids asking for details about Ned's and Sara's relationship. After this, the tabloids went to Ned's house, and stormed in, interrupting Ned and Sara, causing them to flee the house.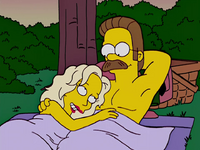 Later, Sara went at Polystar Pictures where she was filming The Zookeeper's Wife. During filming, Sara was supposed to get naked but Ned interrupted. Ned and Sara then pushed the director to rewrite the script to remove the nudity, which Sara liked as Ned was looking out for her. Sara then suggested to Ned that whilst the public wouldn't see her naked, Ned might. That night, Ned and Sara had a meal with the Simpsons. During their meal, Rainier Wolfcastle went into the house and asked Sara to take him back. Sara told Wolfcastle that she broke up with him as he was too jealous, citing a time he beat up Jon Lovitz for presenting an award to her.
On a late night walk, Sara asked Ned if he would go back to Hollywood with her. After fantasizing about this, Ned refused and Sara decided to move to Springfield instead. Ned and Sara got along well and Marge invited Sara to join her book club. Since the book the club was supposed to read was Bridget Jones's Diary, Sara invited Helen Fielding along. After the book club, Sara, Ned and Ned's kids got ready to attend a concert. Ned was surprised at how Sara was dressed and told her it was something she shouldn't wear even in a dirty dream. Sara went in the dress anyway, which turned many heads at the Springfield Bowl. After the concert, Ned and Sara had sex on a nearby hill. When they woke the next morning, they were interrupted by the Lupus Fun Run. Ned then asked Sara if she would marry him but Sara declined and said that she didn't want to get tied down. Ned and Sara then split up, realizing they couldn't both get what they wanted.
At some point after they split, Sara got married to Bob Balaban but got a divorce only three hours later, much to the relief of Ned who thought they could have lasted twice as long as that.[1]
Sara Sloane was one of the celebrities at the celebrity meeting on how to get back at Homer.[2]
Films by Sara Sloane include My Best Friend's Gay Baby, Honey, I Scotchguarded the Kids, Sleeping with Pinocchio, and The Zookeeper's Wife.
Personality
[
edit
]
On the outside, Sara Sloane appears to be a "screen siren", using her looks to her advantage, as seen when she chose to wear a revealing dress to a concert. However, she also likes sensitive men who want to protect her. Sara also has a bit of a naughty side, seducing Ned and having sex with him in public. Whilst Sara seems to fall in love with people easily, as seen from her many relationships, she doesn't want to be tied down with marriage, preferring to keep her options open.
Behind the Laughter
[
edit
]
Sara Sloane's appearance was based on actress Sharon Stone. Mike B. Anderson chose Stone as the inspiration for her design due to the name being similar.[3]
Appearances
[
edit
]
References
[
edit
]
Factfiles from Simpsons World the Ultimate Episode Guide: Seasons 1-20
Season 14
Rock Stars • Audrey McConnell, Third Grade Teacher • Dr. Velimirovic, Plastic Surgeon • Mitch Hartwell, the Reality Channel Producer • Junior (AKA Frank Grimes, Jr.) • Teacher of the Year Award Nominating Committee • Dexter Colt, Private Eye • The Mugger • Larry H. Lawyer, Jr. • Baby Stink-Breath • Booberella • Sara Sloane, Hollywood Movie Star • Cookie Kwan, Red Coat Realtor • Stark Richdale • Declan Desmond • Julio and Grady • Luke Stetson, Junior Wrangler • Suds McDuff, Spokesdog/Mascot for Duff Beer • Marriage Counselor • Jim Proudfoot • Don Castellaneta