Joan Rivers
Wikisimpsons - The Simpsons Wiki
This article is about the character. For the guest star, see Joan Rivers.
Joan Rivers
Character Information
Joan Rivers was an American actress and insult comic.
History
[
edit
]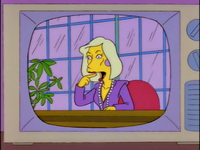 After Chief Wiggum was kicked out of The Be Sharps, he watched Joan Rivers on TV where she insulted Wiggum. Chief Wiggum then shot a bulletthrough his TV screen.[1]
She appeared in hysterics outside Homer's car when he was driving Ned in it.[2]
She has a star on The Jewish Walk of Fame.[3]
When Bart's face got stuck he said his face is starting to hurt from being stuck, and he now knows what Joan Rivers feels like.[4]
She was seen in Jewish Heaven.[5] She was again seen in Jewish Heaven, talking to King David.[6]
The Old Jewish man, who was at the First Church of Springfield, asked what time Joan Rivers would be on.[7]
Appearances
[
edit
]
References
[
edit
]