Baby Button-Eyes
Wikisimpsons - The Simpsons Wiki
Baby Button-Eyes
Character Information

Baby Button-Eyes was a possessed killer doll who was not only homicidal herself, but also encouraged others to commit murder. She was featured in the horror film The Re-Deadening, which was shown at Springfield Googolplex Theatres.
History
[
edit
]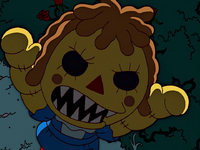 In the film, Baby Button-Eyes went on a murderous rampage where she killed everyone she encountered, including Lenny Leonard's gardener character. She also induced a little girl to kill her mother, evidently by revealing her origins: Specifically, that her Button Eyes had come from the trousers of a psychotic killer.
At one point, it was thought that Baby Button-Eyes was dead, but she rose up and killed yet another person, which prompted moviegoer Homer Simpson to casually remark, "Well, what do you know? It's unkillable!"
Behind the Laughter
[
edit
]
Baby Button-Eyes is a parody of the title character of Dolly Dearest, a horror films about a possessed doll.
She also has some similarity with Chucky, the killer doll from the Child's Play films.
Appearances
[
edit
]