Louie
Wikisimpsons - The Simpsons Wiki
For others named Louie, see Louie (disambiguation).
Louie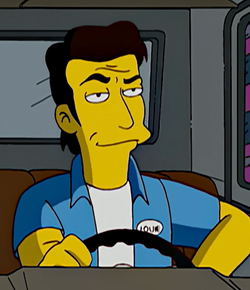 Homer (left) and Louie (right)

Character Information
Louie is a tow truck driver.
History
[
edit
]
He offers Homer a tow truck and offers him a Towboy Job. Homer accepts, but Louie says stay off my area, you do your area, I do my area. Homer gets rid of everyone's cars in Springfield and the Springfieldians get very angry, and take revenge, when Homer is unknowingly in Louie's area, the Springfieldians put You're Still In Springfield poster over the other poster which said You're Not In Springfield Anymore. Louie was furious and held Homer hostage until he was rescued by his clever infant Maggie as well as Santa's Little Helper.
Behind the Laughter
[
edit
]
Louie resembles Matt Dillon, his voice actor.
Appearances
[
edit
]
Factfiles from Simpsons World the Ultimate Episode Guide: Seasons 1-20
Season 14
Rock Stars • Audrey McConnell, Third Grade Teacher • Dr. Velimirovic, Plastic Surgeon • Mitch Hartwell, the Reality Channel Producer • Junior (AKA Frank Grimes, Jr.) • Teacher of the Year Award Nominating Committee • Dexter Colt, Private Eye • The Mugger • Larry H. Lawyer, Jr. • Baby Stink-Breath • Booberella • Sara Sloane, Hollywood Movie Star • Cookie Kwan, Red Coat Realtor • Stark Richdale • Declan Desmond • Julio and Grady • Luke Stetson, Junior Wrangler • Suds McDuff, Spokesdog/Mascot for Duff Beer • Marriage Counselor • Jim Proudfoot • Don Castellaneta