John Travolta
Wikisimpsons - The Simpsons Wiki
John Travolta
Character Information
John Travolta is an actor.
History
[
edit
]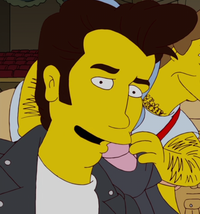 While visiting Itchy's 70's Disco, Homer remarks that everything in the bar is just like things were in the '70s. Marge agrees and points out that the bartender looks like John Travolta. The bartender says "yeah... looks like...".[1]
Mel Gibson came to the test screening for Mr. Smith Goes to Washington fast because he flew with Travolta, he promised in return to help him move. Later when Gibson decided to meet Homer and not help Travolta, which he did not like.[2]
St. Peter didn't let John Travolta come in to heaven in Disco Stu's dream.[3]
After Lyle McCarthy talked with a person and Homer eavesdropping asked Homer him if that was Tobey Maguire. Lyle tell then Homer as he told John Travolta, his client list is private.[4]
In a dream of Homer's, John Travolta stated that there was a Grease 2 which he wasn't in.[5]
A picture of John Travolta was on the wall of Springfield Sardi's.[6]
Comic Book Guy could tell that Homer's Welcome Back, Kotter keychain was from season 1 of the show as John Travolta was happy in the picture.[7]
During the song "Sasha is a Massive Success", a picture of John Travolta was seen on the wall.[8]
Appearances
[
edit
]
References
[
edit
]
External links
[
edit
]