Business Owners
Wikisimpsons - The Simpsons Wiki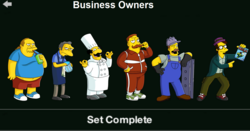 Business Owners is a character collection in The Simpsons: Tapped Out. The collection features characters who own businesses.
Characters
[
edit
]
Comic Book Guy
[
edit
]
Comic Book Guy
Image
Cost
Unlock method
Unlock message
7,000
Level 13, Android's Dungeon
The Dungeon Keeper Pt. 2
Permanent Tasks
Task
Time
Reward
Requires
Quest with the task
Animated?
Trip to Lard Lad
5m
15, 5
Lard Lad Donuts
Go for a Checkup
10m
17, 5
Hibbert Family Practice
Business Is Picking Up
Eat at Krusty Burger
30m
40, 10
Krusty Burger
The Flavormax
Attend a Convention
30m
40, 10
Convention Center
Eat at Gulp 'N' Blow
60m
70, 17
Gulp 'N' Blow
A Quick Snack Between Snacks
Arnie Pye In the Sky Pt. 4
Read a Comic
2h
110, 27
New Age Literature for Geeks
Attend Mensa Meeting
3h
135, 35
Gazebo
Nerds 'R' Us
Take the Sir-Loin-A-Lot Challenge
4h
175, 45
Slaughterhouse Restaurant
Eat Between Heart Attacks
4h
260, 70
Deuce's Caboose Chili Dogs
Overpay for Novelty Stay
4h
260, 70
Elf Hotel
Stock up on Collectibles
4h
175, 45
Charmer's Market
Practice Walking Softly Like a Ninja
4h
175, 45
Himeji Castle
Cosplay as a Dark Knight
4h
175, 45
Large Mausoleum
Eat at Skip's Diner
4h
175, 45
Skip's Diner
As American as Apple Pie Pt. 4
Dine at the Swanky Fish
5h
300, 75
Swanky Fish
Swanky Fish Pt. 3
Interact with other Unsocial Intellects
5h
300, 75
Springfield Observatory
Watch and Despise a Movie
6h
350, 90
Aztec Theatre
Visit the Vast Waistband
7h
250, 60
The Vast Waistband
Assault the Bandit Fort
8h
420, 105
Bandit Fort
Visit the Java Server
8h
275, 70
The Java Server
They Have Internet on Computers Now? Pt. 2
Sleep in the Bad Dream House
8h
420, 105
Bad Dream House
Eat a Buffet Meal
10h
525, 135
Up, Up and Buffet!
Cosplay
12h
420, 100
I'm a Super Hero
Sell Comics
24h
600, 150
Android's Dungeon
A Life Well Spent
Moe
Image
Cost
Unlock method
Unlock message
7,500
Level 15, Moe's Tavern
Is There an Al Coholic Here Pt. 1
(with Marge)
Permanent Tasks
Task
Time
Reward
Requires
Quest with the task
Animated?
Shop At Kwik-E-Mart
60m
70, 17
Kwik-E-Mart
Quicky At The Kwik-E
Lease a Shotgun
2h
110, 27
Ordnance Express
Visit the Track
3h
135, 35
Springfield Downs
Eat at the Singing Sirloin
3h
135, 35
Singing Sirloin
Visit Jake's Unisex Hair Palace
4h
175, 45
Jake's Unisex Hair Palace
Water Potions Down
4h
175, 45
Ye Olde Magick Shoppe
Size Up Imaginary Targets
4h
175, 45
Bell Tower
Scout for Customers
6h
225, 55
Quitters
Smuggle Endangered Species
8h
275, 70
What's in the Back Room?
Kiss My Grits Pt. 3
Apply to Be a Gameshow Host
8h
275, 70
KTV Building
Serve Drinks
10h
350, 90
Moe's Tavern
Spy on Midge
12h
420, 100
Shrub
I'm Stalking On Sunshine!
Moe Town
Work at Gaming Moe's
16h
500, 125
Gaming Moe's
Write Epic Poetry
16h
750, 200
Moe's House
Water Down Beer
24h
600, 150
Moe's Tavern
Luigi
Image
Cost
Unlock method
Unlock message
7,000
Level 18, Luigi's
It's A-Me, Luigi!
Permanent Tasks
Task
Time
Reward
Requires
Quest with the task
Animated?
Go for a Checkup
10m
17, 5
Hibbert Family Practice
Luigi's Growing Problem
Shop at Kwik-E-Mart
60m
70, 17
Kwik-E-Mart
Quicky at the Kwik-E
Practice Fake Accent
2h
110, 27
Luigi's
A Jolly Right Mess
Visit Jake's Unisex Hair Palace
4h
175, 45
Jake's Unisex Hair Palace
Moustache Toppings
Visit the Vast Waistband
7h
250, 60
The Vast Waistband
Toss Pizza
8h
275, 70
Luigi's
Play the Accordion
12h
420, 100
Luigi's
Available for Bar Mitzvahs
Principalling Around
Work at Luigi's
24h
600, 150
Luigi's
Just How-A You Like It
Lugash
Image
Cost
Unlock method
Unlock message
175
Level 19, Lugash's Gym
Premium
Permanent Tasks
Task
Time
Reward
Requires
Quest with the task
Animated?
Confiscate Student Pets
60m
105, 26
The Cranky Man Can Pt. 1
Train Children
4h
260, 70
Lugash's Gym
Little Girl In The Big Ten Pt. 5
Little Girl In The Big Ten Pt. 6
Cartwheeling
4h
260, 70
Intimidate Children
8h
420, 105
Lugash's Gym
The Cranky Man Can Pt. 2
Attend Anger Management Class
12h
600, 150
Adult Education Annex
The Cranky Man Can Pt. 3
Groom Mustache
24h
1,000, 225
Permanent Tasks
| Task | Time | Reward | Requires | Quest with the task | Animated? |
| --- | --- | --- | --- | --- | --- |
| Hammer Steel | 60m | 105, 26 | Ajax Steel Mill | | |
| Work Hard | 4h | 260, 70 | | | |
| Dance Outside the Steel Mill | 5h | 300, 75 | Ajax Steel Mill | Dance Off | |
| Run the Anvil | 8h | 420, 105 | Ajax Steel Mill | | |
| Play Hard | 12h | 600, 150 | | Mo-thusiasm Pt. 3 | |
| Spend the Day At the Gym | 24h | 1,000, 225 | All Night Gym | | |
Permanent Tasks
| Task | Time | Reward | Requires | Quest with the task | Animated? |
| --- | --- | --- | --- | --- | --- |
| Text His Girlfriend | 60m | 105, 26 | Coolsville | | |
| Give Out Japanese Hard Candy | 4h | 260, 70 | | A Flash of Two Nerds Pt. 1 | |
| Respect Customer's Opinions | 8h | 420, 105 | Coolsville | | |
| Fix Ripped Off Comics | 12h | 600, 150 | Coolsville | | |
| Sing K-Pop Covers | 24h | 1,000, 225 | | | |
<!–-INFOLINKS_OFF-–>
---