Pin Pals
Wikisimpsons - The Simpsons Wiki
For the character collection in The Simpsons: Tapped Out, see The Simpsons: Tapped Out characters/Pin Pals.
Pin Pals
Bowling Team Information
The Pin Pals are a bowling team.
History
[
edit
]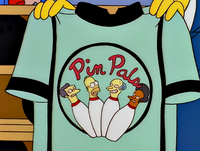 In order to bowl when there were team matches being played, Homer claimed that he, Moe, Apu and Otto were a team. They however had to pay to become an official team. Homer went to see Mr. Burns who was drugged up and thought that Homer was a marshmallow man. Mr. Burns then gave Homer the money. After Mr. Burns realized what he had done, he asked to join the team, at the expense of Otto. They managed to win the tournament and Mr. Burns took the trophy, quitting the team.[1]
Mr. Burns left the team and they took back Otto, but fired him and took Dan Gillick instead. In one game Pin Pals lost against Holy Rollers after Dan had to leave the game to visit Fat Tony.[2]
After making Moe feel bad, Homer, Lenny, Carl and Barney decided to bring back the Pin Pals, with Moe as the coach. After winning several games, they ended up going to a best of three game against the Fund Bunch. After easily winning their first game, the Fund Bunch destroyed them in the second game, having lured the Pin Pals into a false sense of security. Lisa and the Number Crunchers then revealed secrets about the Fund Bunch, causing them to lose the game and leaving the Pin Pals victorious.[3]
The Pin Pals played a game against the worst team in the league, The Weaklings. However, since Carl had gone to play bowling with Naima instead, the team was down a player and lost.[4]
Outfits
[
edit
]
The team originally had white T-Shirts saying Pin Pals in black writing on the back, causing them to be laughed at. Mr. Burns later made new outfits for them that were more graphic and had their heads on bowling pins on the back and their name on the front. John later got hold of Homer's one. However, Homer must have gotten it back as it was seen in his cupboard again.
Members
[
edit
]
Present
[
edit
]
Appearances
[
edit
]
References
[
edit
]