Personalized Talking Astrolabe
Wikisimpsons - The Simpsons Wiki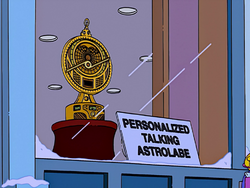 The Personalized Talking Astrolabe is a clock-like gadget that has a lot of features.
History
[
edit
]
Homer sees this in the shop Things Unnecessary and decides that he wants it. He buys it for himself for $500, the budget for the Christmas tree. After the family found out Homer was so selfish, it told him that it was not returnable. It then tests its smoke alarm for three hours. After Homer steals all the presents from people, Snake steals the Astrolabe, still wrapped up, and runs off with it.
Features
[
edit
]
Comes with a notepad and pen that work upside down.
Predict the positions of the sun, moon and stars.
Determine local time when given a local longitude and vice versa.
Remind you it's non-returnable.
Database of all countries' main exports.
Three hour smoke alarm test.
Tells you celebrity birthdays. (Margaret Cho and others)
Non-canon
[
edit
]
| | |
| --- | --- |
| | The contents of this article or section are considered to be non-canon and therefore may not have actually happened or existed. |
The Simpsons: Tapped Out
[
edit
]
This section is transcluded from The Simpsons: Tapped Out decorations/Christmas decorations. To edit it, please edit the transcluded page.

Personalized Talking Astrolabe
Image
Cost
Reward
Sell price
Conformity increase
Availability
Unique?
Dimensions -

D

x

W

50
50
Vanity +200
A Simpsons Christmas Special and Abe's in Toyland
Premium
2 x 2
1
Clash of Creeds: Christmas Royale
Santa's Wonderland
1
Holiday Whodunnit
Last Minute Gifts
Behind the Laughter
[
edit
]
The voice of the Astrolabe is Hank Azaria.
Appearances
[
edit
]
Factfiles from Simpsons World the Ultimate Episode Guide: Seasons 1-20
Season 14
Rock Stars • Audrey McConnell, Third Grade Teacher • Dr. Velimirovic, Plastic Surgeon • Mitch Hartwell, the Reality Channel Producer • Junior (AKA Frank Grimes, Jr.) • Teacher of the Year Award Nominating Committee • Dexter Colt, Private Eye • The Mugger • Larry H. Lawyer, Jr. • Baby Stink-Breath • Booberella • Sara Sloane, Hollywood Movie Star • Cookie Kwan, Red Coat Realtor • Stark Richdale • Declan Desmond • Julio and Grady • Luke Stetson, Junior Wrangler • Suds McDuff, Spokesdog/Mascot for Duff Beer • Marriage Counselor • Jim Proudfoot • Don Castellaneta