Charlie Chaplin
Wikisimpsons - The Simpsons Wiki
Charlie Chaplin
Character Information
Charlie Chaplin was an English comic actor, film director and composer. His most memorable on-screen character is the Tramp.
History
[
edit
]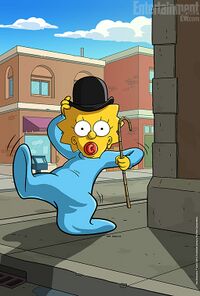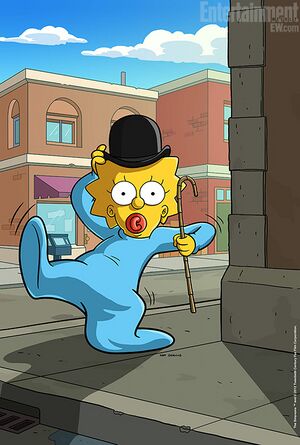 Kent Brockman mentioned Freddie the Freeloader, Emmett Kelly, and Charlie Chaplin's Little Tramp.[1]
He can be seen eating a shoe in the company of other tramps when Herb is planning to go to Springfield. This is a reference to the film "The Gold Rush" in which Chaplin also eats his shoe.[2]
Homer's hotel room in Hollywood had a picture of Charlie Chaplin on the wall.[3]
When Grampa stuck two forks in two potatoes and made them dance to amuse Jacqueline the Blue-haired lawyer came and told him that he represents the estate of Charles Chaplin and he had a court order demanding an immediate halt of the unauthorized imitation. Indeed, the scene was a direct parody of Chaplin's potato and fork dance in "The Gold Rush".[4]
When Mr. Burns gave Homer a tour of his house he showed off the suit Charlie Chaplin was buried in.[5]
When Grampa thought he was dead he met a Charlie Chaplin impersonator and mistook him for the real Chaplin.[6]
In a crossword that Lisa finished was the clue, "Young wife (age 18) of Charlie Chaplin (age 54)".[7]
He was in the audience for a show Mr. Burns put on as a child and laughed at Burns when his pants fell down.[8]
He is one of the many people on "Ned's List of Laudable Lefties".[9]
Appearances
[
edit
]
References
[
edit
]
External links
[
edit
]