Shary Bobbins
Wikisimpsons - The Simpsons Wiki
"I'm an original creation, like Rickey Rouse and Monald Muck. Now, as your nanny, I'll do everything from telling stories to changing diapers."
―Shary Bobbins
Shary Bobbins was the Simpson family's nanny.
History
[
edit
]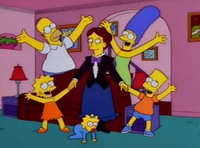 When Marge started losing her hair due to stress, the Simpson family decided to hire a nanny to help look after the kids. After interviewing several candidates, all of whom Homer chased away, Shary Bobbins arrived, floating down with her umbrella. The family decided that they liked her so they decided to hire her. Shary immediately got to work with the kids, getting them to help tidy Bart's room, albeit in a half-assed way, through a song and dance ("Cut Every Corner"). This helped her to bond with the kids.
Shary Bobbins then took the kids to the park. There, they passed Ned Flanders, Snake Jailbird and Nelson Muntz, who all knew Shary. They then met up with Groundskeeper Willie who revealed that he had previously been engaged to Shary Bobbins back in Scotland. Then she got her eyesight back and called off the engagement. Shary and the kids then started flying kites when Mr. Burns came along. Shary let Burns fly a kite and he got struck by lightning, causing his heart to restart. Meanwhile, Marge was praising Shary Bobbins as the house was spotless and the kids were occupied.
When Shary Bobbins went to put the children to bed, they wanted another song, which annoyed Shary as she had been singing songs all day. She then sung them "A Boozehound Named Barney" which put them all to sleep. Eventually, Shary decided that she had changed the family for the better and that her work was done. As soon as she left, the entire house descended into chaos, with Homer and Bart fighting, Marge's hair falling out again and Lisa and Maggie trying to control the situation. Shary said that she would unpack her things as Grampa flew off as he had Shary's umbrella. Shary then started to get annoyed at the family's attitude, with them all having relapsed to their lazy, selfish selves.
Eventually, the family's attitude to Shary broke her and she started drinking with Barney, singing "Margaritaville". The Simpsons then told her that they were happy the way things were and that nobody could ever change them. They sung "Happy Just the Way We Are" to demonstrate this. Accepting this, Shary decided to leave again and took her umbrella from Grampa, who was stuck in a tree. Shary then flew off, only to end up going through an airplane's engine, killing her.[1]
A robot version of her was seen in London.[2]
A commercial featuring Shary Bobbins was seen.[3]
In a coma dream Bart had, Shary Bobbins appeared as a ghost. She asked Bart to help her get vengeance against all jet engines so she could go to Hell.[4]
Non-canon
[
edit
]
| | |
| --- | --- |
| | The contents of this article or section are considered to be non-canon and therefore may not have actually happened or existed. |
When Moog is kicked out of his gang by Carlton and Leonard, he clings to Shary Bobbins' shoes as she flies.[5]
The Simpsons: Tapped Out
[
edit
]
This section is transcluded from The Simpsons: Tapped Out characters/Helpful Guest Stars. To edit it, please edit the transcluded page.

Permanent Tasks
| Task | Time | Reward | Requires | Quest with the task | Animated? |
| --- | --- | --- | --- | --- | --- |
| Go Skating | 10m | 26, 7 | Simpsons' Skating Rink | | |
| Encourage Evil Deeds | 60m | 105, 26 | Flanders House | A Spoonful of Bitter Pt. 3 | |
| Sing an Educational Song | 4h | 260, 70 | | A Spoonful of Bitter Pt. 2 | |
| Overpay for Sex on the Beach | 4h | 260, 70 | Smooches on the Beach | | |
| Stay at the Swelldorado | 4h | 260, 70 | Swelldorado | | |
| Try to Win at Blackjack | 4h | 260, 70 | $ Casino | | |
| Drink and Babysit | 4h | 260, 70 | The Boiled Potato | | |
| Attend Coffee Meetup | 4h | 260, 70 | Jittery Joe's Coffee | | |
| Practice "Grey" Magic | 8h | 420, 105 | Flanders House | A Spoonful of Bitter Pt. 1 | |
| Dance the Señor Burns | 8h | 420, 105 | Chez Guevara | | |
| Update her References | 12h | 600, 150 | Blue House | A Spoonful of Bitter Pt. 4 | |
| Enjoy a Night at the Theater | 12h | 600, 150 | Springfield Playhouse | | |
| Fly on her Umbrella | 24h | 1,000, 225 | | A Spoonful of Bitter Pt. 5 | |
Personality
[
edit
]
Shary Bobbins is extremely kind and helpful, wanting to fix everyone's problems. She also likes to sing to motivate people. However, she also has a stricter side, as seen when she said what she'd do with Bart if he was caught reading Playdude. Eventually though, the Simpsons were enough to get to her. She tried to stay happy and kept trying until she broke and began drinking with Barney.
Behind the Laughter
[
edit
]
She is a caricature of Mary Poppins from the book series and film of the same name.
Julie Andrews, who played Mary Poppins in the film, was asked to play the role of Shary Bobbins. However, she was busy with a Broadway musical at the time.[6]
Maggie Roswell was nominated for a 1997 Annie Award in "Best Individual Achievement: Voice Acting by a Female Performer in a TV Production" for voicing Shary Bobbins. However, she lost to June Foray for The Sylvester & Tweety Mysteries.[7]
Appearances
[
edit
]
References
[
edit
]
Factfiles from Simpsons World the Ultimate Episode Guide: Seasons 1-20
Season 14
Rock Stars • Audrey McConnell, Third Grade Teacher • Dr. Velimirovic, Plastic Surgeon • Mitch Hartwell, the Reality Channel Producer • Junior (AKA Frank Grimes, Jr.) • Teacher of the Year Award Nominating Committee • Dexter Colt, Private Eye • The Mugger • Larry H. Lawyer, Jr. • Baby Stink-Breath • Booberella • Sara Sloane, Hollywood Movie Star • Cookie Kwan, Red Coat Realtor • Stark Richdale • Declan Desmond • Julio and Grady • Luke Stetson, Junior Wrangler • Suds McDuff, Spokesdog/Mascot for Duff Beer • Marriage Counselor • Jim Proudfoot • Don Castellaneta