Cheech Marin
Wikisimpsons - The Simpsons Wiki
This article is about the character. For the guest star, see Cheech Marin.
Richard Marin
Character Information
Richard "Cheech" Marin is a comedy actor from Springfield, along with his partner Tommy Chong.
History
[
edit
]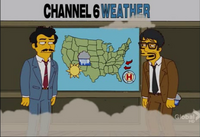 When Principal Dondelinger captured a young Barney and Homer smoking in the toilet he called them the school's Cheech and Chong.[1]
Richard Marin was a weather man for Channel 6 News. After police started burning marijuana outside, the fumes came through the open window and turned Cheech and Chong into stoners who then went into comedy.
They made a show in the Springfield Clamphitheater in front of a large crowd. Chong wanted to try out some new material and Cheech and Chong split up here, with Homer taking Chong's position with Cheech and becoming "Cheech and Chunk". Homer was disappointed to learn that Cheech wasn't as fun as he thought, taking in culture such as museums instead of having fun all the time.
Eventually, Cheech and Chong were set up for a reunion where they both decided to join together and leave their new comedy partners.[2]
He played King Arthur in The Poke of Zorro.[3]
A picture of Cheech Marin was on the wall of The Penny Loafer.[4]
When Marge found out that Well + Good was selling marijuana, she said that she thought that the only people who used it were like Cheech and Chong.[5]
Appearances
[
edit
]
References
[
edit
]