Buddy Hodges
Wikisimpsons - The Simpsons Wiki
"Dirk Richter was a beautiful man... Can't you little vultures leave him alone?!"
―Buddy "Fallout Boy" Hodges
Buddy Hodges
Character Information
Buddy Hodges is the actor who portrayed Fallout Boy in the Radioactive Man TV show when he was young.
History
[
edit
]
He appeared to have some kind of special relationship with Dirk Richter, the actor who played Radioactive Man. He appeared at a comic book convention to answer fan questions. Bart, after hearing that Buddy Hodges was going to appear, remarks that he thought Hodges died in Vietnam. As an adult he played Rum Tum Tugger in the second national touring of Cats.[1]
Comic Book Guy once met Buddy at a comic convention, where Buddy asked Comic Book Guy to get him a drink as he talked with a female attendee.[2]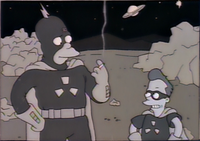 Appearances
[
edit
]
References
[
edit
]