Cora
Wikisimpsons - The Simpsons Wiki
For others named Cora, see Cora.
"What?"
―Cora
Cora
Character Information
Cora is a waitress who has worked at the Overpass Diner, Lard Lad Donuts and Skobo's. She also owns her own restaurant, Cora's Diner.
History
[
edit
]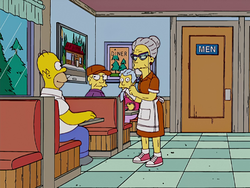 She once refilled Chief Wiggum's coffee and his jelly donut, even though her only reply to everything he said was "What?"[1]
On another occasion, she left Homer and her mother Mona Simpson run away the police by the exit of the back of its restaurant in exchange for a tip increase.[2]
Description
[
edit
]
Cora has a gravelly voice and generally gruff demeanor. She is also very hard of hearing. However, she is a competent and attentive waitress. Over the years, Cora may have become a more grumpy and ironic person.
Over time, it seems that the deafness problem has been resolved, as she seems to hear very well in other appearances.
She seems to like to make fun of Homer because she has already called him "Santa Claus" and asked her ironic questions such as "came to have a snack here before returning to the sea?" or "how about I stick a pig at your throat?".
Appearances
[
edit
]
References
[
edit
]