Julia
Wikisimpsons - The Simpsons Wiki
For others named Julia, see Julia.
"Now listen, Homer. You can have me any time you want me. But if you say one word to your wife, I'll tell her you attacked me."
―Julia
Julia
Character Information
Julia is a crazy woman who became Homer's manager when Homer was a famous opera singer.
History
[
edit
]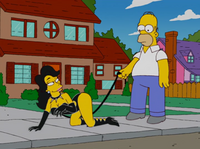 Julia saved Homer and Marge from a group of old women who were fans of Homer. She jumped a fence on her motorbike and took Homer and Marge back to their home. As Marge thanked their mystery biker, Julia took her helmet off to reveal that she was a woman. They then invited Julia in for tea.
Inside, Julia told Homer and Marge that it was a shame that so many of Homer's fans were out of control and made the more sane fans, like her, look bad. Julia then asked to be head of Homer's fan club, which Marge agreed to. When Marge left the room to make snacks, Julia took her biker leathers off, revealing her full naked body to Homer, and told Homer that he could have her any time he wanted. When Homer panicked and tried to shout for Marge, Julia told Homer that if he said anything to Marge, she would tell Marge that Homer attacked her.
Julia then became Homer's manager and arranged his appearances and fan mail replies. Whilst she was doing this, she was constantly coming on to Homer when Marge wasn't around, one time even replacing Santa's Little Helper. Eventually, Homer had enough and told Julia that she could never have him as his heart belonged to Marge. Julia accepted this and left the house, as Homer asks her to organize her replacement.
The next day, Homer was attacked by a cobra. Lisa realized that someone was trying to kill him. Homer then starred in a performance of The Barber of Seville, which Marge wanted to cancel. During the opera, Marge and Bart realized that Julia was the conductor. Chief Wiggum tried to stop her from shooting a poison dart at Homer and then Marge jumped down from her seat to fight her too, getting hit by her own poison dart. As she fell off the stage, the police snipers shot at her, with most missing and only a couple of bullets hitting her. A chandelier then fell on her to finish her off.
As Julia was taken away by paramedics, it turned out that the bullets shot by the snipers slowed her heart long enough for the chandelier to fall on her, pushing the poison out of her body. Marge told Julia that nobody gets between her and her Homie, and Julia told Marge that she would get her for this. Julia then told Marge that she scheduled the cable guy to come on Wednesday, which was not a good day for Marge.
Personality
[
edit
]
Julia is a biker, which allows her to dress in leathers frequently. She is also two-faced, putting on one personality for Homer and one for everyone else. She knows how to get what she wants as she managed to get Homer to go along with her act for a while before Homer had enough of it. Julia also seems to be very sexual, using her body and revealing outfits frequently, and forcing Homer to grab her boobs one time. However, Julia doesn't take rejection well, as she tried to murder Homer after he rejected her, then wanted to get revenge on Marge for being the person who got in the way of her and Homer.
Appearances
[
edit
]
Factfiles from Simpsons World the Ultimate Episode Guide: Seasons 1-20
Season 14
Rock Stars • Audrey McConnell, Third Grade Teacher • Dr. Velimirovic, Plastic Surgeon • Mitch Hartwell, the Reality Channel Producer • Junior (AKA Frank Grimes, Jr.) • Teacher of the Year Award Nominating Committee • Dexter Colt, Private Eye • The Mugger • Larry H. Lawyer, Jr. • Baby Stink-Breath • Booberella • Sara Sloane, Hollywood Movie Star • Cookie Kwan, Red Coat Realtor • Stark Richdale • Declan Desmond • Julio and Grady • Luke Stetson, Junior Wrangler • Suds McDuff, Spokesdog/Mascot for Duff Beer • Marriage Counselor • Jim Proudfoot • Don Castellaneta