Sam Simon
Wikisimpsons - The Simpsons Wiki
This article is about the crew member. For the character, see Sam Simon (character).
Sam Simon
Crew Information
Samuel Michael "Sam" Simon (June 6, 1955 – March 8, 2015) was an American boxing manager, director, philanthropist, producer, and writer. He was one of the original developers of The Simpsons, along with Matt Groening and James L. Brooks. Despite having been a developer, he served as a creative supervisor, executive producer, and writer. He left the show after season 4 over creative difficulties with Matt Groening and James L. Brooks. He received a sizeable pay off which earned him tens of millions of dollars a year; he remains credited as an executive producer despite not having worked on the show since.
He was married to one-time guest star on the show, actress and poker expert and player, Jennifer Tilly from 1984 until 1991. He was also interviewed in The Simpsons 20th Anniversary Special – In 3-D! On Ice!
In late 2012, Simon was diagnosed with terminal colorectal cancer and told he only had three to six months to live. However, he lived almost two and a half years, dying in March 2015, aged 59. After his death, the season 26 episode "Waiting for Duffman" was dedicated to him.
Credits
[
edit
]
Written by
[
edit
]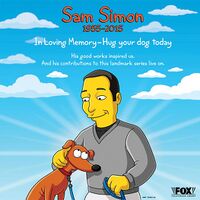 Developed by
[
edit
]
Executive producer
[
edit
]