Lucille Botzcowski
Wikisimpsons - The Simpsons Wiki
Lucille Botzcowski, also known as Ms. Botz and The Babysitter Bandit, was once the babysitter of Bart, Lisa, and Maggie.
History
[
edit
]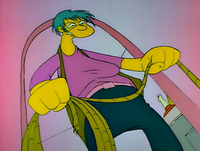 Lucille Botzcowski was an escaped criminal, known as Lulu Beets, Lorna Beemis, Lucille Ball,[1] and mainly as "The Babysitter Bandit". Hired by Homer from the Rubber Baby Buggy Bumper Babysitting Service, she was to babysit the kids while he and Marge stayed at a motel. After her arrival, the children discovered her true identity as a robber on a television show but were captured and tied up before able to stop her. She then started looting The Simpsons' house, but was eventually thwarted and captured by Bart, Lisa and Maggie. While the kids called for help from a payphone since Lucille had disabled the house phones, Homer and Marge returned home, only to find The Babysitter Bandit hog-tied with her mouth taped shut, staring uncontrollably at The Happy Little Elves videotape. Deceiving Homer into freeing her, she advised him to "never take your eyes off the boy", before escaping in time to evade the police. Ms. Botzocowski was apparently recaptured sometime later, as a news broadcast briefly mentioned.[2]
Despite being a wanted criminal, she was seen among the crowd awaiting the arrival of "Michael Jackson".[3]
A wanted sign featuring her photograph is on the notice board in the Springfield Police Station behind Chief Wiggum's desk, but shows her sporting brown hair (possibly dyed to avoid getting caught).[4][5][6] She later appeared to have gone insane (possibly from Bart forcing her to watch the Happy Little Elves for so long), as she was seen in a cell at Calmwood Mental Hospital, pacing back and forth. The cell door was unlocked and unguarded, it is unknown if she escaped or not.[7]
She took part in the human pyramid record attempt.[8] During Trappuccino, she was part of the angry mob bent on killing Homer for polluting Lake Springfield.[9]
Non-canon
[
edit
]
| | |
| --- | --- |
| | The contents of this article or section are considered to be non-canon and therefore may not have actually happened or existed. |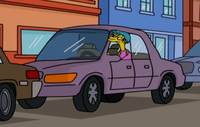 She was among several criminals who brought stolen cars to be cleaned by Homer and Peter Griffin (though it was originally a trick to find Peter's stolen car).[10]
The Simpsons: Tapped Out
[
edit
]
This section is transcluded from The Simpsons: Tapped Out characters/Villains. To edit it, please edit the transcluded page.

Permanent Tasks
| Task | Time | Reward | Requires | Quest with the task | Animated? |
| --- | --- | --- | --- | --- | --- |
| Go Skating | 10m | 26, 7 | Simpsons' Skating Rink | | |
| Take Care of Children | 60m | 105, 26 | | Babies in the Bathwater Pt. 1 | |
| Avoid Springfield PD | 4h | 260, 70 | | | |
| Overpay for Sex on the Beach | 4h | 260, 70 | Smooches on the Beach | | |
| Stay at the Swelldorado | 4h | 260, 70 | Swelldorado | | |
| Try to Win at Blackjack | 4h | 260, 70 | $ Casino | | |
| Drink and Babysit | 4h | 260, 70 | The Boiled Potato | | |
| Attend Coffee Meetup | 4h | 260, 70 | Jittery Joe's Coffee | | |
| Forcibly Watch Happy Little Elves | 8h | 420, 105 | Simpson House | | |
| Dance the Señor Burns | 8h | 420, 105 | Chez Guevara | | |
| Visit Alma Mater | 12h | 600, 150 | Calmwood Mental Hospital | | |
| Rob a House | 24h | 1,000, 225 | Homes | Babies in the Bathwater Pt. 4 | |
Behind the Laughter
[
edit
]

Appearances
[
edit
]
References
[
edit
]
Factfiles from Simpsons World the Ultimate Episode Guide: Seasons 1-20
Season 14
Rock Stars • Audrey McConnell, Third Grade Teacher • Dr. Velimirovic, Plastic Surgeon • Mitch Hartwell, the Reality Channel Producer • Junior (AKA Frank Grimes, Jr.) • Teacher of the Year Award Nominating Committee • Dexter Colt, Private Eye • The Mugger • Larry H. Lawyer, Jr. • Baby Stink-Breath • Booberella • Sara Sloane, Hollywood Movie Star • Cookie Kwan, Red Coat Realtor • Stark Richdale • Declan Desmond • Julio and Grady • Luke Stetson, Junior Wrangler • Suds McDuff, Spokesdog/Mascot for Duff Beer • Marriage Counselor • Jim Proudfoot • Don Castellaneta