Inanimate carbon rod
Wikisimpsons - The Simpsons Wiki
"Stupid rod. It's all just a popularity contest."
―Homer expressing his disdain for the rod.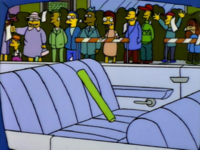 The Inanimate carbon rod is a rod made of carbon. Two such rods thwart Homer in his quest for respect.
History
[
edit
]
The rod first was an employee at the Springfield Nuclear Power Plant who wins the "Worker of the Week Award" in recognition of his long overlooked "tireless efforts" which the plant could not function without. This greatly angers Homer who is now confirmed as less valuable to the plant than an inanimate object and is the only human at the plant not to win the award.
The other rod was a component of the NASA Corvair space shuttle which Homer, Race Banyon and Buzz Aldrin were on. When Homer snapped the handle off the shuttle door, Banyon prepared to kill him, so Homer took the rod off the wall to smash Banyon's "pretty face" in. However, Homer unintentionally lodged the rod in the shuttle door, closing it and allowing Homer and the other astronauts a safe return to Earth. The rod received all the credit. It was featured on the cover of Time magazine with the caption "In Rod We Trust!". It was also given the main seat in the subsequent parade, much to Homer's annoyance, as he had been upstaged yet again by an inanimate carbon rod. Homer turned off the TV airing the parade, much to the chagrin of Bart and Lisa, who proclaimed "they were about to show a close-up of the Rod."[1]
Non-canon
[
edit
]
| | |
| --- | --- |
| | The contents of this article or section are considered to be non-canon and therefore may not have actually happened or existed. |
In "Lego Dimensions", the Inanimate carbon rod is one of the foundation elements. It was stolen from the power plant by Lord Business and The Joker and was delivered to Lord Vortech. It was later put together with the other foundation elements and technology taken from the Daleks to turn Robin, Frodo Baggins and Metalbeard into a monster called Tri.
The Simpsons: Tapped Out
[
edit
]
This section is transcluded from The Simpsons: Tapped Out decorations/Statues. To edit it, please edit the transcluded page.

Inanimate Carbon Rod Monument
Image
Cost
Reward
Sell price
Bonus
Conformity increase
Availability
Unique?
Dimensions -

D

x

W

Yearbook
30
30
2.75%
Vanity +100
Deep Space Homer, "The Marge-Ian Chronicles" and Red Alert
Premium
2 x 2

30
Internal Name
Tiles
ID
InanimateCarbonRodMonument
Grass, Dirt, Pavement, Beach, Boardwalk Section
124504
The rod also appears on the Simpsons cast poster. It also appeared inside Carl's character folder in the Hall of Records on The Simpsons website.
Appearances
[
edit
]
References
[
edit
]
Factfiles from Simpsons World the Ultimate Episode Guide: Seasons 1-20
Season 14
Rock Stars • Audrey McConnell, Third Grade Teacher • Dr. Velimirovic, Plastic Surgeon • Mitch Hartwell, the Reality Channel Producer • Junior (AKA Frank Grimes, Jr.) • Teacher of the Year Award Nominating Committee • Dexter Colt, Private Eye • The Mugger • Larry H. Lawyer, Jr. • Baby Stink-Breath • Booberella • Sara Sloane, Hollywood Movie Star • Cookie Kwan, Red Coat Realtor • Stark Richdale • Declan Desmond • Julio and Grady • Luke Stetson, Junior Wrangler • Suds McDuff, Spokesdog/Mascot for Duff Beer • Marriage Counselor • Jim Proudfoot • Don Castellaneta