Kearney Zzyzwicz
Wikisimpsons - The Simpsons Wiki
For Kearney, the dwarf in a story based on Snow White and the Seven Dwarves, see Kearney (Four Great Women and a Manicure).
Kearney Zzyzwicz
Character Information
Kearney Zzyzwicz is one of the school bullies of Springfield Elementary. He appears to be the ugliest and toughest of the bullies, and is very easily distracted.
Biography
[
edit
]
He has a father named Kearney, Sr., a mother named Mrs. Zzyzwicz. Although he looks (and sounds) to be around Jimbo or Dolph's age, Kearney has a young son named Kearney, Jr. (it is not known who the mother is), he is the only present Springfield Elementary School student that celebrated the United States Bicentennial (that is, was alive in 1976) and shaves his beard. Strangely, he once needed a fake ID to purchase beer.
Kearney drives a Hyundai Stellar. Skinner tried to take off the H to replace the 'H' logo stolen from Superintendent Chalmers' Honda Accord. Kearney catches him in the act, forcing Skinner to flee. Kearney is also seen driving an orange Volkswagen Beetle
Kearney is seen smoking in the room where Bart, Nelson, Jimbo, and Dolph are trapped in, during Superintendent Chalmers's visit.
Otto once stated that he and Kearney both went to Springfield Elementary School together, only for Kearney to reply that they are unable to teach him, which is his reason for why he is still in the school despite being 23. Kearney needs glasses but doesn't use them.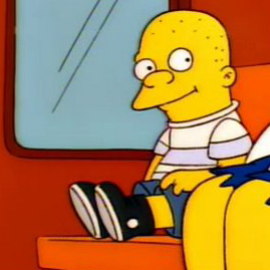 Kearney's son looks exactly like him, though younger and sounding like Ralph Wiggum. He was able to overcome his parent's divorce by sleeping in a drawer at night. He is also considered smarter than Kearney, since when he was sitting on Gil's lap when he was dressed up as Santa Claus, he believed he is the real Santa Claus and his son knew immediately he was a fake. Kearney's son seems to be a young child but Kearney says that is speaking "as a teenager and parent of a teenager" although he probably has some other child that he was talking about.
Kearney has been married to an unnamed (and unmentioned) wife. The only details given though were that he had to divorce with her, because Kearney didn't want his parents to find out. Kearney has said that he misses having sex with her, though it also mentioned in one episode that Kearney dated Jimbo's mother.
Kearney, Sr. is Kearney's gruff, rarely seen father who looks almost identical to his son. One time he attacked Homer in Moe's Tavern after Homer tried to get him and the other fathers to stop their sons from bullying Bart. He hit Homer in the head with a pool stick, which left him stunned yet not knocked out (a condition that would have him become a boxer later). The bullies' fathers then left at gunpoint by Moe, who told them that they could not hit Homer unless they had bought at least two drinks.
Kearney's mother is not seen but is said to suffer from clinical depression, for which she is being treated with medication. Kearney's points to the medication as the primary reason behind her recent weight gain. She is either in a mental clinic or jail.
She was apparently seeing Moe and she and Kearney joined a cult Moe started in order to get out of jury duty.
Non-canon
[
edit
]
| | |
| --- | --- |
| | The contents of this article or section are considered to be non-canon and therefore may not have actually happened or existed. |
It was revealed that Kearney, Jimbo, and Dolph were bullied by nerds. Bart then taught them that nerds are "all talk and no action" and they learned to "stand up" for themselves. Bart was later caught in the crossfire when his own creation backfired.
Kearney becomes the Vice-Principal of Springfield Elementary (the principal is still Seymour Skinner), however none of his bullying traits are seen. He will also be Lisa's bodyguard when she becomes the USA president, saying his contract gives him three people to kill in each term. he also was a taxi driver.
The Simpsons Game
[
edit
]
Kearney appears as one of the three museum thieves that Bart and Homer must defeat.[1] He also appears as one of the contestants in the Duff Ultimate Eating Challenge.[2]
The Simpsons: Tapped Out
[
edit
]
This section is transcluded from The Simpsons: Tapped Out characters/Toughies. To edit it, please edit the transcluded page.
Kearney
Image
Cost
Unlock method
Unlock message
60
Level 14
Premium
Permanent Tasks
| Task | Time | Reward | Requires | Quest with the task | Animated? |
| --- | --- | --- | --- | --- | --- |
| Dump Spoiled Coleslaw in Van Houten House | 10m | 26, 7 | Van Houten House | Breaking the Slaw | |
| Shoplift from the Kwik-E-Mart | 30m | 60, 15 | Kwik-E-Mart | | |
| Sneak an Ice Cream | 30m | 60, 15 | Ice Cream Truck | | |
| Give a Pink belly | 60m | 105, 26 | Springfield Elementary | | |
| Go on a Field Trip | 60m | 105, 26 | Cypress Creek Elementary | | |
| Catch a Movie | 2h | 175, 40 | Big T Theatre | | |
| Dance a Jig | 4h | 260, 70 | | Bullies On Parade | |
| Enjoy a Night Without Kids | 4h | 260, 70 | Resort Hotel | | |
| Spy on Kids | 4h | 260, 70 | Giant Ferris Wheel | | |
| Learn by Fun | 4h | 260, 70 | Childrarium | | |
| Put Coins on the Rails | 4h | 260, 70 | Springfield Union Station | | |
| Go to School | 6h | 350, 90 | Springfield Elementary | | |
| Use Fake ID at Moe's | 8h | 420, 105 | Moe's Tavern | Just How Old Are You | |
| Attend Wizarding School | 8h | 420, 105 | Magic Academy | | |
| Get Brainfreeze | 8h | 420, 105 | Pinkbeardy Yogurt | | |
| Get Caught in Webs | 8h | 420, 105 | Big Bug House | | |
| Counseling with the Ex | 12h | 600, 150 | First Church of Springfield | | |
| Take Son for the Night | 24h | 1,000, 225 | Brown House | Parental Priorities | |
Behind the Laughter
[
edit
]
Kearney was created from "Kearney Street" in Portland, Oregon, where Matt Groening grew up.[3]
He also owns his own tuxedo, although he isn't seen wearing it.
Kearney needs to wear glasses.[4]
He may have Polish ancestry, due to his surname "Zzyzwicz".
In early comics, he was named "Kearny".
In Tapped out Luann Van Houten's dialog implies that her and Kearney had dated, though it's unknown whether this statement is canonical.
Though most likely non-canon, Kearney may have a thing for Miss Hoover as he was once seen giving her a valentine's day card (though she seemed less than impressed).[5]
Appearances
[
edit
]
This article or section is incomplete.


Please improve the article, or discuss the issue on the talk page.

References
[
edit
]
Factfiles from Simpsons World the Ultimate Episode Guide: Seasons 1-20
Season 14
Rock Stars • Audrey McConnell, Third Grade Teacher • Dr. Velimirovic, Plastic Surgeon • Mitch Hartwell, the Reality Channel Producer • Junior (AKA Frank Grimes, Jr.) • Teacher of the Year Award Nominating Committee • Dexter Colt, Private Eye • The Mugger • Larry H. Lawyer, Jr. • Baby Stink-Breath • Booberella • Sara Sloane, Hollywood Movie Star • Cookie Kwan, Red Coat Realtor • Stark Richdale • Declan Desmond • Julio and Grady • Luke Stetson, Junior Wrangler • Suds McDuff, Spokesdog/Mascot for Duff Beer • Marriage Counselor • Jim Proudfoot • Don Castellaneta
---