Llewellyn Sinclair
Wikisimpsons - The Simpsons Wiki
Llewellyn Sinclair is a stage director, notable for having directed the musical, Oh, Streetcar!. His sister, Ms. Sinclair, runs the Ayn Rand School for Tots.
History
[
edit
]
Llewellyn is short-tempered and a perfectionist. Originally, Marge is turned down for the part of Blanche, but after seeing how sad she really is, he realizes she's perfect. He insinuates that he once reduced a class of fourth graders to tears but got a decent review. In the musical, he plays Pablo, which was originally played by Otto but Otto "didn't work out". In the end, the musical is a success, which Llewellyn takes all the credit for.[1]
He also took part in a record attempt for the world's tallest human pyramid.[2]
He was at Moe's Tavern with Jay Sherman, Aristotle Amadopolis and Professor Lombardo when Homer brought Artie Ziff to the bar.[3]
Llewellyn Sinclair directed a play based on Death of a Salesman, which he reworked into The Salesman's Bad Day because the rights to Death of a Salesman were too expensive. Krusty the Clown, who had quit comedy, was to play the lead role of the Salesman, based on Willy Loman. Sinclair coached Krusty through his practices and eventually the day of the play came along. During the play, Krusty started to break down and went into humor again to which Sinclair told him to keep it up since the audience were laughing. After the play ended, Sinclair and Krusty bowed together on stage.[4]
Sinclair later went on to direct a Springfield Elementary School second grade play. He got annoyed at Ralph's inability to recall his line and told him to get off the stage. When Lisa protested a scene's inclusion, Superintendent Chalmers stopped the play. Sinclair then wanted to get back his after show cupcakes, but they had already been eaten. He then took back his duct tape used to hold up the set and lightbulb from the lamp, which was still on. He burned his hand in the process.[5]
Sinclair had a poster for Oh, Streetcar! outside of the Community Theater.[6]
Non-canon
[
edit
]
| | |
| --- | --- |
| | The contents of this article or section are considered to be non-canon and therefore may not have actually happened or existed. |
The Simpsons: Tapped Out
[
edit
]
This section is transcluded from The Simpsons: Tapped Out characters/More Oddballs. To edit it, please edit the transcluded page.

Permanent Tasks
| Task | Time | Reward | Requires | Quest with the task | Animated? |
| --- | --- | --- | --- | --- | --- |
| Go Skating | 10m | 26, 7 | Simpsons' Skating Rink | | |
| Get Passionate About Community Theater | 60m | 105, 26 | Springfield Community Theater | | |
| Overpay for Sex on the Beach | 4h | 260, 70 | Smooches on the Beach | | |
| Stay at the Swelldorado | 4h | 260, 70 | Swelldorado | | |
| Try to Win at Blackjack | 4h | 260, 70 | $ Casino | | |
| Drink and Babysit | 4h | 260, 70 | The Boiled Potato | | |
| Get Child CPR Training | 4h | 260, 70 | | Community Theater Daycare Pt. 1 | |
| Attend Parenting Seminars | 4h | 260, 70 | Universal Panacea | | |
| Dance the Señor Burns | 8h | 420, 105 | Chez Guevara | | |
| Open Community Theater Daycare | 8h | 420, 105 | Springfield Community Theater | Community Theater Daycare Pt. 2 | |
| Direct Baby Theater | 12h | 600, 150 | Springfield Community Theater | Community Theater Daycare Pt. 4 | |
| Enjoy a Night at the Theater | 12h | 600, 150 | Springfield Playhouse | | |
| Teach Babies to Read Ayn Rand | 24h | 1,000, 225 | Springfield Community Theater | Community Theater Daycare Pt. 3 | |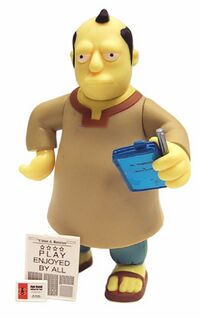 Behind the Laughter
[
edit
]
Appearances
[
edit
]
References
[
edit
]
Factfiles from Simpsons World the Ultimate Episode Guide: Seasons 1-20
Season 14
Rock Stars • Audrey McConnell, Third Grade Teacher • Dr. Velimirovic, Plastic Surgeon • Mitch Hartwell, the Reality Channel Producer • Junior (AKA Frank Grimes, Jr.) • Teacher of the Year Award Nominating Committee • Dexter Colt, Private Eye • The Mugger • Larry H. Lawyer, Jr. • Baby Stink-Breath • Booberella • Sara Sloane, Hollywood Movie Star • Cookie Kwan, Red Coat Realtor • Stark Richdale • Declan Desmond • Julio and Grady • Luke Stetson, Junior Wrangler • Suds McDuff, Spokesdog/Mascot for Duff Beer • Marriage Counselor • Jim Proudfoot • Don Castellaneta