Robby the Automaton
Wikisimpsons - The Simpsons Wiki
"Greetings, Earth children."
―Robby the Automaton
Robby the Automaton
Character Information
Robby the Automaton is a robot who advertises the Springfield Knowledgeum.
History
[
edit
]
Robby was brought to Springfield Elementary School to advertise the Knowledgeum to the students. Robby then asks the students if they've wondered what it's like to touch a star or which of The Three Stooges brains weighed the heaviest. Bart then noticed its controller outside the window, in a tree, and threw an apple at him, causing him to fall out and the command link to Robby to be severed. Robby then went into its default setting, "crush, kill, destroy" and attempted to strangle Principal Skinner. When Skinner asked the kids to help, they cheered instead.[1]
Non-canon
[
edit
]
| | |
| --- | --- |
| | The contents of this article or section are considered to be non-canon and therefore may not have actually happened or existed. |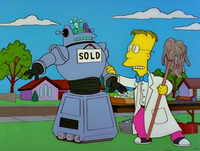 He is shown as a "scrubbing robot" and Professor Frink calls him "Floyd", this time with a mouth and a green antenna instead of red, but the body is the exact depiction of Robby.[2]
Two Robby the Automatons were seen at Professor Frink's lab when Lisa told Frink that he had won a Nobel Prize.[3]
The Simpsons: Tapped Out
[
edit
]
This section is transcluded from The Simpsons: Tapped Out decorations/Robots. To edit it, please edit the transcluded page.

Robby The Automaton
Image
Cost
Reward
Sell price
Bonus
Conformity increase
Availability
Unique?
Dimensions -

D

x

W

Yearbook
40
40
2%
Vanity +400
Level 34
Premium
2 x 2

30
Internal Name
Tiles
ID
RobbyTheAutomaton
Beach, Grass, Pavement, Boardwalk Section, Ornate Pier Section, Dirt
3703
Behind the Laughter
[
edit
]
Robby seems to be a parody of Robby the Robot from Forbidden Planet.
Appearances
[
edit
]
References
[
edit
]
Factfiles from Simpsons World the Ultimate Episode Guide: Seasons 1-20
Season 14
Rock Stars • Audrey McConnell, Third Grade Teacher • Dr. Velimirovic, Plastic Surgeon • Mitch Hartwell, the Reality Channel Producer • Junior (AKA Frank Grimes, Jr.) • Teacher of the Year Award Nominating Committee • Dexter Colt, Private Eye • The Mugger • Larry H. Lawyer, Jr. • Baby Stink-Breath • Booberella • Sara Sloane, Hollywood Movie Star • Cookie Kwan, Red Coat Realtor • Stark Richdale • Declan Desmond • Julio and Grady • Luke Stetson, Junior Wrangler • Suds McDuff, Spokesdog/Mascot for Duff Beer • Marriage Counselor • Jim Proudfoot • Don Castellaneta