Juliet Hobbes
Wikisimpsons - The Simpsons Wiki
"The real world is for people who can't imagine anything better."
―Juliet Hobbes
Juliet Hobbes
Character Information
Juliet Hobbes is a girl who was a friend of Lisa's.
History
[
edit
]
Lisa met Juliet when they were both at an art class at the Springfield Recreation Center. Juliet ignored the task the class had been given and painted a fantasy piece featuring Josh Groban instead, much to the annoyance of the teacher. The teacher suggested Juliet and Lisa go play outside if they want to use their imagination, so they did. Lisa and Juliet then began to bond over their love of Josh Groban.
Lisa and Juliet agreed to go on a playdate with each other. Lisa went to pick her up outside her school, Tuition Academy, then they decided to go to the Springfield Folk Art Museum as Juliet had a membership card for the museum. After the playdate, Juliet went to the Simpsons for dinner and then she had a sleepover. At the sleepover, Lisa and Juliet start to write about their fictional kingdom of Equalia. After Marge told them to go to sleep, Juliet asked Lisa if she wanted to be her best friend, to which Lisa said yes.
After school the next day, Lisa and Juliet hang out in the back garden of the Simpson house where they continue to write about Equalia. They then go and hang out outside a Yo! Gurt where they made cardboard models of the characters to play with. Later that day, the Simpson family went to the Hobbes' house for dinner.
At dinner, Juliet and Lisa decided to perform a medley of Josh Groban's twelve most popular downloads. Her father told Juliet that he thought Groban was becoming an obsession for her and decided to put on James Horner's soundtrack to The Pelican Brief instead, putting on Track 3. Juliet got annoyed at her father, saying she hated Track 3 then she ran off outside, with Lisa following her.
Lisa got outside to see Juliet sitting down staring blankly at nothing. Lisa asked Juliet if she was okay and Juliet told Lisa that she could see everyone from Equalia. Lisa then also began to imagine Equalia. They then danced in the sprinklers in the garden.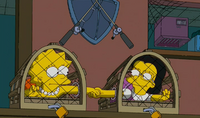 Juliet's effect on Lisa started to be seen in school, with Lisa becoming distracted and her school work suffering as a result. Marge then told Lisa that she couldn't see Juliet any more. After school the next day, Juliet met up with Lisa and told her that she was running away and wanted Lisa to go with her. Juliet told Lisa that Equalia needed her and Lisa agreed to go with her. They went to a run down restaurant in the shape of a castle, Clam-Elot Sea-Food, where they decided to live.
When the Simpsons found out Lisa and Juliet were missing, they went to search for them. Meanwhile, Jimbo, Dolph and Kearney turned up at Clam-Elot Sea-Food, which they were using as their hideout. They then locked Lisa and Juliet in lobster cages. Jimbo and Dolph leave Kearney to guard the girls whilst they went out. After they left, Lisa and Juliet started talking about Equalia, to take their minds off what was happening to them. Kearney overheard them talking about Equalia and got interested in it. Kearney released Juliet and Lisa and joined in with their stories.
When Jimbo and Dolph came back, they were shocked to find Kearney had released Juliet and Lisa and decided to burn their book. Kearney decided to defend Equalia and fought back. Whilst the bullies were fighting, Juliet and Lisa made a run for it. After this, Lisa told Juliet she didn't want to go to Equalia any more. Juliet rode off on her bike and Lisa said that she was crazy.
Personality
[
edit
]
Juliet seemed to be slightly crazy, fully embracing her fantasies of Equalia and preferring to "live" in Equalia over the real world, up to the point of running away from home to "live" there. She also didn't have a great relationship with her parents, who thought she was too obsessive over certain things, including Josh Groban. This obsessive nature was again seen with her obsession over Equalia.
Juliet also believes that imagination is more important than living in the real world, claiming that the real world is for people who can't imagine anything better.
Behind the Laughter
[
edit
]
Appearances
[
edit
]
Factfiles from Simpsons World the Ultimate Episode Guide: Seasons 1-20
Season 14
Rock Stars • Audrey McConnell, Third Grade Teacher • Dr. Velimirovic, Plastic Surgeon • Mitch Hartwell, the Reality Channel Producer • Junior (AKA Frank Grimes, Jr.) • Teacher of the Year Award Nominating Committee • Dexter Colt, Private Eye • The Mugger • Larry H. Lawyer, Jr. • Baby Stink-Breath • Booberella • Sara Sloane, Hollywood Movie Star • Cookie Kwan, Red Coat Realtor • Stark Richdale • Declan Desmond • Julio and Grady • Luke Stetson, Junior Wrangler • Suds McDuff, Spokesdog/Mascot for Duff Beer • Marriage Counselor • Jim Proudfoot • Don Castellaneta