Captain Tenille
Wikisimpsons - The Simpsons Wiki
"Don't fire the torpedoes."
―Captain Tenille's last words
Captain Tenille
Character Information
Captain Tenille was the captain of the Springfield Naval Reserve submarine U.S.S. Jebediah during its annual war games.
History
[
edit
]
Captain Tenille was assigned to the U.S.S. Jebediah, the same submarine Homer was assigned to. After giving a very short speech, he asked if anyone had and questions. Homer then asked him if the "poopdeck" is really what he thought it was, which Tenille laughed at, telling Homer that he liked the cut of Homer's jib. Homer then asked him what "jib" meant and Tenille laughed again, then telling the drill instructor to promote Homer.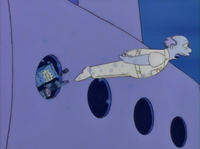 In the officer's mess on the submarine, Tenille invited Homer to join them. Homer sat at the table and immediately tried to get the peas. When Tenille asked Homer what he wanted in life, Homer said that he wanted peas, which Tenille misheard as "peace". Tenille then told Homer that peace was always just out of reach and asked him what the best way to get peace. Homer, who at this point had managed to pile peas onto his knife, replied "with a knife". Tenille agreed with this, saying the best way to get peace is with a bayonet, not an olive branch. Tenille then told Homer that he was like the son he never had, to which Homer replied that he was like the father he never visited.
An ensign then came into the room and told Captain Tenille that there was an obstruction in torpedo tube number one. After giving command to Homer whilst he was away, Tenille went to investigate this, asking Barney to open the tube. Barney, however, was asleep and wouldn't wake up so Tenille opened it himself, only for a load of contraband food and drink to fall out. Tenille climbed into the tube to investigate further. At that point an enemy sub started approaching. Homer, who was currently in command, ordered them to dire the torpedoes, despite Tenille's unheard pleas to not fire them. Captain Tenille was then fired at the enemy sub, killing him. After finding out that Captain Tenille was dead, Homer was promoted to captain due to Tenille's last orders.
Personality
[
edit
]
Captain Tenille was a man of few words, preferring to give really short speeches. He appears to have a sense of humor, finding things Homer said funny, even though Homer didn't intend them to be funny. Tenille, however, seems to have a darker side, believing that the way to get peace is through violence rather than offering an olive branch.
Behind the Laughter
[
edit
]
Appearances
[
edit
]
Factfiles from Simpsons World the Ultimate Episode Guide: Seasons 1-20
Season 14
Rock Stars • Audrey McConnell, Third Grade Teacher • Dr. Velimirovic, Plastic Surgeon • Mitch Hartwell, the Reality Channel Producer • Junior (AKA Frank Grimes, Jr.) • Teacher of the Year Award Nominating Committee • Dexter Colt, Private Eye • The Mugger • Larry H. Lawyer, Jr. • Baby Stink-Breath • Booberella • Sara Sloane, Hollywood Movie Star • Cookie Kwan, Red Coat Realtor • Stark Richdale • Declan Desmond • Julio and Grady • Luke Stetson, Junior Wrangler • Suds McDuff, Spokesdog/Mascot for Duff Beer • Marriage Counselor • Jim Proudfoot • Don Castellaneta