Beatrice Simmons
Wikisimpsons - The Simpsons Wiki
Beatrice Simmons
Character Information
| | |
| --- | --- |
| Gender: | Female ♀ |
| Status: | Deceased |
| Hair: | Gray |
| Occupation: | Retired |
| Relatives: | Husband: Charlie Simmons (deceased) |
| First appearance: | "Old Money" |
| Voiced by: | Audrey Meadows |
Beatrice "Bea" Simmons was the short-lived girlfriend of Abraham Simpson.
History
[
edit
]
Relationship with Abraham
[
edit
]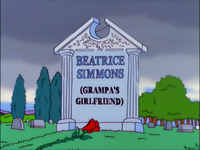 Abraham Simpson met Beatrice at the Springfield Retirement Castle help desk when the staff accidentally swapped their medications. It was love at first sight for Abraham, and they started dating.[1]
Beatrice once mentioned that she had a deceased husband named Charlie Simmons.
They arrange another date for Beatrice's birthday, but Abraham is forced to stand her up when Homer abducts him onto one of the family's monthly day trips to "Discount Lion Safari". When he returns to the Springfield Retirement Castle, Beatrice is dead. Jasper explains that Beatrice's left ventricle burst; she literally died from a broken heart. Beatrice also mentioned that she had liver failure while dating Abraham.[1]
Her grave is still visited by Abe as a single rose is seen placed on the grave on the day of Maude Flanders' funeral.[2]
Afterlife
[
edit
]
Abraham then learns that Beatrice left him thousands of dollars. He tells Homer to make him envious. While interviewing potential candidates, Lisa tells her grandfather none of them deserve the money and tells him to use it to help the poor.
While trying unsuccessfully to enjoy his inheritance, Abraham sees Beatrice's ghost, who suggests he give it those that can use it. After explaining to him that death is not so scary, she says that she is haunting a family in Texas. Beatrice also tells Abraham that Homer is very sorry for interfering with their last date, and urges Abraham to make peace with his son.
Memorial
[
edit
]
Abraham visits areas of Springfield and realizes he doesn't have enough money to help them all. He decides to gamble to increase his money, but Homer stops him just before he loses it all. He forgives Homer, and after looking at the other seniors outside the casino, Abraham decides to use Beatrice's money to renovate the Springfield Retirement Castle. Six months later, the Springfield Retirement Castle has been revamped, featuring a brand new "Beatrice Simmons Memorial Dining Hall".
A few pictures of Bea still hang on the walls of the retirement home.
Appearances
[
edit
]
References
[
edit
]
Factfiles from Simpsons World the Ultimate Episode Guide: Seasons 1-20
Season 14
Rock Stars • Audrey McConnell, Third Grade Teacher • Dr. Velimirovic, Plastic Surgeon • Mitch Hartwell, the Reality Channel Producer • Junior (AKA Frank Grimes, Jr.) • Teacher of the Year Award Nominating Committee • Dexter Colt, Private Eye • The Mugger • Larry H. Lawyer, Jr. • Baby Stink-Breath • Booberella • Sara Sloane, Hollywood Movie Star • Cookie Kwan, Red Coat Realtor • Stark Richdale • Declan Desmond • Julio and Grady • Luke Stetson, Junior Wrangler • Suds McDuff, Spokesdog/Mascot for Duff Beer • Marriage Counselor • Jim Proudfoot • Don Castellaneta