The Grumple
Wikisimpsons - The Simpsons Wiki
"Grumply Grumply Groo! Your blood will make my stew!"
―The Grumple
The Grumple
Character Information

The Grumple is a green, hairy monster.
History
[
edit
]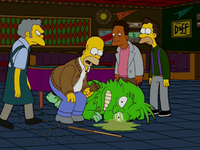 He played a character that threatened to steal all of the Holiday cheer of the Winter Holidays in the Krusty's Kristmas on Ice show. When a fight broke out between the basketball team and the show skaters (because the preparations for the upcoming game were ruining the show) Homer took matters to his own hands and fought the Grumple, demanding him to return the Holiday cheer. On Christmas Day, when Gil had all of his stuff stacked in the living room of the Simpsons House, Homer commented that this was a problem. Marge then commented that Homer had a bigger problem outside and pointed at the window. The Grumple was standing outside the house, holding a knife and proclaiming "Grumpily Grumpily Groo! Your blood will make my stew!" Homer suspected it was the same Grumple from the Ice Show. Sometime later in the year, while Gil was still mooching off of the Simpsons, Homer was at Moe's Tavern and the Grumple attempted to attack again with a broken pool stick. Homer hit him with a beer bottle, knocking him unconscious and some sort of green liquid began oozing out of the Grumple's eye, suggesting that it was not a human in a costume, but some sort of strange creature.
The Grumple didn't return until the following Christmas when the Simpson Family spends it at their condo in Scottsdale, Arizona with Gil, having brought his wife, son and daughter with him. The Grumple proclaims "Grumpily Grumpily Groo! We would like to spend Christmas with you!" having put his feud with Homer aside as the humans and Grumples began singing Christmas Carols.[1]
He later appeared in Hot to Trotsky's Ice-Skating Rink with a lot of other ice skaters. He was then shot in the eye by a flaming T-Shirt fired by Wayne Slater when telling everyone to get out.[2]
He was later seen among the people who went to see Lady Gaga when she came to Springfield. He had a sign that said "Grumple, Grumple Groo, Sometimes I feel sad too!".[3] He was later seen in the Simpsons' back garden with a banner saying "Other" over his head, saying that he belongs to a non-Jewish, non-Christian religion.[4]
He appeared in the game Frosty the Hit Man where he was killed by Frosty.[5]
He also was seen in the Towne Centre at Springfielde Glenne's Christmas party.[6] He was also seen in an hallucination that Homer had.[7]
The Grumple is also a part of the bowling team Are They Reals.[8]
Non-canon
[
edit
]
| | |
| --- | --- |
| | The contents of this article or section are considered to be non-canon and therefore may not have actually happened or existed. |
He appeared in the special couch gag called the Homer Shake.
The Simpsons: Tapped Out
[
edit
]
Character
[
edit
]
This section is transcluded from The Simpsons: Tapped Out characters/Holiday 2013. To edit it, please edit the transcluded page.

Permanent Tasks
Task
Time
Reward
Requires
Quest with the task
Animated?
Stalk Around Town
60m
105, 26
Fight Homer
4h
435, 115
Homer
Simpson House
Practice Speech Therapy
4h
260, 70
Calmwood Mental Hospital
Overpay for Sex on the Beach
4h
260, 70
Smooches on the Beach
Stay at the Swelldorado
4h
260, 70
Swelldorado
Try to Win at Blackjack
4h
260, 70
$ Casino
Drink and Babysit
4h
260, 70
The Boiled Potato
Attend Parenting Seminars
4h
260, 70
Universal Panacea
Prepare Grumple-ty Stew
8h
420, 105
Brown House
Dance the Señor Burns
8h
420, 105
Chez Guevara
Die Cursing the Simpsons
12h
600, 150
Brown House
Play His Grump Drum
24h
1,000, 225
Brown House
The Grumple Parade Balloon
[
edit
]
The Grumple Parade Balloon
Image
Cost
Sell price
Bonus
Conformity increase
Availability
Dimensions - W x D
25
?%
Premium
Thanksgiving 2013
4 x 4
Behind the Laughter
[
edit
]
Appearances
[
edit
]
References
[
edit
]
| | |
| --- | --- |
| | Wikisimpsons has a collection of images related to The Grumple. |
Factfiles from Simpsons World the Ultimate Episode Guide: Seasons 1-20
Season 14
Rock Stars • Audrey McConnell, Third Grade Teacher • Dr. Velimirovic, Plastic Surgeon • Mitch Hartwell, the Reality Channel Producer • Junior (AKA Frank Grimes, Jr.) • Teacher of the Year Award Nominating Committee • Dexter Colt, Private Eye • The Mugger • Larry H. Lawyer, Jr. • Baby Stink-Breath • Booberella • Sara Sloane, Hollywood Movie Star • Cookie Kwan, Red Coat Realtor • Stark Richdale • Declan Desmond • Julio and Grady • Luke Stetson, Junior Wrangler • Suds McDuff, Spokesdog/Mascot for Duff Beer • Marriage Counselor • Jim Proudfoot • Don Castellaneta