Facebook
Wikisimpsons - The Simpsons Wiki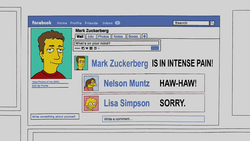 Facebook is a popular social networking website.
History
[
edit
]
Mr. Burns had a food fight with the founder of Facebook at the Billionaire Camp.[1]
Seymour Skinner has said that he regularly checks up on students' Facebook accounts to find rude remarks about him.[2]
Many students of Waverly Hills Elementary School use Facebook. So do many students in Springfield Elementary School, including Lisa Simpson and Nelson Muntz.
In an attempt to encourage Nelson to stay in school, Lisa took Nelson to meet Mark Zuckerberg, co-founder of Facebook. The attempt backfired when Mark revealed that he dropped out of school early on, yet still became successful.
Moe Szyslak, Dr. Hibbert and Kent Brockman also have Facebook and Mark is friends with them.
Mark Zuckerberg also frequently updates his Facebook status. Nelson tripped Mark on a rollerskating rink, and Mark updated his status to "IS IN INTENSE PAIN!" Nelson immediately replied with "HAW-HAW!" and Lisa followed with "SORRY."
When Lenny asked Moe who his best friend was, Moe told Lenny that he had just become friends with Pepto-Bismol on Facebook.[3]
Behind the Laughter
[
edit
]
Facebook is a real website, ranking the top ten most visited websites on the Internet. Co-founder Mark Zuckerberg guest-starred as himself in the season 22 episode "Loan-a Lisa".
The Simpsons have an official Facebook page, with, as of October 2013, over 67 million "likes", making it the ninth most liked page on the website.
Appearances
[
edit
]
References
[
edit
]
See also
[
edit
]