Number One
Wikisimpsons - The Simpsons Wiki
"You have joined the Sacred Order of the Stonecutters who since ancient times have split the rocks of ignorance that obscure the light of knowledge and truth. Now let's all get drunk and play Ping-Pong!"
―Number One
Number One
Character Information
"Number One" is the head of the Stonecutters. Not much is known about Number One, except that he is a loyal Stonecutter and rose above the ranks to lead the Springfield chapter. He gleefully subjects new recruits to tortures such as "the crossing of the desert", "the unblinking eye" and "the paddling of the swollen ass... with paddles". He also enjoys presiding over the club's many social gatherings, which include things like ping-pong, ribs, and drinking.
History
[
edit
]
Number One oversaw Homer's initiation into the Stonecutters, but then expelled him for desecrating the club's sacred parchment (by using it as a napkin and blowing his nose on it). When Homer was later discovered to be the prophesied "Chosen One" of the Stonecutters, Number One quickly conducted the appropriate ceremonies for Homer's new status. However, Homer made changes which made the club no longer any fun for the other members. Number One then disbanded the Stonecutters and started a new club called "The Ancient Mystic Society of No Homers".[1]
Number One uploaded a video called "Bart Simpson Illuminati Proof" to YouTube under the name of "The All-Seeing Kevin".[2]
Non-canon
[
edit
]
| | |
| --- | --- |
| | The contents of this article or section are considered to be non-canon and therefore may not have actually happened or existed. |
Simpsons Mania
[
edit
]
He is security guard at Stark Trek Museum.[3]
The Simpsons: Tapped Out
[
edit
]
This section is transcluded from The Simpsons: Tapped Out characters/Stonecutters. To edit it, please edit the transcluded page.

Permanent Tasks
| Task | Time | Reward | Requires | Quest with the task | Animated? |
| --- | --- | --- | --- | --- | --- |
| Go Skating | 10m | 17, 5 | Simpsons' Skating Rink | | |
| Quick Drink at the Stonecutter Lodge | 60m | 105, 26 | Stonecutter Lodge | | |
| Control the Latte Market | 60m | 15, 25 | Mountain Lodge | | |
| Run the Stonecutter Daycare | 2h | 175, 40 | Stonecutter Daycare Center | | |
| Review Stonecutter Rules | 4h | 175, 45 | Stonecutter Lodge | | |
| Overpay for Sex on the Beach | 4h | 260, 70 | Smooches on the Beach | | |
| Stay at the Swelldorado | 4h | 260, 70 | Swelldorado | | |
| Try to Win at Blackjack | 4h | 175, 45 | $ Casino | | |
| Drink and Babysit | 4h | 175, 45 | The Boiled Potato | | |
| Attend Parenting Seminars | 4h | 260, 70 | Universal Panacea | | |
| Attend a Secret Meeting | 8h | 420, 105 | Stonecutter Lodge | | |
| Dance the Señor Burns | 8h | 420, 105 | Chez Guevara | | |
| Nap at the Stonecutter Lodge | 12h | 600, 150 | Stonecutter Lodge | | |
| Feast at the Stonecutter Lodge | 24h | 1,000, 225 | Stonecutter Lodge | | |
Behind the Laughter
[
edit
]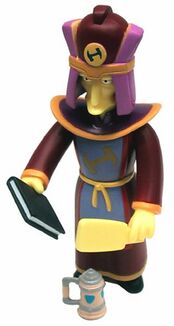 Foreign dubs
[
edit
]
Appearances
[
edit
]
References
[
edit
]